Sports
NFL Week 12 Predictions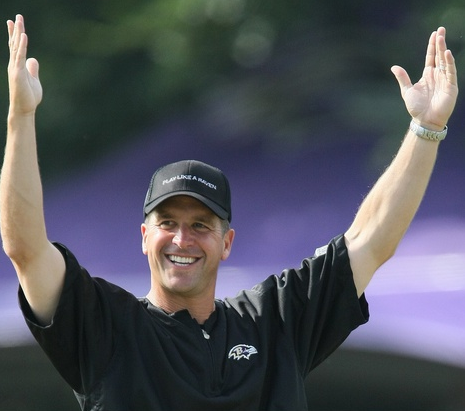 New York Jets (5-5) @ Baltimore Ravens (4-6)
Christopher Coppock: Ravens 36, Jets 3
Last week the Jets lost to the Bills by more than twenty points. This week, the Jets come up against self-described elite quarterback Joe Flacco and the Ravens. Baltimore isn't having the best season, but a big win over the Jets will help them feel at least a little bit better. Only a little bit though, because let's face it, the Jets quite simply are this bad.
Law Murray (@1maddskillz): Ravens 20, Jets 14
The last time the Jets won in Baltimore was 1983 - when the Colts were still in Maryland. The Ravens own the Jets, winning seven straight matchups, and they already defeated a team featuring Ed Reed when they beat the Texans in Week 3. The Ravens are going to need their defense and special teams to manage the game, as QB Joe Flacco struggles to lead scoring drives and RB Ray Rice is unlikely to repeat his success from last week. The Jets have done an outstanding job of stopping the run this season. The Jets have not done an outstanding job of keeping rookie QB Geno Smith from looking like Browning Nagle.
Russell Simon (@RSimonSays_USC): Ravens 28, Jets 15
The Jets really struggled last week in a bad loss to the Bills. Geno Smith looked completely overmatched and the Jets D looked surprisingly vulnerable against E.J. Manuel. They have alternated wins and losses for the entire season so far, but that pattern will change this week. The Ravens D is too good and I expect them to force turnovers and get to Geno in a win.
David Tobia (@DavidTobia): Ravens 22, Jets 13
Win, loss, win, loss, win
Rex and Jets due for a win
No! No! I do say
Matthew Tufts (@MTuftsSports): Jets 24, Ravens 20
Geno looked like Max Wittek in a bowl game during his performance last week. If he can't at least look like a mediocre quarterback against a mediocre Baltimore team, the Jets will leave Baltimore with a sub - .500 record. Luckily I think they get New York's [less-than] faithful's hopes up a little longer before throwing in the towel. Jets by 4.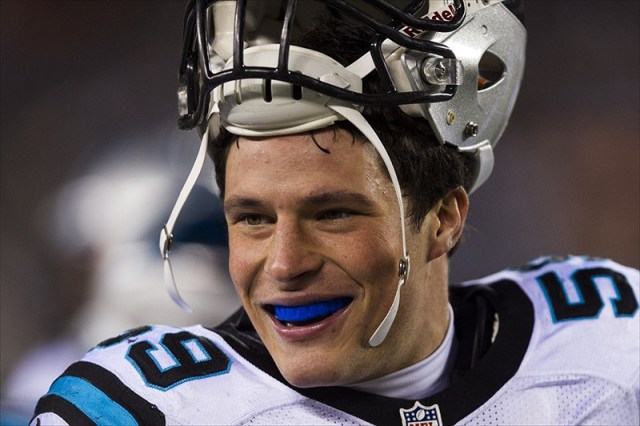 Carolina Panthers (7-3) @ Miami Dolphins (5-5)
Coppock: Panthers 27, Dolphins 17
Despite the refs blowing that last call against New England, Carolina still put in an extremely impressive performance against a very good team. The Dolphins are not the Patriots, and Ryan Tannehill is not Tom Brady. In summary, Carolina is going to get one game closer to making the playoffs for the first time in many years.
Murray: Dolphins 23, Panthers 21
The Panthers have exceeded all expectations after starting 1-3 this season. Can they beat the Dolphins for the first time in franchise history (0-4)? They have a great shot; after all, the Dolphins define dysfunctional on offense, and they're facing a difference-making defensive line from Carolina. But that Carolina front seven will be missing DE Charles Johnson, and maybe this is the week WR Mike Wallace gets it going with QB Ryan Tannehill. Miami is also one of the few teams who have more INTs (13) than TD passes allowed (11).
Simon: Panthers 27, Dolphins 20
The Panthers had their coming out party last week in a thrilling victory over the Patriots. Cam Newton has been brilliant and the Panthers defense has emerged as one of the top units in the league. Meanwhile the Dolphins are still struggling in the wake of the Richie Incognito saga. Cam Newton should have a big day in yet another Panther win.
Tobia: Panthers 23, Dolphins 17
Both underrated
Animal teams playing ball
I prefer the land
Tufts: Panthers 30, Dolphins 17
What has gotten into the Carolina Panthers? No one at the beginning of the season would have expected them to stand at 7-3 going into Week 12. Miami has been solid too, but when these southern gents meet in Miami, it won't be a contest.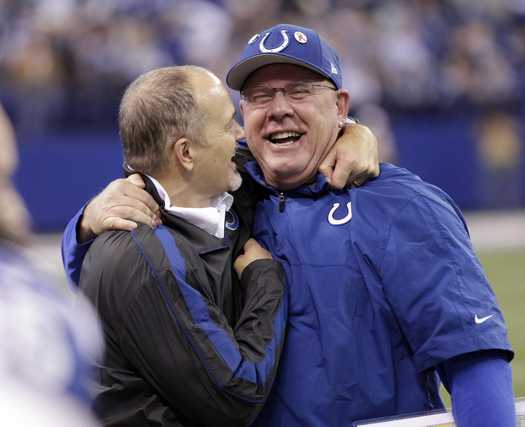 Indianapolis Colts (7-3) @ Arizona Cardinals (6-4)
Coppock: Colts 21, Cardinals 14
At this point, Trent Richardson should retire. He has single handedly ruined my fantasy football season, and as a result, I have no sympathy for him or the Colts. I am, however, a big Andrew Luck fan. And Carson Palmer is washed up.
Murray: Colts 24, Cardinals 17
The Cardinals are good because they are a bear to run against (3.4 yards per carry allowed, four TDs allowed). Imagine how much better it would be if they could keep TEs out of the end zone? Of the 18 TD passes allowed, ten have gone to TEs. Paging Coby Fleener! Cardinals head coach Bruce Arians, former Indianapolis offensive coordinator is familiar with Colts QB Andrew Luck, so he'll understand when Luck leads another fourth quarter comeback.
Simon: Colts 31, Cardinals 14
With wins the next two weeks, the Colts could clinch the AFC South. However the 6-4 Cardinals seem to have figured things out over the last couple of weeks, specifically at the WR position. Larry Fitzgerald and Michael Floyd dominated last week as Carson Palmer threw for 411 yards. However this Colts D is very tough and I expect Palmer to struggle in a loss.
Tobia: Colts 16, Cardinals 14
Arizona stinks
Six wins are just a mirage
Luck leads late comeback
Tufts: Colts 20, Cardinals 13
Both teams have respectable records, but they sure make every game a nail biter. It really could be a coin flip in this game, but my gut says to trust Luck under center. Colts win on a late fourth quarter drive.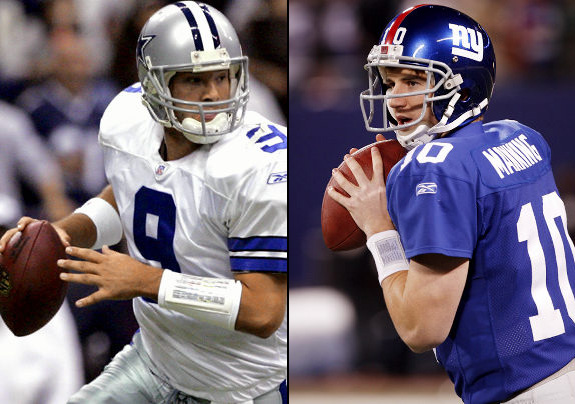 Dallas Cowboys (5-5) @ New York Giants (4-6)
Coppock: Cowboys 40, Giants 10
We do a lot of picking games with New York teams here at Neon Tommy, mainly because two of our three editors are from that area. Every single time I pick the New York team to lose. Not because I'm biased against New York teams, it's just that they're that bad.
Murray: Cowboys 27, Giants 26
The Cowboys haven't swept the Giants since New York acquired Eli Manning on Draft Day 2004. They came close in 2007, winning the regular season series 2-0, but they were in New York's way on the way to the Super Bowl that year. Dallas is terrible defensively, but they have done an effective job of forcing turnovers - that's how they edged the Giants in North Texas. The Giants are still not looking great offensively, but their defense has done the job against teams finishing second halves with four backup quarterbacks (Josh Freeman, Matt Barkley, Terrelle Pryor, Scott Tolzien). The Giants haven't allowed a TD pass in either of those games, but that'll be a challenge facing QB Tony Romo and the Dallas offense coming off a bye.
Simon: Giants 28, Cowboys 21
The Giants are somehow back in the thick of the NFC East division race after starting 0-6. Eli Manning has really cut down on his turnovers and Victor Cruz and Hakeem Nicks have really stepped up. Meanwhile Dallas has been wildly inconsistent throughout the year, nearly beating Denver and nearly losing to the Vikings. I don't know which Dallas team will show up, and Eli Manning should have yet another big day.
Tobia: Giants 45, Cowboys 17
New Jersey's real team
Super Bowl awaits the Giants
Eli and Cruz salsa
Tufts: Cowboys 28, Giants 13
Romo is nearing his peak - he's best at Thanksgiving, and then it all goes downhill from there. Count on the 'Boys regaining control of the East.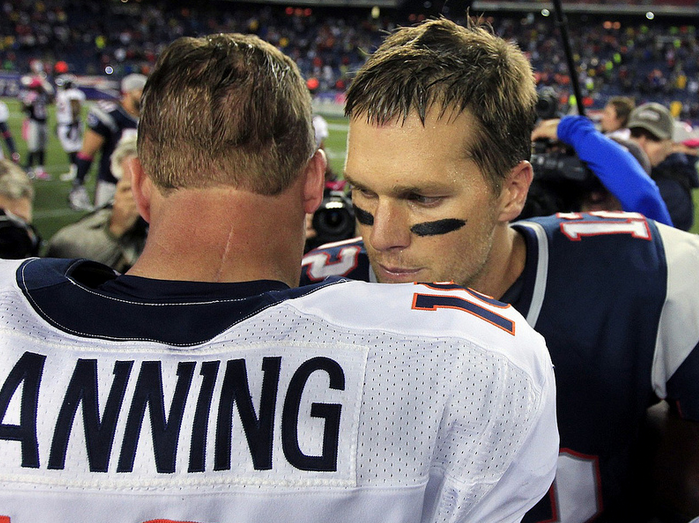 Denver Broncos (9-1) @ New England Patriots (7-3)
Coppock: Patriots 30, Broncos 27
Peyton Manning rarely wins in New England in the winter. With a game time kickoff temperature in the low twenties, he isn't going to overcome his struggles this weekend. When you can see warm breath turn to fog in the cold New England air, Tom Brady doesn't lose.
Murray: Patriots 34, Broncos 31
The Wes Welker Bowl! Welker was concussed against the Chiefs, but he is expected to be ready for his return to Gillette Stadium. New England's Monday Night Football road loss in Carolina reminded me of Indianapolis' Monday Night Football road loss in San Diego. The Colts followed that loss up with a Peyton Manning tribute and a perfectly executed upset. Perhaps the Patriots should overdo a tribute to Wes Welker, feature Gisele Bundchen prominently, and score enough points to knock off Denver for a fourth straight time.
Simon: Broncos 35, Patriots 31
The Broncos come in after a great win over the Chiefs, while the Patriots come in after having lost a tough game to Carolina. While much of the storyline surrounding this game has centered on the obviously epic quarterback matchup, keep in mind Wes Welker will be making his first start against the team that did not want to keep him after last year. The Broncos have an edge at WR and that's why I expect them to win.
Tobia: Broncos 31, Patriots 25
Patriots complain
Wah, wah, wah we want holding
Peyton doesn't cry
Tufts: Patriots 34, Broncos 27
Only the Jets may have been bigger beneficiaries of refereeing f***ups against the Patriots than Carolina was. I know all the Patriots haters are out there are calling "Tuck Rule," but they're just upset that their teams can't still be 7-3 after being screwed out of two games. But more importantly: Foxboro. Late November. Ergo Manning can't win.
Standings after Week 11
David Tobia 37-18
Law Murray 30-25
Russell Simon 28-27
Christoper Coppock 24-31
Matthew Tufts 24-31 (given 0-5 for last week's no-show)