Music
The Neighbourhood at the Hollywood Palladium: Review
The Neighbourhood played the Hollywood Palladium last Wednesday along with Raj, Ghost Loft, and British band, Lovelife.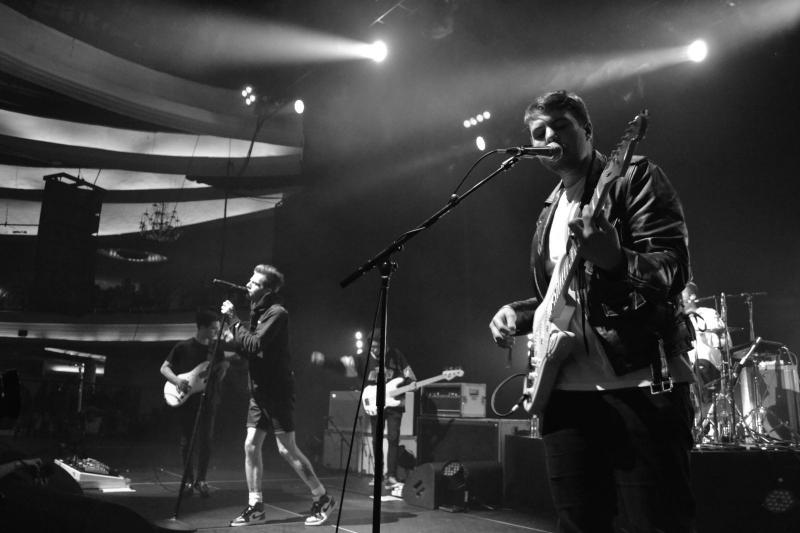 The crowd, crushed towards the front of the gates, kept inching closer to The Neighbourhood. Security had to keep pushing back the gates as their excitement grew. One by one, the members of The Neighbourhood walked onstage, beginning with drummer Bryan Sammis, and ending with lead singer Jesse Rutherford.
The Neighbourhood came on to open with, "Let It Go," off their debut album, "I Love You." (See full setlist below.)
The Neighbourhood's album, "I Love You," debuted at #39 on the Billboard charts. Their single, "Sweater Weather," reached #1 on the Billboard charts Top Alternative songs.
As per their theme of black and white, the boys were dressed only in black and white, and were getting creative with it. Guitarist Zach Abels was in a black and white Gretzky jersey.
READ MORE: The Neighbourhood Rocks The Fonda For A Hometown Crowd
When introducing "Alleyways," Rutherford talked about the meaning of the lyrics and where the song came from - saying that it was about him and his childhood friend who is now their current band manager. He felt the need to say it because he wanted to let the fans know what the song was about since usually other bands don't do that.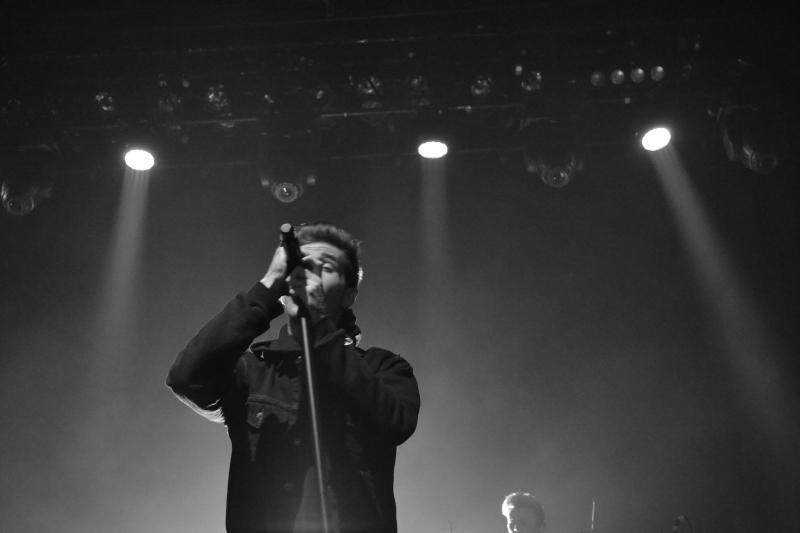 Rutherford, in control of the stage and the crowd, riled up listeners with west coast pride when he said that they hailed from Newbury Park, Calif. Following "Alleyways," the band then started to play, "West Coast," a new song not off of their new album.
READ MORE: The Neighbourhood Muses On Songwriting And Success
The Neighbourhood mixed it up and mixed their alternative vibe with some R&B and got jazzy by singing a medley of Destiny's Child hit single, "Say My Name," and Justin Timberlake's "Cry Me A River." And the crowd (me) ate it up. Listen to their recorded version of the cover below:
They ended the night with their two biggest hits, including chart topper, "Sweater Weather" and "Afraid." The entire crowd could be heard singing along to these two songs at the end of their set, and was stuck in everyone's head as they were walking out of the Palladium.
The crowd was young, hip, and alive with the indie pop rock rhythms of The Neighbourhood. The whole night had a chill atmosphere that put you at ease rather than riling you up from loud, pumping music.
The Neighbourhood is set to play in Florida and the UK next, but check out their website for more music.
Setlist:
"Let It Go"
"Uh-Oh"
"Female Robbery"
"Flawless"
"Alleyways"
"West Coast"
"Wires"
"W.D.Y.W.F.M.?"
"Baby Came Home"
"Say My Name" (Destiny's Child cover)
"A Little Death"
"How"
"Sweater Weather"
"Afraid"
Read more of NT's show reviews here.
Reach Contributor Katie Chen here. Follow her on Twitter here.