Los Angeles and Region
Nearly 400 Pets Find New Homes At Adoption Weekend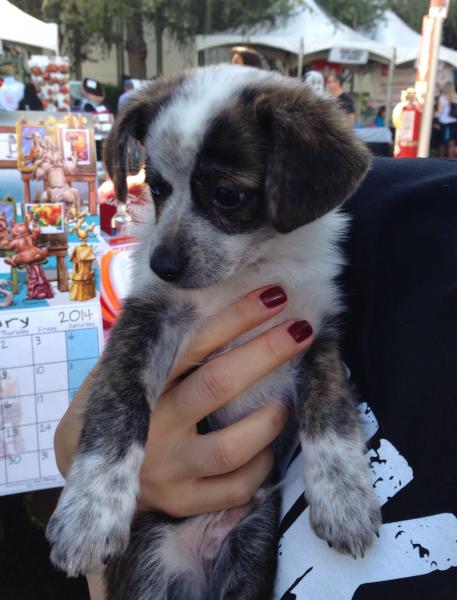 National Shelter Appreciation Week wrapped up in a big way--
396 dogs, cats and rabbits were adopted
from shelters and rescue teams all across Los Angeles at the
No Kill Los Angeles
(NKLA) Adoption Weekend.
The La Brea Tar Pits hosted the event November 9-10, and it is the the second of its kind this year. NKLA and the Best Friends Animal Society worked together to make Los Angeles "no-kill"--where no healthy or treatable animal is ever euthanized. More than an adoption event, the campaign was created by leaders in order to set a nationwide precedent.
"We want to call to action North America to work together to save all the healthy, treatable animals that are dying today in animal shelters across the nation," says Marc Peralta, Executive Director for the Best Friends Animal Society in Los Angeles.
Peralta challenges the stigma often associated with shelter animals. He emphasizes that most animals entering shelters have nothing wrong with them. Often, they are animals that were lost or given up by a family going through financial struggles, and the numbers in Los Angeles are staggering.
Just over 54,000 animals were taken into LA city shelters last year. Of them, one out of four--so, more than 13,000 animals--healthy or treatable were euthanized, mainly due to space constraints.
"Any animal that we can find a home for today or any day is a feeling that you can't describe," says Aimee Frank, a volunteer at West LA Pet Adoption Center.
This is especially true as more countries around the world implement strict euthanasia laws. Bosnia and Herzegovina join Romania this year to enact a two-week policy. This would mean that any animal found and not claimed within two weeks will be killed. Previous laws in the country made it illegal to kill a healthy or treatable animal.
In the U.S., strays are less of a problem. However, Peralta emphasizes that pet stores, puppy mills and the like are responsible for the many put down every day--even though 25 percent of all animals in shelters are pure bred.
The Human Society of the United States (HSUS) began National Shelter Appreciate Week in 1996. During the week, HSUS encourages current owners to spay or neuter to keep populations manageable and to ID pets with collars and tags. In addition, it encourages potential owners to adopt before they shop for a pet and emphasizes owning an animal is a lifetime commitment. Many at the NKLA event planned on doing just that.
"We don't want them to stay in shelters forever," says Hazel Wetts, an adopter. Her previous dog, Thor, passed away from bone cancer recently. She came out to the La Brea Tar Pits with her husband and left with a new companion within ten minutes of arriving.
"We walked in the door and this was the first dog we saw, and that was it," said John Sherburn, another adopter. He added that all his children had already left home and spoke fondly of his new "friend."
The two events this year accounted for over 800 animals being adopted into new families.
Reach Tahsin here; and follow her here.
In-video graphics courtesy of NKLA