International
Migrant Ship Sinks At Bay of Bengal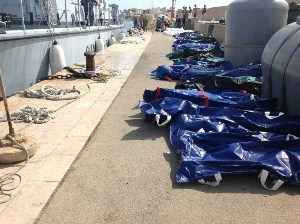 A boat carrying refugees of a minority group from Myanmar sank in the Bay of Bengal on Sunday. Only eight survivors have been
found
so far.
According to BBC, the ship carried about 70 Muslims from Myanmar's Rohingya minority, who left the nation due to the ongoing conflict between the Muslims and Buddhists that have forced hundreds of Rohingyas to flee their country. The ship was headed for Malaysia, where many other Rohingyas have also fled to escape the violence in Myanmar.
Sunday's incident in the Bay of Bengal shed light to other migrant shipwrecks that have occured, ending in devastating death tolls of migrants who sought to cross the sea for a better chance at life. Here are just some of the most recent migrant shipwrecks that have took place in the last few years.
October 3, 2013- Lampedusa, Italy
On October 3, a boat carrying migrants from Misrata in Libya capsized and sunk off the coast of Lampedusa, an Italian island. The boat is believed to have carried about 500 people, with 200 unaccounted individuals. Many migrants- who came from countries such as Eritrea and Somalia- threw themselves off the ship when a fire broke out. There have been 300 bodies recovered from the sea so far, with chances of rising casualties.
The shipwreck at Lampedusa shed light on the dangerous risk that migrants from Africa take in order to migrate to Europe; many migrants from Africa chose to take the more risky route via sea in order to evade the laws that make it harder for them to immigrate to Europe.
SEE ALSO: EU pressed to rethink immigration policy after Lampedusa tragedy
September 6, 2012- Turkey
A ship carrying Palestinian and Syrian migrants that set from the small Turkish town of Ahmetbeyli to Greece sank after hitting rocks at sea. For migrants who wish to enter the EU, Greece remains a common entry point. The shipwreck ended in 61 deaths. Turkey's comparatively wealthier economy has made it a popular destination for people migrating from the Middle East, Africa, and even South Asia. Ongoing conflict in Syria has also prompted many to flee into Turkey before attempting migration into EU states.
January 3, 2011- Yemen
As many as 80 African migrants drowned off the coast of Yemen after their boat capsized. Many migrants- majority of which are Ethiopians and Somalis- choose to cross the sea into Yemen in hopes of leaving the violence at home.
Yemen also remains a popular checkpoint for African migrants fleeing their home countries. According to UNHCR, migrants seek to leave the unstable and impoverished Horn of Africa; Yemen is thus traveled frequently as a gateway into Middle East and EU countries.
March 31, 2009- Libya
At least two ships carrying approximately 250 people capsized off the coast of Libya. More than 200 are assumed to have died after the shipwreck. Many were seeking to cross into Italy in order to evade the immigration restrictions of European states. According to The New York Times, Libya has become a "collecting point" for illegal immigrants to save up in order to buy a ride on a smuggler's ship into Europe.
Reach Executive Producer Shoko Oda here.