Arts+Culture
Leather And Sweater It Up For Winter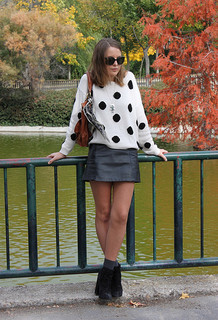 Flipping through the latest edition of
Marie Claire
, one particular trend stuck out to me: girls wearing
flared leather skirts
paired with baggy knit sweaters. They looked so cute, stylish, and ready for winter that I went out and bought myself a flared leather skirt, hoping to recreate the look in the magazine.
For those of you new to the leather skirt trend, there's a plethora of colors out there. Ranging from simple colors like red to fun colors like forest green, there's a color out there that will satisfy your needs. And because this trend is already combining two different styles of clothing and materials, it's possible to wear colors that usually don't go together: brown and black, black and navy, and even pink and orange. If you are on the daring end of the fashion spectrum, try a patterned sweater with a monotone skirt.
There are endless possibilities with this winter trend, and you don't even have to spend a lot of money pursuing it. I'm sure some of you already have a big sweater in your closet somewhere, and the leather (or pleather) skirt doesn't have to be an expensive purchase. Sure, designers like Alexander Wang sell their leather skirts for prices in the $1,250 range, but GUESS sells one for $100. And if you want to go even lower than that, here's a tip: go shopping on the 7000 block of Melrose Avenue, and I can almost guarantee that you will find your perfect skirt for as low as $60. One must-visit shop: Bliss (7420 Melrose Ave.). From there, walk around in the general vicinity and you'll find cute stores that sell clothing at prices in the double, not triple, digits.
If you're shopping at more mainstream stores, Brandy Melville, Zara, H&M, Urban Outfitters and J.Crew all sell oversized sweaters that are cute and affordable. H&M and Brandy Melville are good options if you are on a tight budget.
As far as sweaters go, you can go as big as you want. The bigger the sweater, the more balanced your outfit will look because of the flare of the skirt. Go with what makes you feel most comfortable.
Before I found my perfect skirt, I thought the flare would make me look bigger than I am. I used to stay away from all things flared (including peplum shirts) until I realized that it's all about the length. A similar rule applies to leather skirts: don't buy skirts that begin too low and flare out too much. For example, I bought a high-waisted skirt that only flares out a little bit, which therefore elongates my body. If I wore a skirt that flared out too much, the skirt would actually shorten my body. Look for a skirt that compliments your body shape.
Another tip to consider before buying a flared leather skirt: never buy it online. You need to be able to try it on to see if it's the correct fit. Leather skirts vary so much that it could be the complete opposite of what you want. As mentioned before, Melrose Avenue is a good shopping street, and department stores like Nordstrom and Bloomingdales will have some sort of leather skirt.
Below, I have picked out a few examples of oversized sweaters and leather flared skirts for inspiration.
Reach Fashion Columnist Beatrice Verhoeven here. Follow her on Twitter.