Nation and World
LAX Shooting: TSA Employee Killed, Multiple People Injured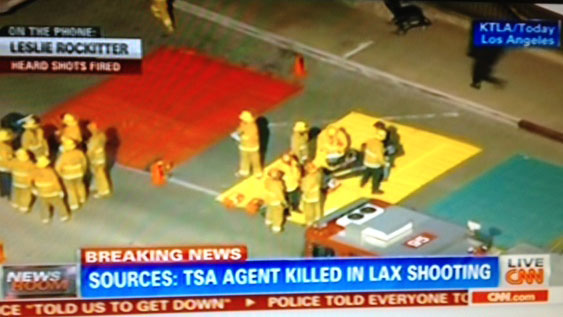 A gunman
opened fire at the Los Angeles International Airport
Friday morning killing one TSA employee and wounding multiple others.
Some news outlets are reporting that the TSA employee who was killed was the gunman, but neither the Chief of LAX Security or Mayor Eric Garcetti confirmed that during Friday's press conference.
According to the Fire Department seven people were hurt, six were transported and one remains in critical condition.
SEE ALSO: Shooting At LAX: First Reactions
Witnesses say the gunman wore baggy black clothing, entered LAX Terminal 3 and began shooting once reaching the checkpoint. According to LAX Airport Police Chief Patrick Gannon the shooter removed the assault rifle from his bag once inside and began shooting at the checkpoint then moving to the airport screening area shooting his way through.
The mayor said Friday that he would like to, "Thank law enforcement for their excellent and coordinated response to this incident."
"This is a situation in which we are being proactive," the mayor continued. "If you have a flight this afternoon we are asking that you stay away from the airport and check for updates."
SEE ALSO: Airport Shooting Delays L.A. Travel
Gannon thinks the shooter acted alone.
LAX Afternoon traverlers can expect delays and must speak with their airline before arriving due to terminal closures. Authorities insisted that multiple terminals will remain closed for a few hours as the investigation continues.
According to CNN President Obama has been briefed by Homeland Security on the incident.
Reach Managing Editor Jacqueline Jackson here. Follow her here.