Opinion
L.A.'s Homeless: Making The Invisible Visible
Over 58,000 people are homeless in Los Angeles County. That's more than the entire student body at USC.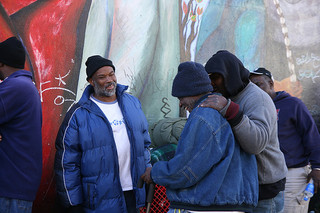 But while USC students receive the benefits of a world-class education, hundreds of thousands of dollars' worth of donated resources each year and an international community of support, a population larger than us goes without a place to sleep every night, forgotten by most.
It's easy to conjecture who is homeless: someone who didn't work hard enough, someone with drug or alcohol problems.
But the idea that people always experience homelessness because of their own faults is a troubling presupposition, and one that simply isn't true.
The impact of recession still lingers: unemployment sits at 8.9 percent in California, compared to 7.3 percent nationally. L.A. has become one of the top 10 most expensive cities for renting a home in the country and only 46 percent of residents can afford to buy a home. Shelters are desperately overcrowded and can only house 26 percent of the homeless population on any given night. To top things off, the federal Supplemental Nutrition Assistance Program (SNAP), which help keep food on the table for 14 percent of all American households, will be cut by $5 billion this month. That's over 47 million people—men, women, children—who are going to be affected.
Surely, it cannot be just drugs, alcohol or poor character that makes thousands of Angelinos homeless every night.
And in fact, many other factors can be identified: nine percent of people experiencing homelessness are survivors of domestic abuse; 12 percent are veterans; and 18 percent have physical disabilities. Thirty percent are mentally ill. Thirteen percent are family members, including children.
And there are at least 819 youth unaccompanied youth—many of whom have been through the foster care system or have been kicked out of their homes for identifying as LGBTQ—living on the streets without any family at all, more than twice the figure from 10 years ago. The growing, yet invisible, problem of youth homelessness, is affecting young adults ages 18-24 more significantly than ever before, in part because of rising student debt and a still-weak economy.
The homeless population in L.A. is fluid. While most of the overnight shelters and missions are located on the infamous "Skid Row," just four miles from USC, during the daytime individuals without homes venture to other parts of the city to look for resources. Some of these individuals come to the neighborhood around USC to utilize the support systems of local churches and service agencies. Others utilize USC resources such as the libraries and the USC Dental Clinic.
Students and staff respond to the homeless on campus in a variety of ways, but for the most part the relationship between the campus community and these visitors is amicable. Many community service-oriented student groups work to address homelessness, as it is such an obvious challenge in our community.
Student groups like Alpha Phi Omega and USC OUTReach do clothing, canned food and book drives to benefit local residents in need. SC Homelessness Initiative organizes services projects, educational forums and advocacy campaigns to raise awareness about homelessness in L.A. and to educate other students about how best to bring about positive social transformation. Other students are connected with a local faith-based collective called "A Compassionate Response to Homelessness and Hunger."
Our contact with Skid Row is also changing over time, as the neighborhood increasingly gentrifies. Today, old hotels are being renovated into new buildings, restaurants are opening and new residents are bumping up against Skid Row.
A key example of this pressure is a housing project known as The Star Apartments. The building, owned by the Skid Row Housing Trust, will offer housing for the homeless, in an effort not only to restore their humanity, but also to save money over the years by removing the need for individuals to cycle in and out of service agencies.
Although new housing seems like a positive move, The Star Apartments and other developments also come with complicated tensions. Some parks downtown now impose hefty regulations on loitering and camping. With increased police presence and bans on shopping carts, the city effectively discourages many individuals experiencing homelessness from simply existing in public spaces.
Rather than pushing out the homeless from L.A. or Skid Row—an area that attracts so many homeless and low-income individuals precisely because of its high concentration of services—the city could instead promote a partnership with new and old residents. Gentrification could be paired with positive community development and shared job opportunities.
As a community of concerned individuals, we cannot just walk by our thousands of neighbors in need or profit from new developments without considering those who might be affected. We can provide more than just a few dollars or sandwiches: we can get involved with service activities that make sustainable differences; we can educate ourselves and our friends about the deeper roots of homelessness; and we can lobby our lawmakers to stop hurting the people they are supposed to help.
This November, the SC Homelessness Initiative invites you to join National Hunger and Homelessness Awareness Week. If you're outside of the L.A. area, you can help by joining the United Way's online letter campaign to advocate for the food stamps program.
If you're local, join us in preparing and serving meals, distributing hygiene kits, learning about Skid Row and celebrating the art and abilities that can empower us all to make things better for the homeless in L.A. and across the country.
A full schedule of events is available here.
To learn more about homelessness and services for the homeless, visit the Los Angeles Homeless Services Authority.
Reach the SC Homelessness Initiative here.