Los Angeles
Killed TSA Agent Always Had A 'Warm Smile'
video platformvideo managementvideo solutionsvideo player
The Transportation Security Administration officer who was killed during a shooting rampage at the Los Angeles International Airport was honored Tuesday at a public memorial where many called the slain officer a "hero" who always had a "warm smile."
Around 350 TSA workers, all clad in bright blue uniforms, attended the service held at the Los Angeles Memorial Sports Arena to celebrate the life of 39-year-old Gerardo Hernandez, the first TSA officer to be killed in the line of duty.
"He represents the best of this nation and protected the country well," said Rand Beers, acting secretary of the U.S. Department of Homeland Security.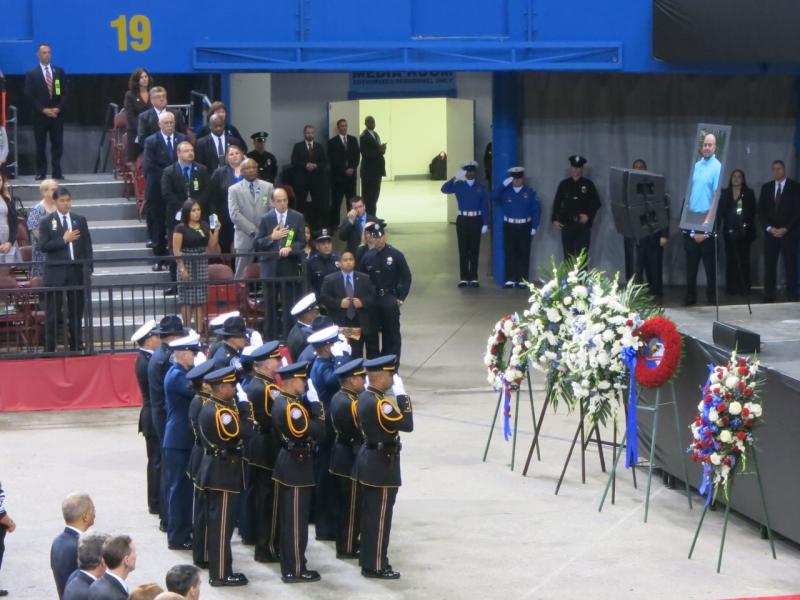 Beers capped his speech by walking down the podium and presenting Hernandez's wife with a folded U.S. flag, which she accepted while flushed with tears.
Other speakers who took to the stage to honor Hernandez included TSA Administrator John Pistole, Los Angeles Mayor Eric Garcetti and Attorney General Eric Holder.
"What made Hernandez a hero is how he lived," Holder said.
READ MORE: LAX Shooting Prompts New TSA Security Measures
But some implied a need for change in the public's perception of the TSA, a role they said is often overlooked as airplane passengers enter and leave the country.
"Even though we don't get the best of the benefit, even though passengers get frustrated for taking off their shoes, we will still be committed and take pride in our duty," said Sheleta Fraser, a TSA supervisory officer who also emceed the service.
Hernandez's friend and co-worker Chavonda Perry, who was not working the day of the shooting, said the lack of protection for TSA agents is a daily worry.
"I pray everyday because anybody that walks through those doors, we're the first ones they're going to see," Perry said in an interview.
Terrin Mariner, a former co-worker of Hernandez, agreed, saying TSA agents "always knew that there was a threat."
But everyone in attendance focused on celebrating Hernandez, a spirited and sociable man who cared about his family, especially his two children.
"I think it was the words of the colleagues of Gerardo Hernandez that spoke most powerfully, of the warmth, of the humor, of the life in this man cut way too short," Garcetti said in an interview. "Certainly, we've lost an angel in this City of Angels."
The suspected shooter, Paul Ciancia, who remains hospitalized, is charged with first-degree murder of a federal officer and committing violence at an international airport after opening fire in LAX's Terminal 3 on November 1. Two other TSA officers and a teacher were wounded.
Ciancia had a handwritten letter that said he decided to try to kill TSA officers to "instill fear in your traitorous minds." But the 23-year-old's motives remain unclear.
Read more of Neon Tommy's coverage of the LAX shooting here.
ATVN reporter Kate Flexter contributed to this story. Reach Senior News Editor Melissah Yang here. Reach Staff Reporter Taiu Kunimoto here.