Film and TV
'Glee' Recap: A Katy Or A Gaga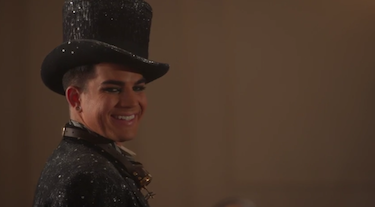 A new episode after a three-week hiatus is like that slice of cheesecake you've been eyeing since before dinner.
My friends, we got that cheesecake with a helpful serving of whipped cream on top tonight, because "Glee" is back with lots of surprises!
One of those is Throat Explosion, also known as the ridiculously talented and obscure show choir, is going up against McKinley at Regionals. The glee kids feel like they don't stand a chance because their competition is filled with a bunch of "Gaga" people. On the contrary, they consider themselves Katy's (Katy as in Perry, of course) so they will be overshadowed by the theatrics and interesting song choices of the other group. Some of the members beg to differ, proclaiming themselves certified Gaga's.
This predicament inspires Will, and he introduces this week's assignment. Whoever thinks they're more of a Katy shall perform a Gaga number, and vice versa.
A few states away, Kurt is in New York working at the diner with Rachel, Santana, and Dani (Demi Lovato's character). He's late to work due to printing out flyers for auditions. Earlier this season, Kurt had mentioned something about starting a Madonna cover band. That original dream has been tweaked to be just a good old fashioned band, so he requests help from his three friends. Santana and Dani agree to join, while Rachel declines. She is too busy preparing for "Funny Girl" and she is still not in good enough spirits to do both after Finn's unfortunate death, discussed in the the third episode.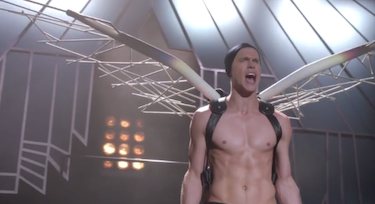 In Ohio, Sam is still head over heels for the Penny the school nurse. They're standing at his locker and she starts to talk about Skrillex and a crazy concert she went to where he spit in a cup or something…it's all pretty intense, especially for Sam, who proceeds to show Penny the "True Jackson, V.P." poster in his locker. She is put off by this and when Sam asks if she wants to go out, she declines, saying that her ex-boyfriend invited her to a Nine Inch Nails concert.
However, Blaine (being an awesome bro) encourages Sam to prove how hardcore he really is. He suggests that Sam invite Penny to the glee club's Gaga performance. Later on, he is seen majorly stressing out about their rendition of "Applause", making it as perfect as possible. Turns out, Penny thinks it's too dark because she is a total mainstream music kind of gal. She considers herself a Katy, which is a total relief for Sam since he is, too. They finally (!!!!) kiss. Let's hope their relationship stays as happy as it is now. But it's "Glee" so there'll probably be a love triangle at some point. For now, the happy couple goes to the auditorium to watch a lovely acoustic performance of "Wide Awake" from the Gaga's of glee club.
Kurt, Santana, and Dani are at NYADA waiting for someone, ANYONE, to audition for their band. The only person signed up is "Starchild" and before Kurt can really ponder what kind of name that is, Starchild himself walks in. He's over-the-top fantastic, dressed in black and sparkles from head to toe. Kurt isn't really digging the look, saying that it's a bit too "Project Runway"…season six. Ouch.
After that diss, Starchild recovers and proceeds to blow everyone away with a stellar performance of "Marry The Night". And of course it's stellar, considering that Starchild is played by "American Idol" runner-up Adam Lambert. Santana is in awe the entire performance (she's also an embodiment of my own emotions throughout the song) and she gives him a standing ovation when he's done, approving of him being in the band. Kurt, however, does not feel the same; he says that his look doesn't fit into the band he has in mind, and Starchild is visibly hurt by that. To say that Santana is frustrated with Kurt is an understatement, and she tries to convince him to let Starchild join, but he doesn't budge.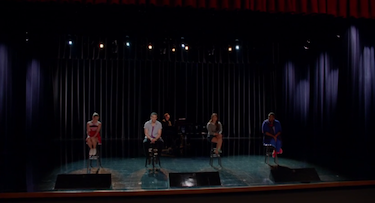 In other news, Marley and Jake, the two newbies and lovebirds, are in a bit of turmoil. First off, Bree (head cheerleader and Sue's new partner-in-crime) is planning on breaking them apart in order to disrupt the glee club's harmony. Secondly, Jake is getting tired of Marley's date ideas: Julie Andrews marathons and John Mayer concerts aren't exactly his idea of a good time. Marley feels she is too much of a Katy, and tries to be Gaga for their performance of "
Applause
," but reverts back to wearing a Katy outfit from her "California Gurls" era. Will is upset by this, claiming that Marley put her personal agenda before her peers. She gets suspended from the club for a week.
At Marley's locker, Jake tries to console her and tells her to come over to his house after school to watch "Mary Poppins". It's all adorable until they get to his house, and things get heated. Marley feels pressured by Jake to be more intimate than she's comfortable with, and he gets upset about this. This leads him to Bree, and it is implied that he cheats on Marley with her. Whether or not anything happened will hopefully be answered in future episodes.
Kurt's band needs someone like Starchild, and Rachel agrees. She goes to talk to him and asks him to reconsider, but Kurt feels like he has to play it safe in order to make it big. He is insecure of his own accomplishments after seeing Rachel land a huge Broadway role and Santana act in a national commercial. Kurt sees that the only way of establishing his brand as something celebrated and sought after is by being mainstream-friendly. Rachel calls him out on that, saying that he is too special to do that. He'll achieve his goals by just being himself, and in the same way that he's special, so is Starchild.
Unfortunately, there's no way of contacting him! All hope is lost, and Kurt feels like he majorly screwed up. The following day, Kurt's working at the diner and begins to take a customer's orders, that customer being Elliott Gilbert aka Starchild. It's like night and day, with Elliott in a casual tee and without all the glitz from his audition. He tells Kurt that he needs to be in his band, something special. Kurt finally confesses that he agrees, and lets him in the band.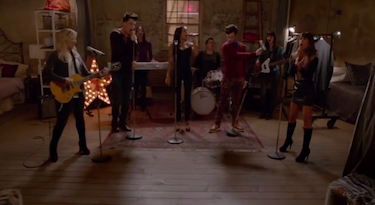 The final scene takes place in the choir room, where the students discuss their rivals, Throat Explosion, tweeting their song choice for Regionals. They too are singing "Applause" by Lady Gaga, and the club is in a frenzy. To add on to the panic, Sue walks in and states that they are suspended for a week for indecent outfits. Their rebuttal? A wild performance of "
Roar
" with a jungle motif. While the McKinley side is singing in the auditorium, the New York characters are in the loft rehearsing with their new band.
In the end, it didn't matter who was a Katy or who was a Gaga. Like Sue said during the episode, "Why can't we be all the archetypes?" We are multi-faceted, and that is what makes everything more beautiful. Thanks, "Glee".
Going off of that inspiring message, next week's episode focuses on rebellion and the importance of twerking. Think I'm joking? Check out the preview below!
WATCH: Promo for "The End of Twerk", airing 11/14 at 9PM on FOX.
Reach Staff Reporter Gennyvera Pacheco here.