Los Angeles
George W. Bush Defends Decisions Regarding 9/11 And Economy At USC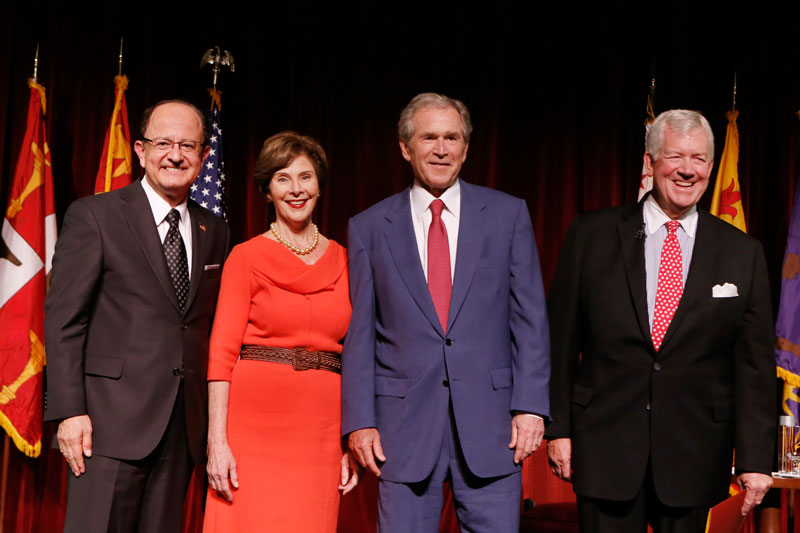 Former President George W. Bush stood by many of his controversial decisions Tuesday night at an invite-only event at the University of Southern California, a talk delivered under a
media blackout that barred self-identified press from the event
.
Bush described "the unexpected things that define a presidency" as he navigated through its most difficult moments, which included 9/11, the war in the Middle East and the precursors that led to the economic crisis.
The Bush camp imposed strict conditions on the ex-president's first-ever visit to USC, which included no live media coverage. The days leading up to the event were marked by confusion surrounding the nature of his visit and the university's lack of transparency in how it sent out invitations. Tall metal fences and corrals roped off a large chunk of the campus as students waited in long lines to go through security.
Bush's under-publicized arrival also came as a surprise to many on campus, as he has relatively stayed out of the public eye after leaving office with a 30 percent public approval rating and the country deep in the throes of an unpopular war in the Middle East.
Dressed in a dark indigo suit, sans cowboy boots, Bush sat on the Bovard Auditorium stage in a plush red velvet chair next to his wife, Laura Bush, while Marshall School of Business Dean James Ellis moderated the event. The conversation was colored with moments of humor and wit while Bush covered the more serious notes of his presidency in his famous Southern drawl. His jokes were repeatedly met with laughter and applause from the audience of 1,200 students, faculty, alumni and donors.
The former president punctuated the casual conversation with the sobering realizations of a president who spent five years out of the public eye. Looking back, Bush said he would have handled parts of the economic meltdown differently, but his decisions regarding 9/11 and foreign policy would have remained the same.
"Things are going to happen to you that you don't want to happen to you. The question is what do you do," Bush said.
Bush said he could not foresee the economic crisis, saying he trusted his financial advisers, then-Chairman of the Council of Economic Advisers Ben Bernanke and former Secretary of the Treasury Hank Paulson. Bush signed into law the Troubled Asset Relief Program, a federal program that attempted to address the subprime mortgage crisis by giving $750 billion to Wall Street banks.
"I can't prove that the actions we took saved the depression. I can tell you we didn't have one," Bush said. "I would do the same thing again."
Rarely known to criticize Obama's policies or decisions, Bush also spoke out against the president for not taking action on the Keystone XL oil pipeline and met privately with energy industry CEOs. He told the audience they were witnessing "one of the biggest economic transformations in the history of our country because we are going to be not dependent on Middle Eastern sources of energy."
Bush praised the development of the energy industry, particularly oil and gas, and said fracking would make American lives better.
"There have been hundreds of thousands of wells fracked, and the damage has been miniscule," he argued. "Look at the facts and not overheated rhetoric related to oil and gas."
But the most poignant moment of the event came when Ellis asked Bush to talk about the most difficult moment of his presidency.
The former president jokingly shot back, "I thought you guys were going to be asking me about my favorite color and stuff like that." But he quickly sobered as he recalled when he first was informed about the attacks at the World Trade Center. He was visiting a Florida elementary school when an adviser whispered in his ear that the second plane had hit the Twin towers, he then had to walk into a room full of parents waiting to hear about the school's reading program and tell them New York was under attack.
"You are in a bubble as a president, and I had to see the horror, doubt, infusion of sadness that was rippling throughout the country firsthand which is pretty unusual for a president," he said. "This time I was out of the bubble."
When he received word the Pentagon was hit, Bush said it was at that moment he knew America was going to war.
"The first one is an accident, the second one is an attack, the third one is a declaration of war," he said flatly. "I had become a war-time president, and I wasn't prepared for it."
The newly-installed president was quickly handed the responsibility of calming a hysterical nation while also quickly launching a war. He staunchly defended his aggressive foreign policy and decisions to place American special operators not only in Iraq and Afghanistan, but Yemen, Somalia and "many other smaller stages around the world."
"In all those presidential debates they never asked you how you would handle a war," he reflected.
READ MORE: USC Limits Access To George W. Bush Talk
Bush's talk came as part of USC's Distinguished Lecturer Series, but the contract to bring the former president to campus was much more "extensive" than for previous speakers, said Dennis Cornell, chief of staff to USC President C.L. Max Nikias and associate secretary to the Board of Trustees.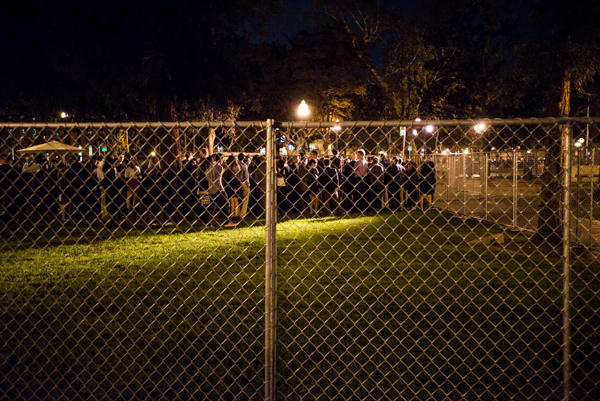 The agreement called for a media blackout, which prevented attendees from snapping photos, recording audio or video and live-tweeting the event. USC's student news outlets, including ATVN, ARN, The Daily Trojan and Neon Tommy, were told they would not be allowed to cover the event as media. But they could attend as students and write about their experiences afterward.
The contract also prohibited the university from issuing a press release announcing Bush's appearance. USC could send out a pre-written press release after the event was over with one official photograph from a photographer approved by secret service.
"This is not the university's position or decision, but rather the contract between the Washington Speakers Bureau who is the 'agent' for this visit," Cornell said in an email.
All attendees were required to RSVP weeks in advance. Around 2,500 students received email invitations, with the majority of the invites sent to scholarship recipients; on-campus political groups such as the USC College Republicans, College Democrats and Political Student Assembly; ROTC students; and residential advisors. Only those who received invitations could RSVP, preventing the event from being open to the public. The cost of Tuesday night's event is unknown as an anonymous donor provided the funds.
While a former president on campus impressed some students, many criticized how the invites were dolled out.
As a Presidential scholarship student, USC freshman Avery McEvoy said she was elated to receive an invitation but thought the university could have been more judicious in deciding which students could attend.
"I think they should have had a lottery where students could enter so they could express their own interests because that's unfair to the rest of the student body," McEvoy said.
Student Giovanni Moujaes was not invited, and only found out about Bush's visit thanks to social media.
"It took many Instagram and Facebook posts to realize that George Bush was actually coming to campus. When I did look into it and I found out that only certain exclusive people got invited, I was very disappointed. I wanted to know why," said Moujaes.
READ MORE: Bush's Visit To USC, An Observation
The secrecy shrouding Bush's talk, and his handful of recent public appearances, caused some to speculate why the former president decided to reinstate himself as a public figure.
Last week, Bush was the keynote speaker at a Messianic Jewish Bible Institute fundraiser in Irving, Tex., a contentious move as the group is highly controversial within the Jewish community because of its mission to "restore Israel and the Jews and bring about the second coming of Christ." Bush is also set to appear on "The Tonight Show with Jay Leno," the same night of his USC talk.
Political experts said Bush's visit to California had no connection to the state's flailing Republican party or his brother's possible stake in the 2016 presidential election.
"He is not here for the California Republican party, and there is literally zero evidence that we can inject political motives to his visit to California," said Jonathon Wilcox, a Republican Party strategist and former speech writer for former California Gov. Pete Wilson. "Bush has removed himself from the political battle since he left office."
Jack Citrin, professor of political science at the University of California at Berkeley and director of the Institute of Governmental Studies, said California would be an unusual stop for a political agenda tour and out of character for the former president.
"He has been pretty careful to keep a low profile on political issues so out of the blue I would guess the context [of the lecture] is something most would consider public-spirited," Citrin said.
Other experts said that even if Bush was returning to the public spotlight on behalf of a fractured GOP, he would not make much of a splash. The majority of Americans still blame him for many of the nation's problems, according to recent polls. Other surveys showed a majority of Republicans still have a positive view of Bush and that many of his policies remained the foundation of the current Republican Party's agenda.
But debating the motives behind Bush's visit is futile, said strategist Wilcox, since Bush "lacks the guile" to get back into the political sphere. Bush did not campaign for Romney in the 2008 presidential election and has remained relatively mum about the current state of his own party. He wanted to be "off the stage," back on his Crawford ranch and relax.
"He doesn't feel the need to fix the Republican Party," said Wilcox. "[At USC] he will be speaking to a select audience and offer his thoughts on the state of the world that wouldn't be political."
Wilcox also suggested Bush's improving health could have been a factor in his public reintroduction. The 67-year-old recently had a procedure to lessen severe blockage in one of his arteries, which could have led to a heart attack.
When asked about his health, Bush said that thanks to Laura's nagging, he was no longer smoking cigars. He is, however, on blood thinners for his heart. More importantly, he is back at his golf game, riding mountain bikes, running into trees and getting bruises.
"I feel 64 percent healthy," he joked.
Throughout the hour-long talk, the audience was given a slight glimpse into the life of the man who spearheaded one of the most difficult and controversial periods in American history. We learned he "hates Wall Street," visited Graceland with Japanese Prime Minister Junichro Koizumi to see Elvis impersonators and had his Scottish Terrier Barney mocked by Russian President Vladimir Putin.
The event ended on a light note as Bush joked about his budding art career, saying he took up the hobby after reading Winston Churchill's "Painting as a Pastime." Bush decided that if Churchill could paint, so could he.
But by no means did he consider himself an expert.
"The signature is worth a lot more than the painting," Bush said, laughing.
Reach Senior News Editor Melissah Yang here and Editor-In-Chief Brianna Sacks here.