Arts+Culture
Francis Bacon Paintings Sell For $142.4 Million, Break Record Auction Price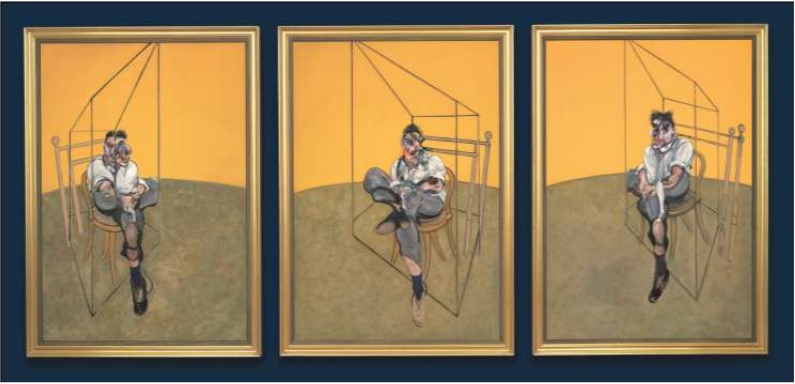 Artist Francis Bacon has joined the ranks of greats such as Edvard Munch, Cezanne, and Pablo Picasso, for the record breaking value of their works. "Three Studies of Lucian Freud," a 1969 triptych painting by Francis Bacon,
was sold for $142.4 million
Tuesday night in New York City at the renowned arts auction house, Christie's. The painting was part of a
post-war and contemporary art auction
, which also broke records for the highest auction total in art market history and the most valuable work sold at auction by a living artist.
READ MORE: Experience LA: The Los Angeles County Museum of Art
The Francis Bacon work depicts his friend and fellow British artist, Lucian Freud, against a yellow background. Both Bacon and Freud are regarded as "two pillars of 20th century figurative art," according to GalleryIntell. The triptych is one of only two existing full-length triptychs of Lucian Freud and the three portraits were included in the artist's retrospective at the Grand Palais in Paris in 1971-72. "Three Studies of Lucian Freud" is characteristic of much of Bacon's work. He's famous for his triptychs (a series of three portraits) and use of sparse backgrounds and cages in his paintings. Art experts speculate that the success of the paintings was due to Bacon's relatively small body of work and the "well documented" rivalry and friendship between Bacon and Freud.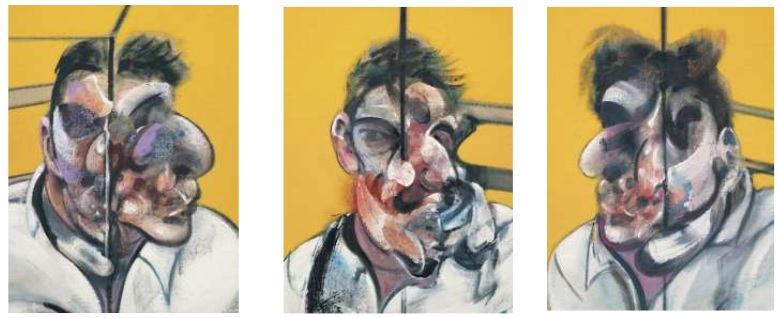 Francis Bacon was a 20th century figurative painter known for his bleak and distorted portrayals of the human condition. Bacon was born in Ireland in 1909, but he spent most of his life in Britain, trying to make a living primarily as a interior decorator and furniture designer. Although Bacon never attended art school, the
artist was inspired
by great artists and artistic movements, such as Picasso, Goya, Van Gogh, Cubism, Romanticism, Expressionism and Surrealism. Bacon's work is also heavily influenced by the horrors of World War II, particularly in one of his most famous works, "Three Studies for Figures at the Base of a Crucifixion."
The subjects in his paintings
were usually his friends or lovers (Bacon was homosexual).
Bacon met fellow painter Lucian Freud
, the grandson of famed neurologist Sigmund Freud, in 1944, and finished "Three Studies of Lucian Freud" 25 years later. Bacon died in 1992, Freud died in 2011.
READ MORE: When Van Gogh Looks Into The Mirror, What Does He See?
This isn't the first time Francis Bacon's work has broken records for its value. In 2008, a 1976 triptych by Bacon, sold for $86.3 million at a Sotheby's auction, becoming the most expensive work of contemporary art ever sold at auction. The "Three Studies of Lucian Freud" not only surpassed this mark, but also topped the most previous record holder, Edvard Munch's "The Scream," which sold for $119.9 million in 2012. Prior to that, the record holder was Picasso's 1932 "Nude, Green, Leave and Bust" which was bought for $106.5 million at a Christie's auction in 2010, according to the Los Angeles Times. The most expensive purchase of art was actually not bought at an auction, but a private sale of Cezanne's "The Card Players," which sold in 2011 for more than $250 million.
Check out Kevin Bacon's triptych, "Three Studies of Lucian Freud," in the video below.
Contact Staff Reporter Meghan Coyle here.