Film and TV
Film Review: 'Dallas Buyers Club'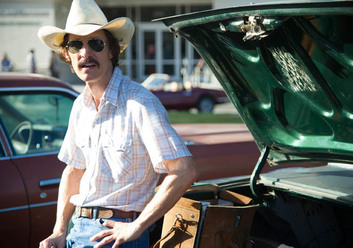 "I aint selling drugs, I'm selling membership," Ron Woodroof ingeniously states in Jean-Marc Vallée's film,
"Dallas Buyers Club."
Matthew McConaughey plays Woodroof, the drug smuggling crusader during the eighties who fought doctors and FDA to distribute more promising drugs to the AIDS community that essentially gave him 6 more years of life and transformed AIDS research.
Just as human AZT trials were beginning, Woodroof was determined to find more alternative treatments for HIV/AIDS patients.
READ MORE: Film Review: 'Jackass Presents: Bad Grandpa'
Woodroof is perhaps the most aggressive, hypersexual, hetero man you will ever meet. A foul-mouthed, working-class electrician, he attends rodeos while banging women in the corner of the auditorium, snorts cocaine, and expresses extreme homophobia.
He's a bundle of complexity. "Get your shit together," a friend tells him. But he's not the type to follow rules. He possesses an ego bigger than his body, yet we can't complain because he's super clever. And that's what makes him such a fascinating character to watch undertake the role of the advocate. His intricate personality only benefits him on his journey of pushing big institutions and providing more options to patients.
When he learns that he has HIV and only 30 days to live, Woodroof refuses to let it destroy him. With stubbornness and persistency, he finds people with connections in order to help cure him. In Mexico, he meets Dr. Vass (Griffin Dunne) who informs him about alternative treatments and provides with him experimental drugs. As a result, Woodroof purchases and smuggles the unapproved FDA drugs back to the States.
Whether dressing up as a priest or posing as a medical researcher to cross international borders, Woodroof cunningly glides through narrow roads to get what he wants. His aggressive and obstinate demeanor never backs down. He's an unconventional hero to say nonetheless.
He meets the radiant and charismatic transsexual Rayon (Jared Leto) who helps him gain clients amongst the gay community and more importantly, softens his homophobia. They become business partners, creating the Dallas Buyers Club where a monthly fee of $400 will grant you unlimited supply of drugs.
READ MORE: Film Review: 'Gravity'
The context of the film illustrates the discriminative social environment that AIDS created and the businesslike nature of doctors and pharmaceutical companies abided by, merely pursuing profit rather than the wellbeing of patients.
Although the film wonderfully portrays an unconventional hero battling the establishment, it lacks emotional glue. It fails to go beyond Woodroof's goals and actions to touch upon the communal and revolutionary impact of his efforts. As a result, we don't walk away from the film feeling moved. It isn't to say that a story like this must demonstrate dramatic hurt and uplift, but with such a plotline, the film should have made the connection between Woodroof and a larger community.
Nevertheless, moviegoers will be impressed by the performances of the two main players. McConaughey, who lost 38 pounds for his role, gives an authentic performance as the crude but smooth talking, wildly aggressive hero. He handles the complexity of his character well, managing to wrap malice, smoothness, and charisma all in one package.
But the gravity of the film lies in Leto who gives a compelling performance as a radiant but troubled soul. One of the most powerful scenes in the film is when Rayon pays a visit to his stern father in a suit. Leto is a sort of fairy godmother in the story who carries human flaws. Leto has had quite an eclectic career not only acting in both big Hollywood films and small indie films, but being the main vocalist of the rock band, 30 Seconds to Mars.
As awards season is just around the corner, these noteworthy performances will surely catch the eyes of the Academy, who typically carry a soft spot for biopic roles. The film's strength ultimately lies in the two performances that excuse the missing piece in the plotline.
The film also stars Jennifer Garner and Dennis O'Hare.
READ MORE: Toronto Film Festival 2013: 10 Standout Performances
"Dallas Buyers Club" is now playing in select theaters.
See the trailer below.