Nation and World
Court Upholds Texas Abortion Law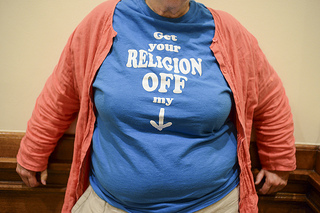 The U.S. Fifth Circuit Court of Appeals has reversed a federal district court ruling that found new abortion regulations in the state of Texas unconstitutional, clearing the way for the law to take effect.
According to the Texas Tribune, The court's decision overrules the Monday ruling of U.S. District Judge Lee Yeakel that regulations requiring abortion doctors to have admitting privileges at a nearby hospital, which many of the state's current providers do not have, imposes an undue burden on women seeking the procedure.
SEE ALSO: Texas Abortion Laws Ruled Unconstitutional
The state has argued that because 90 percent of Texas women would still be able to receive an abortion within 100 miles of their home, the law does not create a significant burden, and that the regulations are ultimately in the interest of women's health and safety.
"This unanimous decision is a vindication of the careful deliberation by the Texas Legislature to craft a law to protect the health and safety of Texas women," said Texas Attorney General Greg Abbott in a statement.
Read more at the Texas Tribune.
Reach Executive Producer Francesca Bessey here; follow her here.