Sports
College Football Week 13 Picks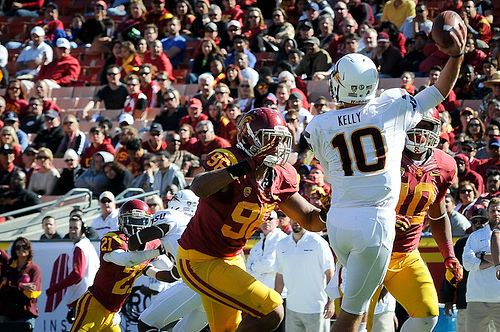 For the first time all season, our college football experts will not be picking the winner of the USC game, simply because this week seems like the biggest lock for a Trojan victory all season (I hope I didn't just jinx them). However, there are still many intriguing games this week, and here were five of them.
#4 Baylor at #10 Oklahoma State
Max Meyer (@TheMaxMeyer): Baylor 45, Oklahoma State 28
Oklahoma State has certainly been a pleasant surprise this season in the Big 12, but unfortunately they will suffer their second loss of the second at the hands of Baylor. The Bears' offense, led by Bryce Petty and Lache Seastrunk, simply has too much firepower and too many weapons to be stopped by a Big 12 defense, even one as good as the Cowboys'.
Darian Nourian (@dariannourian24): Baylor 49, Oklahoma State 21
No one can stop the high-powered Baylor offense this season. They are on pace to break NCAA records averaging more than 60 points and 600 yards a game. With the Bears still having national championship aspirations as one of the last unbeaten teams left in college football, I don't see Bryce Petty or Lache Seastrunk slowing down in this one.
Gabe Quintela (@gabequintela11): Baylor 43, Oklahoma State 37
Baylor has serious hopes of being a contender for a shot at the national championship, and look for them to impress this game. The Bears' offense has been impressive this season, scoring 60 points in six of its nine games this season. Quarterback Bryce Petty has thrown for 10 touchdowns in the last two games, and has only thrown one interception all season. He will step up in Stillwater.
Marc Sallinger (@marcsallinger): Baylor 35, Oklahoma State 28
Baylor has looked extremely good this year, yet they face a tough test this week against a one-loss Cowboy team. The Bears still have a chance to make it into the BCS title game, and all they can do to help their chances is take care of winning their own games. Baylor will walk out of Stillwater with a win, and keep their hopes for a National Championship alive.
Mike Piellucci (@mikelikessports): Oklahoma State 54, Baylor 48
I'm fairly certain I've missed on every Oklahoma State game this year, because I just don't think they're that good. I still don't, although that probably applies to most everyone in the Big 12, Baylor excepted. Yet here I am picking the Cowboys, something that has more to do with Baylor's recent rash of injuries and this being in Stillwater than any sort of epiphany on my part, however warranted that may be.
Andrew Tweedy (@nyy_baseball): Baylor 35, Oklahoma State 28
With College GameDay moving from Los Angeles to Stillwater, this matchup is set to be one of the best games of the week. Oklahoma State has one of the top defenses in the country and will face their biggest challenge of the season against Baylor, one of the top offenses in the nation. A key stat to watch is interceptions: Baylor QB Bryce Petty has thrown only one INT this season, while the Cowboys lead the country with 19 INTs. In the end, I think offense trumps defense in this one.
#8 Missouri at #24 Ole Miss
Max: Missouri 31, Ole Miss 27
While Maty Mauk performed admirably the past few games, the Tigers get a boost with James Franklin coming back as their starting quarterback. As tempting as it is to roll with Ole Miss at home, I think Franklin's return will spark another Missouri win in what has been a spectacular season for them.
Darian: Missouri 28, Ole Miss 17
Quarterback James Franklin is back for the Tigers, who have their eyes on the SEC championship game. Ole Miss knocked off LSU earlier this year and have been averaging more than 40 points a game, so they will pose a huge test for Missouri.
Gabe: Missouri 37, Ole Miss 21
Starting quarterback James Franklin is back. This Missouri team who has been rolling, even in his absence, comes into Ole Miss as the favorites and playing with high confidence. Additionally, the Tigers defense has been impressive this season, allowing 20.2 points per game and only 3.3 yards a carry on the ground.
Marc: Missouri 28, Ole Miss 24
The Rebels' season has been disappointing so far for a team that had great potential. Already having three losses, they have no chance of winning the SEC West. Missouri is having one of their best seasons in recent memory, and a large part of it can be accredited to their defense. The Tigers have been very impressive defending the run, having allowed the fewest yards per game and yards per attempt of any team in the SEC. I don't see Missouri losing this game, even in Oxford.
Mike: Missouri 30, Ole Miss 24
I'm ashamed to say it now, but I doubted whether Maty Mauk was ready when he took over for James Franklin. It certainly helps having L'Damian Washington and Dorial Green-Beckham to throw to, but now with James Franklin back at quarterback and the fact that Mizzou is one of the most well-rounded teams in the nation, the Tigers will win this game. I think Franklin passes on the strength of the nation's 12th-ranked scoring offense playing the 50th-ranked defense.
Andrew: Missouri 42, Ole Miss 35
Both of these offenses have been putting up huge numbers recently and they are both playing some of their best football of the season leading up to this week. Ole Miss has been tough to beat at home this year, so the Tigers have their work cut out for them. However, Mizzou is still in the lead for the SEC East and they have too much on the line to play poorly against the Rebels. In a shootout, the Tigers come out on top.
#12 Texas A&M at #22 LSU
Max: Texas A&M 45, LSU 38
LSU only has a 3-3 in SEC play, and I'm not sure I fully trust Zach Mettenberger in big games against great quarterbacks, just look at LSU's performances against Alabama and Georgia. Johnny Manziel can launch his name back to the top of the Heisman race with a big game, which is exactly what will happen.
Darian: Texas A&M 38, LSU 35
LSU is favored in this game, but I'm going to have to take Johnny Football in this one. This is going to be a high-scoring game, but now that LSU is out of the national championship picture, I don't think they are going to show up to play. If Manziel can continue to make explosive plays and A&M can get some pressure on Zach Mettenberger, then the Aggies have a good shot at winning this game on the road in Death Valley.
Gabe: LSU 42, Texas A&M 38
At home, with Zach Mettenberger projected to start despite his ankle injury suffered during the game against Alabama, LSU will have an advantage this weekend. The Tigers have also had a bye week to prepare an offensive scheme against an A&M defensive unit that ranks near the bottom of the SEC in every major defensive category.
Marc: LSU 35, Texas A&M 32
Although both teams are out of contention for the national championship, the rivalry between the Aggies and Tigers is more important than ever, especially after last year's game. The Aggies defense is not solid at all, and LSU should be able to capitalize on their inconsistency. If LSU quarterback Zach Mettenberger plays his best, LSU will win. Look for LSU to beat the Aggies in a close one.
Mike: Texas A&M 38, LSU 27
If Johnny Manziel has any hope of repeating in the Heisman race, he needs to make a statement on Saturday night in the swamp. Fortunately for him, LSU's defense is far from what it used to be, so I'm expecting a shootout fitting for the new SEC. Manziel accounts for four touchdowns and gets back into the national spotlight.
Andrew: Texas A&M 38, LSU 31
Why does it always seem to come down to this guy? This one is all about Johnny Football. Manziel is out for revenge this season after LSU effectively shut the Aggies down in last year's matchup. Plus, Johnny has Heisman considerations on the line yet again this season. So against a poor LSU defense, look for him to put on a clinic.
#17 Arizona State at #14 UCLA
Max: UCLA 35, Arizona State 31
Ever since Myles Jack has become a factor on the offense as well as the defense for UCLA, the Bruins have simply looked like a different team. I have no idea why UCLA is not the favorite in this game, and along with the fact that they are playing in California, I think USC's dream of a Pac-12 South division title lives for another week.
Darian: UCLA 42, Arizona State 28
Have you heard of a Bruin two-way player named Myles Jack? This linebacker/running back has been an absolute beast these past two weeks for the Bruins, and he will be a lot to handle for Will Sutton and the stout Arizona State front seven. In a game that has Pac-12 South title implications with the winner being put in the driver seat, the Bruins will win at home. A UCLA win will also keep USC's title hopes as well heading into the final week of the regular season.
Gabe: UCLA 32, Arizona State 24
This one is a legitimate toss-up in my mind. Both teams are coming into this game on a hot streak, and I believe that Arizona State's defensive line can give UCLA's younger offensive line some trouble. Yet, playing at the Rose Bowl in a huge game for the Pac-12 South, and considering that UCLA is 8-0 against Pac-12 South teams since taking over, is pushing me toward a Bruin win.
Marc: UCLA 28, Arizona State 21
USC fans will have their eyes glued on this one, as Arizona State needs to win this game if they want to make it to the Pac-12 championship. If they lose, it opens the door for USC and UCLA to potentially squeeze into the number-one spot. This game has great implications for the outcome of the season, and I believe UCLA will pull off the win at home.
Mike: UCLA 41, Arizona State 34
The esteemed Max Meyer pointed out to me how little respect UCLA gets in Vegas, which is a little weird given that the Bruins' only two losses are to the only Pac-12 programs obviously better than they are. They're also nails in the Rose Bowl, where they've won all five of their games and scored 40 or more points in four of them. I don't trust ASU's Jekyll and Hyde act to do stop that.
Andrew: UCLA 24, Arizona State 20
This game has huge implications for the Pac-12 South division. Oddly enough, Trojan fans are rooting for crosstown rival UCLA to take down ASU to keep their title hopes alive. This game will be close against two of the top teams in the South division, so I'm going to give the advantage to the home team here.
Washington at Oregon State
Max: Oregon State 34, Washington 20
With Keith Price hurt, I think Oregon State is a no-brainer selection, even if they've been struggling their past couple of games. Washington's defense will not be able to contain the combination of Sean Mannion and Brandin Cooks. Add in the fact that this game is in Corvallis, and it's clear that Oregon State will win this game.
Darian: Oregon State 34, Washington 13
There is no way that the Huskies march into Corvallis and win this game without Keith Price. The Beavers have a dynamic passing game with Mannion and Cooks. Their defense just needs to focus on stopping Washington running back Bishop Sankey, who will have a big work load on Saturday.
Gabe: Oregon State 31, Washington 17
Both of these teams are coming off losses and haven't played their best football as of late. The Beavers offensive production has been drastically down during the last three games, as they've dropped three straight. Yet having said this, I believe that the Huskies defense, a unit that is allowing on average 387.8 yards a game, won't be able to keep up with the high-octane offense that I know the Beavers are capable of producing, especially through the air.
Marc: Washington 21, Oregon State 14
Both teams started off their seasons strongly, but have declined steeply in the past few games. Washington is coming off a close loss to UCLA, while the Beavers are riding a three-game losing streak. Both teams have been very unpredictable, making this pick a hard one. However, I believe Washington will hand Oregon State its fourth straight loss.
Mike: Washington 36, Oregon State 34
Not to rain on the parade of any Trojan fans who cherished a long-awaited OSU victory but the Sean Mannion-Brandin Cooks battery have gone a long way toward overshadowing that the Beavers aren't very impressive outside of their passing game. They can't run the ball (120th nationally) and the scoring defense is 75th nationally, not to mention that their best win is Utah. So even if Keith Price is sidelined, I think Washington and Cyler Miles - who made a late run against the Bruins last week - gets this done in Corvallis.
Andrew: Oregon State 24, Washington 21
Both of these teams have underperformed in yet another season in which many expected these programs to turn the corner and contend with the likes of Oregon and Stanford. Didn't happen this year, and I don't feel great about picking either team right now because they are both playing so poorly. Oregon State's offense has been inefficient as of late and Keith Price may be hurt for the Huskies, presenting big problems for both teams. Someone has to win, right?
SEASON STANDINGS
1. Max 40-15
2. Gabe 37-18
3. Andrew 36-19
4. Mike 33-22
5. Marc 32-23
6. Darian 30-25