Sports
College Football Week 11 Picks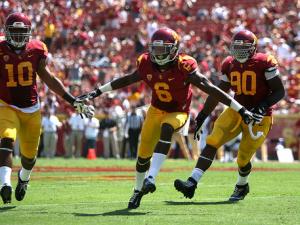 This week in college football might be the most exciting one yet, as three undefeated teams will each face their toughest challenge of the season. With two of them taking place on Thursday night, this week has wacky written all over it.
USC at Cal
Max Meyer (@TheMaxMeyer): USC 35, Cal 10
Cal's defense has been amongst the worst in the nation this year, allowing at least 30 points in every single game. With Marqise Lee looking good last weekend, the Trojans simply have too many weapons in the passing game and rushing attack. USC will win their second consecutive road game quite easily.
Gabe Quintela (@gabequintela11): USC 28, Cal 10
Cal is having a rough season. Cal has lost their last seven games and sit at 1-8 overall. At the bottom of the Pac-12 North, the Golden Bears have turned the ball over 25 times. The Trojans have won five of the last seven games and the offense seems to be finally clicking, putting up 489 yards and 31 points against Oregon State last week.
Darian Nourian (@dariannourian24): USC 35, Cal 7
The Trojans will definitely have the edge on both sides of the ball against the one-win Golden Bears this weekend, especially on defense. While USC leads the Pac-12 in total defense, the Golden Bears have one of the worst defenses in the country, allowing an average 44 points and 540 yards per game through eight games, which ranks in the bottom-three of the FBS. It is apparent that Cal has had some growing pains, as they moved from the 3-4 scheme back to the 4-3 with the departure of former defensive coordinator Clancy Pendergast.
Marc Sallinger (@marcsallinger): USC 28, Cal 14
The Trojans roll into Berkley coming off one of their most impressive wins all year. Marqise Lee seemed to show glimpses of the form we are used to seeing him in, while Javorius Allen came out as a true scoring machine. With this much momentum, it is important that the Trojans stay focused on winning against a Cal team that is extremely beatable. Cal is 1-8 and they've had a horrendous year. USC should come away with a second-consecutive road win.
Mike Piellucci (@mikelikessports): USC 33, Cal 17
Cal is a team in transition, while USC is a team hitting its late-season stride. I'm not sure whether the Trojans can beat Stanford or UCLA, but I do buy Ed Orgeron's assertion that this team is too focused to drop a trap game. This should be one of their more comfortable wins this season.
Andrew Tweedy (@nyy_baseball): USC 35, Cal 14
Against arguably the worst team in the Pac-12 this year, the surging Trojans should be able to take care of business in dominant fashion this week. Marqise Lee looked strong last week, returning from his lingering knee injury against Oregon State with 105 yards on five catches. If USC continues their strong play this weekend, their trip to Berkeley will be highlighted by a W.
#3 Oregon at #5 Stanford
Max: Oregon 45, Stanford 35
It's too bad that the Pac-12 Championship Game has to be played so early, but the two top teams in the conference will be squaring off on Thursday. The Ducks have an offense that is way too explosive, and any defense will have a very difficult time stopping them, including Stanford's. The key is that Oregon's defense has also improved tremendously, which is why they won't lose to the Cardinal two years in a row.
Gabe: Stanford 45, Oregon 41
I never thought I'd pick against Oregon, but I love this Stanford team, especially at home. The Cardinal have won their last 13 home games, and they match-up better defensively against Oregon than many teams in the country.
Darian: Oregon 42, Stanford 21
I feel like if there is one team in the Pac-12 that is capable of stopping the high-octane Ducks, it is Stanford. However, if the Cardinal are going to have any shot at winning, they are going to have to force some Oregon mistakes. Unfortunately for them, leading Heisman candidate Marcus Mariota has yet to throw an interception this season.
Marc: Oregon 42, Stanford 28
In a top-five battle, these Pac-12 teams promise to be just as intense as their meeting a year ago. Last season, Stanford all but knocked out Oregon in their chase for the BCS title, and now the Ducks are in the same position, knocking on the door to enter the top-two. Marcus Mariota's time to shine is this Thursday, if he wants to stay in consideration for the Heisman, and expect him to do just that. The Ducks are simply too good for an otherwise impressive Cardinal team.
Mike: Oregon 38, Stanford 21
The Ducks won't hit the 40 points DeAnthony Thomas predicted, because no one does that to the Cardinal. But in a battle of the two best teams in the conference, Oregon sits a cut above even the Cardinal, who even with improved recruiting don't have the talent to stop the Ducks' turbo-charged attack. If Marcus Mariota turns in another big performance, the Heisman is probably his.
Andrew: Oregon 24, Stanford 17
Another close game in this heated rivalry, but this time Oregon wins on the road at The Farm. Stanford pulled off a huge upset in last year's contest, derailing the Ducks' hopes for a BCS title, but Oregon is better than ever this year and they appear poised to play Alabama in the national title game in January. Although the Cardinal will be their biggest challenge of the season, the Ducks will take this game and continue their undefeated campaign.
#10 Oklahoma at #6 Baylor
Max: Baylor 49, Oklahoma 24
Baylor's top-ranked offense will finally be shown on primetime television against a top-10 opponent, and they will put on a show. Bryce Petty is the Heisman darkhorse, but a strong performance in this game will vault his name into the conversation at the very least.
Gabe: Baylor 52, Oklahoma 42
Baylor is scoring an absurd 63.9 points per game. 63.9! With offensive numbers (passing yards, rushing yards and points for) all in the top-10 in the country, this is going to be a hard team to stop, especially in front of one of the most electric crowds in the country.
Darian: Baylor 49, Oklahoma 17
The nation's most productive offense, averaging 718 total yards and almost 64 points a game, should prove to be no match for the Sooners' defense, especially at home, in front of quite possibly the largest crowd ever. However, Oklahoma will be the first team in the top-25 that the Bears will face so it should prove to be the first real test for quarterback Bryce Petty.
Marc: Baylor 35, Oklahoma 21
Baylor heads into this game as a 14-point favorite and will try to beat a very impressive Oklahoma team. Although the spread might be a little high to bet on, I do think that the Bears' offense will be too much for the Sooner defense to handle. Baylor's Tevin Reese is averaging 118 yards per game and a very impressive 25 yards per catch to lead the Bears in receiving. Baylor's No. 1 offense will simply not be stopped at home in front of the Waco faithful, and on national television. The win is going to Baylor.
Mike: Baylor 43, Oklahoma 24
The real statement game on Thursday will be set in Waco, where, like the rest of the Big 12, Oklahoma isn't prepared for what the Bears will unleash. Art Briles' offense is truly special and the quartet of Bryce Petty, Lache Seastrunk, Antwan Goodley and Tevin Reese would give the best Sooner teams plenty of trouble, let alone a group with a retooled yet injury-blighted defense and an inconsistent quarterback.
Andrew: Baylor 42, Oklahoma 31
The Baylor offense is simply too fast for any defense to keep up with. This is a huge opportunity for the Bears to prove themselves as a legitimate contender with the top-5 powerhouse programs in the country, as they face a dangerous top-ten Oklahoma team. However, behind the arm of quarterback Bryce Petty and deep-ball threats Antwan Goodley and Tevin Reese, Baylor and their spread offense will prevail on their way to an 8-0 overall record.
#13 LSU at #1 Alabama
Max: Alabama 28, LSU 17
Both teams have had two weeks to prepare for one another, as they are coming off bye weeks. The difference for me in this game is that I trust AJ McCarron more in big games than Zach Mettenberger. This SEC rivalry game will be close at first, but expect Bama to pull away in the fourth quarter.
Gabe: Alabama 31, LSU 25
AJ McCarron and the Crimson Tide know that with four other unbeaten teams in college football that their BCS Championship hopes can't afford a loss to LSU. After a poor performance against Ole Miss, plagued by turnovers and poor play from Zach Mettenberger, this LSU team is on an uphill battle away from home.
Darian: Alabama 35, LSU 21
The two-time defending champions are double-digit favorites at home in this classic SEC matchup. LSU quarterback Zach Mettenberger will get his biggest test of the season against the Alabama defense, and unless Katherine Webb stops Alabama quarterback AJ McCarron from playing, the Crimson Tide will win this one.
Marc: Alabama 28, LSU 21
With both teams coming off bye-weeks, this game has been building up in intensity for far too long for college football fans. Although LSU is out of title contention after losses to Georgia and Ole Miss, the Crimson Tide are leading the chase to be at the championship game in January. LSU will be tested on the road in Tuscaloosa, a problem that has presented itself for the Tigers so far this season, picking up both their losses outside of Baton Rouge. I believe LSU will be handed its third road loss of the season, as AJ McCarron and the Tide will roll over the Tigers to a solid win, keeping them at the top of the rankings.
Mike: LSU 23, Alabama 17
There is plenty of wishful thinking behind this pick, as, like most anyone, I'd love to see a non-SEC, non-Crimson Tide national championship game. But there's also some logic there, too; the secondary is the Tide's weak point, and Zach Mettenberger has the most productive wide receiver tandem in America at his disposal in Jarvis Landry and Odell Beckham Jr. Both the head and heart agree, then, that LSU pulls a road stunner and sends SEC country into a tizzy.
Andrew: Alabama 21, LSU 14
This will be Alabama's first real test since facing Ole Miss en route to a 25-0 win. LSU will give them a challenge, but Bama will come out on top behind the strong play of quarterback AJ McCarron and their top-tier defense. Nick Saban has more to prove this year than ever before with the Tide, amidst all the talk of his potential move to Texas and the overall youth of his team. Alabama is ready for this game, and Saban will not stand for a loss to the Tigers this year, as the Tide continues to roll.
#19 UCLA at Arizona
Max: UCLA 35, Arizona 17
Are we sure that Arizona is good? Their three Pac-12 wins came against Colorado, Utah, and Cal, the latter they only beat by five points last weekend. Brett Hundley will provide a tough test for the Wildcat defense, and Arizona's lackluster passing attack won't be able to come back after falling behind early.
Gabe: UCLA 35, Arizona 21
UCLA got back on track last week with a 45-23 win over Colorado following back-to-back losses against Oregon and Stanford. Quarterback Brett Hundley, who threw for 273 yards and four touchdowns last week, will look to keep rolling against the Wildcats and win UCLA their first game in Tucson since October 2003.
Darian: Arizona 24, UCLA 21
I smell an upset down in Tucson this weekend. The Wildcats are riding a current three-game winning streak, and their offense is averaging over 35 points a game. Should the Wildcats be able to turn this one into an old-fashioned shootout, then they have a shot at upsetting the Bruins.
Marc: Arizona 34, UCLA 28
Both UCLA and Arizona come into this matchup with two losses, and neither wants to add a third to their record. A year ago, UCLA demolished the Wildcats 66-10, a loss Arizona will surely want to avenge. Arizona is riding a three-game win streak, including wins over Colorado and Cal, while UCLA is coming off a win versus Colorado after a rough patch of scheduling against Stanford and Oregon. This game should be a close one, but UCLA's recent form has been less than impressive, and I see Arizona pull off their fourth straight win.
Mike: UCLA 34, Arizona 20
By now, UCLA has shown enough to earn the benefit of the doubt against Pac-12 teams not named Oregon and Stanford. That's especially true against an Arizona team whose 6-2 record features zero quality wins and a passing attack that still ranks 102nd in the country.
Andrew: UCLA 28, Arizona 24
The Bruins definitely can't sleep on the Wildcats this week, as Arizona will give them a close game, but I don't think Arizona has the secondary coverage to stop quarterback Brett Hundley and the explosive UCLA offense. The dual-threat of Hundley, with his ability to beat teams by passing and scrambling, will open holes in the Arizona defense, and ultimately lead to a come from behind win for the Bruins.
SEASON STANDINGS
1. Max 34-11
2. Gabe 30-15
3. Andrew 29-16
3. Mike 29-16
5. Marc 26-19
6. Darian 25-20