USC Sports
College Football Week 10 Picks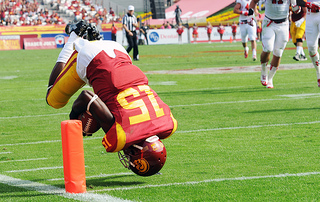 Another big week of college football, although this week's top-10 matchup features a 22.5-point favorite. Nonetheless, here are our experts with their predictions this week.
USC at Oregon State
Max Meyer (@TheMaxMeyer): Oregon State 34, USC 21
USC has not allowed a wide receiver to eclipse 85 yards this season, but Oregon State wideout Brandin Cooks is the first true test this secondary will face. Between him and quarterback Sean Mannion, I just don't see USC's defense keeping the Trojans in this game. Additionally, USC has suffered too many injuries to keep this game close.
Gabe Quintela (@gabequintela11): Oregon State 31, USC 21
This will be a difficult game for the Trojans, away from home with an injury-prone roster. Oregon State has been impressive at home and they lead the country in passing yards per game. Oregon State quarterback Sean Mannion has had a ridiculous year, completing almost 70 percent of his passes, throwing for 3,263 yards and 30 touchdowns already this season. Playing against an inconsistent USC defense that got lit up by ASU, it could get ugly for the Trojans.
Marc Sallinger (@marcsallinger): Oregon State 28, USC 21
The Trojans roll into Corvallis riding a big wave of momentum after a very impressive win against Utah a week ago. A big match-up this week will be the Oregon State passing game against the USC defense. Beavers quarterback Sean Mannion is the nation's leading passer, averaging 408 yards per game. However, the Trojan defense has only allowed two quarterbacks all season to pass for more than 300 yards, a stat that will surely be tested this week. Unfortunately, I think the high-pace Beaver offense will simply be too much for the Trojans to handle this week.
Darian Nourian (@dariannourian24): Oregon State 35, USC 17
The Beavers junior quarterback Sean Mannion leads the NCAA in passing yards and touchdowns, and only has one interception. Don't forget his stud junior wide receiver in junior Brandin Cooks, who also leads all of college football in receiving touchdowns with 13. The USC secondary is going to have trouble containing these two all night, not to mention this game will be played in Corvallis, where it seems like USC never wins.
Mike Piellucci (@mikelikessports): USC 31, Oregon State 27
At some point, USC's bad mojo is going to end in Corvallis, so why not Friday? USC could have all five of its scholarship receivers together for the first time in a long time, and together with the probable return of Xavier Grimble gives the offense plenty of firepower. Of course, USC has never lacked for a talent advantage versus the Beavers; the difference is that, this time, there's no hubris going into this game the way there was in previous contests. If Kevon Seymour can slow down Brandin Cooks, I think USC walks away with a win.
Andrew Tweedy (@nyy_baseball): Oregon State 24, USC 17
A healthy Trojans team would have a much better shot in this game, but with all the injuries they have right now, I don't think they'll be able to pull this one out. With Marqise Lee only listed as probable, he doesn't seem healthy enough quite yet to be a huge difference maker. Tre Madden will keep the Trojans in this game, but the explosive Beaver offense will be too much for USC to handle.
#7 Miami at #3 Florida State
Max: Florida State 49, Miami 24
Jaemis Winston and Florida State's defense will be too much for an overrated Miami team to handle. The Hurricanes offense is too turnover-prone, and that will be their undoing. Winston will continue his Heisman campaign, as well as Florida State keeping their National Championship dreams alive.
Gabe: Florida State 35, Miami 21
It's going to take a lot for this Miami team to be able to slow down Heisman candidate Jameis Winston and the FSU offense that is currently third in the nation in with 52.6 points per game. The Seminoles have a great offensive line, an impressive core of receivers (including one of the most efficient red zone tight ends in college football) and respectable running backs. Remember that despite their record, this is a Miami team that gave up 395 passing yards to UNC just two weeks ago, a scary stat entering a game against Winston this year.
Marc: Florida State 34, Miami 28
The battle for Florida matches up two undefeated teams looking to make a national championship run later this season. Coming off a late comeback win against Wake Forest, the Canes look to continue their heavy reliance on running back Duke Johnson. Last week, he ran for two touchdowns in the fourth quarter, leading to a 24-21 win. Florida State is coming off two dominating wins, last week against North Carolina State and two weeks ago against then-No. 3 Clemson. The Seminoles have looked so impressive this season that it's hard to see them losing this week.
Darian: Florida State 42, Miami 31
A national championship is at stake for both of these Floridian teams, and the team with the number-one pass defense in the country (153.7 yards per game) will prevail in Florida State. Not only do they have a stellar pass defense, but also a redshirt freshman quarterback named Jameis Winston, who continues to make a case for the Heisman trophy, having thrown 23 touchdown compared to only four interceptions.
Mike: Florida State 42, Miami 24
I don't think Miami is as good as their undefeated record but I also don't think they are as overrated as some others think. The problem is that Florida State's entire roster is stocked with blue chippers, whereas the Canes only boast a handful. That, plus this being at Doak Campbell stadium, has me betting on a comfortable Seminole win.
Andrew: Florida State 35, Miami 21
Miami is not as good as its 7-0 record indicates. The past two weeks, the Canes have barely gotten past North Carolina and Wake Forest, two programs a top-10 team like Miami should have been able to handle rather easily. Florida State will prove to be by far their biggest challenge of the season, ranked No. 3 in the country and behind Heisman trophy candidate Jameis Winston, the Seminoles will roll.
#18 Oklahoma State at #15 Texas Tech
Max: Texas Tech 35, Oklahoma State 28
I see Kliff Kingsbury's team bouncing back after a loss against Oklahoma last game. Davis Webb threw for almost 400 yards last week, and I see him having a monster game this week, this time though for a win. Oklahoma State doesn't have enough firepower to keep up in my opinion.
Gabe: Texas Tech 38, Oklahoma State 31
Oklahoma State's hope in this game is for its running game to come alive like it did last week against Iowa State. Yet, against a higher-caliber defense such as Texas Tech's, they are going to need to have an efficient passing game in order to develop the run, a problem considering OSU has the second-lowest completion percentage in the Big 12. Look for the Red Raiders to perform well offensively and to win this game.
Marc: Oklahoma State 30, Texas Tech 24
Oklahoma State finally found their running game a week ago against Iowa State. Desmond Roland ran for 219 yards and four touchdowns in their 58-27 win. The story for Texas Tech last week was quite different, losing 38-30 to Oklahoma. Davis Webb threw for 385 yards, but that still wasn't enough. I see Oklahoma State taking this game and handing Texas Tech their second straight loss.
Darian: Texas Tech 24, Oklahoma State 21
Each of these one-loss teams needs to win this game in order to stay alive for the Big 12 championship. This is going to be a battle of the trenches between Oklahoma State's running game and the Texas Tech rushing defense, and whoever wins that battle is going to win. Cowboy running back Desmond Roland had a career day last week, rushing for 219 yards and four touchdowns on 26 carries, so the Red Raiders are going to have to put the breaks on him. I think that Texas Tech wins this game though because they are at home, and they have wide reciever Jace Amaro, who leads the Big 12 in receiving with 64 catches for 861 yards.
Mike: Texas Tech 28, Oklahoma State 20
Anyone who needs a primer on the decline of the Big 12 should watch these two teams square off. Like always, there will be plenty of offense but far less talent and execution than this type of clash would produce even a few years ago. Tech, at least, knows what they are, while OSU's identity vacillates depending on which one of Clint Chelf or JW Walsh is under center.
Andrew: Texas Tech 38, Oklahoma State 31
I picked against Texas Tech last week, and even though they lost, I'm going with them this game. This week I will pick them, even though they have dropped the last four games in this series against Oklahoma State. Behind quarterback Davis Webb, the Red Raiders will lean on their passing game to get past the Cowboys defense, and lead Tech to a win in front of the home crowd.
#21 Michigan at #22 Michigan State
Max: Michigan State 24, Michigan 17
How could I possibly pick a Michigan team that has almost lost to Akron and UConn to beat one of the top defenses in the country? Additionally, the Spartans proved last week that they can score as well, putting up 42 points against Illinois. It's surprising to see that Michigan has only one loss, but they will be not ranked in the Top-25 after this weekend.
Gabe: Michigan State 21, Michigan 14
Defense is key in this game, as an inconsistent Michigan team takes on a very impressive Michigan State defense, third in the nation in points allowed at 12.3 a game. I'm going with more consistent play and the home team in this match-up.
Marc: Michigan 28, Michigan State 24
The Wolverines head to East Lansing to face the Spartans in the battle for Michigan. A week ago, Michigan exploded to a 63-47 win over Indiana, racking up 751 yards. Michigan State is coming off a rout over Illinois, rolling to a 42-3 win. Whoever wins this game will take control of the Big Ten Legends division, and I believe Michigan will pull out a close win on the road this week.
Darian: Michigan 24, Michigan State 14
The Spartans dominated Illinois 42-3 last week, and allowed only eight first downs, demonstrating their defensive power against opposing offenses. We will see if the Wolverines have just enough of that offensive firepower with quarterback Devin Gardner who passed for 503 yards last week against Indiana, in which Michigan put up 63 points. His receiver in Jeremy Gallon was on the receiving end of most of those passes as he went off for a Big-10 record 369 receiving yards and two touchdowns. The connection between those two players will be tough for Michigan State to stop.
Mike: Michigan State 23, Michigan 20
I'm being exceedingly kind when I say that nothing about Michigan State is pretty but they do the defense-run game combo exceedingly well. The Wolverines, meanwhile, have walked the tight rope quite a bit this season, mostly against teams they had no business playing down to. They can't and won't take the Spartans lightly, but I'm not sure that will matter in East Lansing.
Andrew: Michigan State 17, Michigan 14
In a low-scoring affair, Michigan State will have to rely on its shutdown defense in order to get the win against rival Michigan. The Wolverines have been pretty inconsistent this year behind quarterback Devin Gardner, nearly losing against Akron and UConn earlier in the season, but still possessing a 6-1 overall record. The luck runs out this week against the Spartans, as the Michigan State defense continues to prove they are one of the best units in college football.
Georgia at Florida
Max: Georgia 24, Florida 14
Georgia has been a massive disappointment this season thanks to injuries, but luckily they get stud running back Todd Gurley back for this game. Gurley and Aaron Murray will provide too much firepower for Florida's injury-riddled defense, and keep the Dawgs alive in the SEC East race.
Gabe: Georgia 28, Florida 24
Both teams have been banged up heavily as of late. Florida experienced a heavy blow to their offense as left tackle D.J Humphries was ruled out for this weekend's game. I think the difference comes from Georgia's ability to exploit a hurting defense with the return of starting running back Todd Gurley.
Marc: Georgia 21, Florida 14
Georgia has struggled so far this season, and after two straight losses, it's not looking good for the Bulldogs. However, the Gators have struggled just as much. Both teams have lost to Missouri in the past two weeks, and now look to turn their seasons around in a much-needed game for each squad. At the end of the day, Florida's mediocre offense will not be able to beat out Georgia's defense, which has had spurts of impressive play throughout the season.
Darian: Florida 21, Georgia 17
Both teams are sitting at 4-3, and have been overwhelmed by the great competition within the SEC this season. However, both teams remain in the running for the SEC East. Florida's lackluster pass protection will need to improve if they are going to want to be able to protect quarterback Tyler Murphy from the Bulldogs' pressure. Freshman running back Kelvin Taylor should play a greater role for the Gator offense to take away some of the pressure from Murphy. If the bad, rainy weather is enough to stop Georgia quarterback Aaron Murray, the Gators will narrowly win this game.
Mike: Georgia 24, Florida 13
In the battle of banged-up bitter rivals, one team is actually good while the other is scuffling. That good team, Georgia, also returns Todd Gurley, who for my money is the best running back in the country right now. Aaron Murray goes out with a bang in his home state and the Dawgs get back on track.
Andrew: Georgia 21, Florida 17
Both of these teams are banged up, lacking impact players on both sides of the ball. The key to this matchup will be the return of running back Todd Gurley for Georgia, as he will take advantage of the holes that Missouri exposed in the Gator defense a few weeks ago. It will be a low-scoring game due to the injures on both teams, but the Bulldogs will come out on top of this matchup between underachieving SEC programs.
SEASON STANDINGS
1. Max 31-9
2. Gabe 27-13
3. Andrew 26-14
4. Mike 25-15
5. Darian 24-16
6. Marc 23-17