USC Sports
Coach O Loses Game, Momentum In USC Loss To UCLA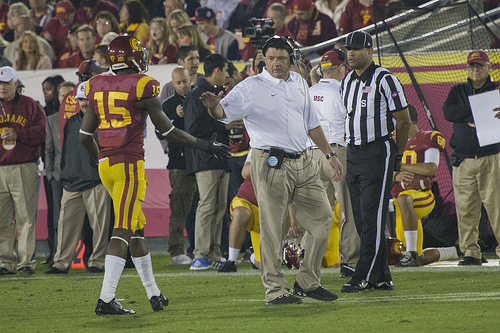 In a day that consisted of several miraculous finishes in the world of college football, one supposed storybook ending went down into flames. With USC's lackluster 35-14 defeat at the hands of rival UCLA, Ed Orgeron's campaign to become the next USC head coach is officially on life support.
Orgeron led USC to a 6-2 record after Lane Kiffin was fired in late September. The boosters loved him, the fans adored him and most importantly, the players were revitalized under him. Those two losses, however, came against USC's two biggest rivals in UCLA and Notre Dame, and the Trojans looked flat in both of those contests.
"I felt that the energy level was very high before the game, as high as it's ever been. I think that when we didn't make plays, we got discouraged early, which is disappointing," said a defeated Orgeron in the post-game conference. "We had energy in spurts, but we weren't as consistent as we've been in the past couple of games."
From the beginning, it was easy to see that USC was not playing with the same passion they had against Stanford. They scored zero first quarter points for the first time since versus Washington State, the second game of the season. The Los Angeles Coliseum was quiet throughout most of the game, and the atmosphere felt as if they were still affected by their Thanksgiving turkey.
UCLA quarterback Brett Hundley gave Trojan fans nightmarish flashbacks to 2005, when Vince Young took over with his arm and legs in the championship game. He had 7.7 yards per pass attempt and completed 66 percent of his throws, consistently picking apart USC's secondary. He also ran for 80 yards and two touchdowns, and converted three third downs with his legs.
MORE: Behind Enemy Lines: Embattled Bruins March Into Troy
The one bright spot on USC's Senior Day was sophomore tailback Javorius Allen, who had his fourth career 100-yard rushing performance on more than six yards a carry. The rest of the offense struggled to develop a rhythm, and two of their starting offensive linemen (Marcus Martin and Aundrey Walker) leaving the game after suffering injuries didn't help.
"Obviously it's never good when you lose two offensive linemen in the same game, but it didn't change the scheme too much," said USC quarterback Cody Kessler. "We just didn't execute, and that's on the players."
In addition to subpar performances by the offense and defense, the special teams didn't play well either. They often gave up great field position on kick returns and Kris Albarado continued to struggle punting the football. USC has now lost their last two meetings against UCLA, after beating the Bruins 50-0 in the Coliseum two years ago.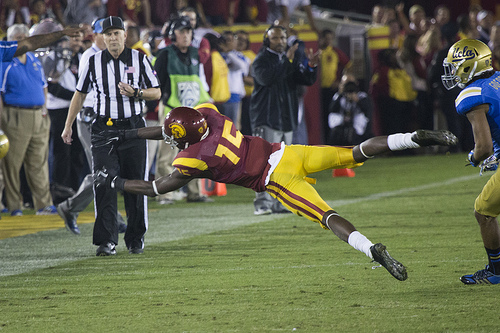 "You win two in a row in this town, and things start to change," said UCLA coach Jim Mora Jr. "If I'm a high school player, I want to play at UCLA."
The Trojans knew they needed to win this game to keep their beloved coach, but they were simply outplayed and outcoached by their crosstown rivals. It's not likely Pat Haden will risk his legacy as athletic director by hiring a guy who lost two of three rivalry games and who will likely end up in the Las Vegas Bowl, a downgrade from the Sun Bowl last season.
Orgeron was a great story, and a great person to rally around. The win against Stanford was one of USC's most memorable moments since the Pete Carroll era. It's always fun to root for the underdog, and there was a clear transformation by the team under him compared to Kiffin. But in the end, a top-tier football program needs to hire a big-time coach when there is a vacancy.
It'll be interesting to see which direction Haden goes in the offseason, since favorite Kevin Sumlin signed a six-year extension with Texas A&M on Saturday afternoon. Boise State's Chris Petersen and Vanderbilt's James Franklin will be two of the names that will be whispered throughout Los Angeles. It's ironic that neither of these coaches have the letter "O" in their names.
Yet, despite the energy-draining defeat, Orgeron is still looking forward to his next challenge, quite possibly his last as a Trojan.
"I'm gonna take it one day at a time. Right now, I'm hurting for these guys and our coaches... we wanted to win this game. Tomorrow's going to bring a new day, the sun is gonna shine," said Orgeron. "We're gonna get up and get at it again. We're going to look at the film, make our corrections and we're going to fight."
Reach Senior Sports Editor Max Meyer by email.