Los Angeles
Chrysalis: An L.A. Nonprofit For Employment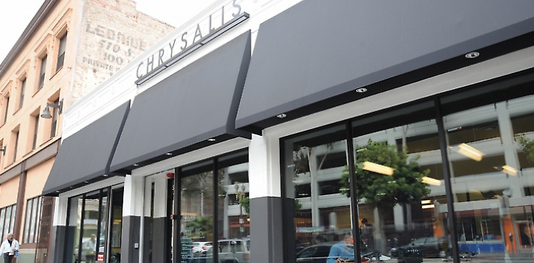 Located in Downtown Los Angeles, the doors of
Chrysalis
, a non-profit organization that creates job opportunities for the homeless and low-income population, are open to anyone.
Stepping into the office, light floods in through the floor-to-ceiling windows as people work away at provided computers. The walls are adorned with colorful, motivational quotes ("you can do this") and success stories of those who have made the employees at Chrysalis proud.
"It's nice to sit here and show people what they are worth," said Marian Mikhail, a volunteer. "A lot of people are worth a lot, and I think that's the most rewarding part about this opportunity."
Through Chrysalis, some 42,000 have found employment since 1982, with 1,820 clients in the past year alone.
According to its website, Chrysalis is founded on the idea that "a steady job is the single most important step in a person's transition out of poverty and onto a pathway of long-term self-sufficiency." Education specialists offer classes and one-on-one sessions to help build resumes and interview skills, as well as stress and money management techniques, through which the organization hopes to get the homeless and the low-income population back into the workforce of Los Angeles.
"We don't force anyone to come to us, but when the clients walk through that door, they work hard and they get a job," said Helga Toender, the volunteer manager at Chrysalis. "It's pretty awesome."
Toender said that the organization provides the client with all the resources necessary to obtain a job—and keep it. "The core curriculum covers the job search—how to look for a job, how to apply and how to interview," she said. "We teach stress and money management, and goal planning. We have computers that clients can learn on and we provide clients with an address and a phone number in case they don't have one. What do you do if you write a resume and you don't have an address?"
People from all different backgrounds walk through the doors of Chrysalis, from former convicts to recovering drug addicts to those who have been out of the work force for a long time.
"At a certain point in life, regardless of your background, you might need some help. We meet so many different people with different needs so we try to make it interactive with conversations," said Toender.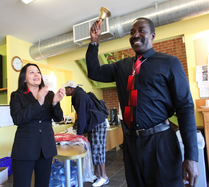 Mikhail is one of the volunteers at Chrysalis who works with clients on both a group and one-to-one basis. Moving from the Bay Area to L.A., she felt that there were not a lot of non-profit organizations that do "real, genuine work."
Stumbling upon Chrysalis, she said, she knew that joining this organization would allow her to make a difference in the community. "You help people become self-sustained and job ready, to go provide for their economic livelihood," said Mikhail. "I work on a clients resume within 40 minutes and when it's printed out, you should see their expression on their faces. They are like, 'is this really me?'"
She recalls helping a 65-year-old woman who walked into Chrysalis, having been out of the workforce for a while and wanting to apply for a lower-level job opportunity. After completing her program at Chrysalis, she was offered a managerial position. This is just one of the many success stories on the organizations success wall. And persistence is key.
Toender said encouragement is a big part of their program. "A lot of people have this amazing set of skills but people don't think of that as an experience that's worthy of being on a resume," she said.
Many clients say that they don't have any skill sets. After asking what the client has done in the last 10 years, he or she usually realizes the value of their experiences, even being incarcerated, for example, and working as a cook, can afford one the know-how of working in a high-pressure environment; a skill often looked for in employees. "If you are downplaying the job you did before, no one is going to know how amazing you are," Toender said. "So it's about building that self-esteem and to know that you have something to bring to the table."
Toender and Mikhail mention a tradition unique to Chrysalis. When a client gets a job, they ring this giant bell in the middle of the office and everything stops. "Meetings stop, classes stop, and we all come out of our offices. If I'm on a phone call, I say I have to call them back. We all gather around and hear our client's story. It's an amazing tradition and it's so powerful to see someone that's put all of his or her energy into getting a job. The pride they feel when they get it, and then we celebrate as a community… it's huge," said Toender.
Sometimes people will have more trouble finding work than others. People who have applied to more than 26 jobs are referred to Chrysalis Enterprises, which provides transitional, temporary jobs. According to their website, the company created over 262,000 hours of work and generated $2.1 million in wages, with the majority of positions pertaining to administrative work or the street maintenance services that can be seen all over L.A. County.
"The challenge is not when the clients have limited skills," Mikhail said. "It's when they have a lot. There's so much about you that it's difficult to put you on paper."
Before being considered eligible for the program, clients are required to have some sort of housing, two forms of ID and have been sober and clean for at least 30 days.
A Client's Story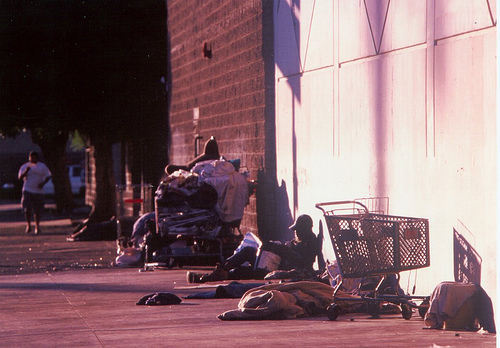 Vernon Ponds is one of the many people who walk out of Chrysalis every week, feeling like a new person. Having been homeless for four years, Ponds realized that it was time for him to turn his life around. That's when his friends near
Skid Row
told him about Chrysalis: "Everyone knows about it in Downtown L.A.," said Ponds. "Chrysalis is a way to get back on track."
Ponds, a New York native, has been in L.A. for 10 years now. Before moving to California, he was a residential aide at New Hope, a center for the mentally retarded, and a job coach at Cornell University. After 15 years, he said, he got tired of it, and decided to become a security guard at several companies, including ABM Security. Then his life spiraled into a world full of drugs and alcohol.
Ponds lost his money to cocaine and encountered life on Skid Row. He spent his time at missions and organizations that help the homeless.
"Many people are content with living on the streets. But I wasn't. I was not content," Ponds said. "I always thought, I have some kind of morals, and I need to take chances."
Taking a chance, he walked away from his life on the streets and walked into Chrysalis.
"They take you in immediately," said Ponds. "At Chrysalis, there's no hand-down—it's always a hand-up." Ponds believes that people who are starting a second career need some sort of guidance, which is why he turned to Chrysalis. The volunteers and employers at Chrysalis put together his resume, bought him interview clothes, taught him how to go on the Internet, and landed him a spot at a "Guard Training" center.
"Chrysalis gives us a voucher to find a job—it's hard to go from the bottom to the very top, which is what I am trying to do. Chrysalis helps us," said Ponds.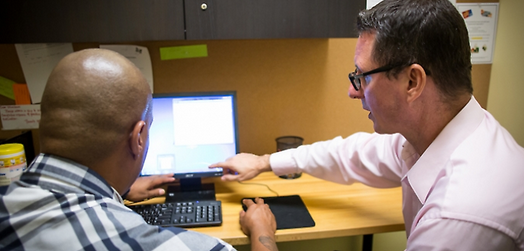 Currently, Ponds lives in
Section 8 housing
, which is costing him $197 a month. He stops into Chrysalis once a week to check his email and find new job postings, a luxury that he did not have six months ago when he began his course at Chrysalis. A phone is available to him at the office to call his children, aged 19, 28, and 32, back in New York. He moved to L.A. partly because he didn't want his children to know that he was addicted to drugs and homeless. For this reason, he is currently living alone, over a month clean, and enjoying it.
"I want to become a productive member of society before I can womanize again," he said. "And I have to work for it."
He mentions that a lot of the people living on Skid Row are so "used to losing that they won't help themselves." This is why Ponds took the advice of friends and sought help, something he wants to pass along to fellow members in his community: "I am a recovering addict, and in order to stay that way, I need to give. I need to give people the help they want and need."
Ponds hopes to finish his guard training and have stable employment within the next six months: "I'm taking time to replace my new life with the old," he said.
Ponds said he would never beat down on himself because he knows what rock bottom feels like, adding that things can only get better from now on.
"It's bad enough that you are doing an uphill battle, and that's why Chrysalis is so great. Once you get there, you're all right. If it weren't for Chrysalis, I'd still be struggling to get from point A to point B."
Once he gets a job, Ponds sees himself working until he physically cannot work anymore. "I believe that people die when they stop working," he said. "Their bodies decay when they aren't active, and I don't want to be one of those people. I am not going to stop until I have no more strength to work."
At age 58, Ponds has found a new perspective on life. He has a monthly budget and lays out everything he spends. And he watches his favorite football team, the San Francisco 49ers, in his spare time. In the future, he said he hopes to move to Seattle because it felt like the closest thing to New York without actually being in New York.
He remains determined and optimistic about his future. "You have got to be willing to make your own way," he said. "Seeing people walk into Chrysalis and ring the bell signifies that someone made it. And then I think, if they can make it, I can do it too."
Reach Staff Reporter Beatrice Verhoeven here. Follow her on Twitter here.