Los Angeles
Chris Paul Sets New Double-Double Record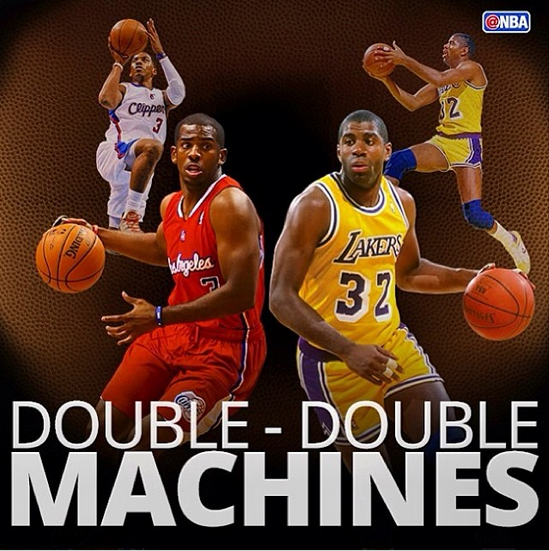 While all eyes were on the heated matchup between Blake Griffin and Kevin Love in Minneapolis last night, Chris Paul was quietly making history.
With his 12th-straight double-double when he had 20 points and 11 assists last night, Paul passed the legendary Magic Johnson to become the new titleholder of the longest points and assists double-double streak in NBA history. "It's huge man. Magic is a mentor of mine, somebody I look up to. His basketball production was unbelievable so [to] be mentioned in anything with him is huge and an honor," Paul said in a post-game interview.
After scoring a meager eight points in the first three quarters, Paul suddenly exploded to pick up 12 straight points in the last 3:41 of the game and carry the Clippers to a 102-98 victory. "That's why he's a superstar and one of the best point guards in this league," Timberwolves shooting guard Kevin Martin said. "He got hot at the end and he's capable of doing that. We did everything we could do to try to force him to miss shots, and unfortunately he didn't."
In addition to his double-double, Paul also contributed with six rebounds and four steals.

Paul's new record just serves as further proof of his status as the top point guard in the league. Comparing his 10 assists and eight points in the first three quarters to his one assist and 12 points in the final quarter, it is clear that Paul prioritizes helping his teammates out over shooting the ball first himself. The future Hall-of-Famer's mentality is something that other point guards should strive to attain and embrace.
In terms of what was predicted to be an intense match between two of the best power forwards in the league, Griffin was the clear winner this round. With 20 points and 10 rebounds in comparison to Love's 10 points on 2-of-14 shooting along with 12 rebounds, Griffin displayed greatly improved offense and defense. "Nights happen like that and you just try to fight through it. I was a little frustrated. I was getting slammed out there," Love said of his poor performance.
In other notes, both DeAndre Jordan and Ryan Hollins were each slapped with flagrant-one fouls. J.J Redick scored 14 points and Jamal Crawford scored 16 points for the Clippers, as the team shot 12-of-24 from three-point territory. Martin had 28 points and 10 rebounds and Nikola Pekovic had 20 points and seven rebounds for the Wolves. Ricky Rubio was still struggling to get back into his old swing, as he was only able to put up five points in 35 minutes of play last night.
The Clippers are in Oklahoma City tonight to play against the Thunder while the Timberwolves face off against the Nets at home on Friday.
Reach staff writer Nicole Kim here.