Style
Cutest Dog In The World Collaborates With Crocs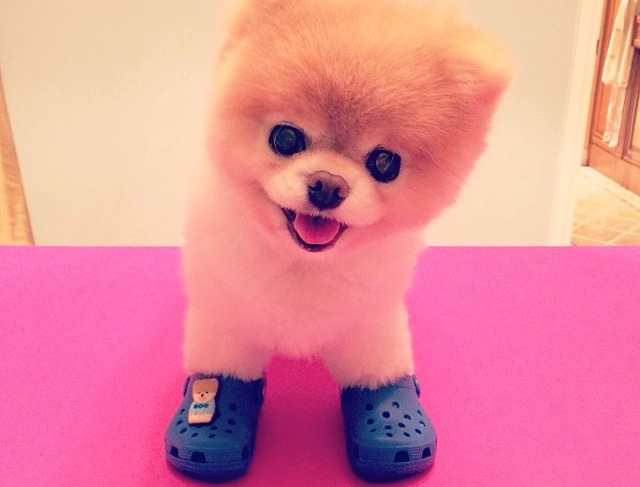 Is it possible that some of the ugliest shoes ever sold just became cute? Probably not, but who could resist seeing the self-proclaimed
world's cutest dog, Boo
, sport a pair of Crocs adorned with charms of his own face.
The stuffed-animal-like Pomeranian that has captured the hearts of his 8.3 million Facebook fans with his perfectly-poofed coif and dazzling smile has collaborated with Crocs to sell two Boo 'Jibbitz,' according to License Magazine.
The Boo 'Jibbitz' will most likely be marketed to the 10-years-old-and-under demographic, who tote the foam charms as accessories to their "fashion forward" Crocs. All Croc fanatics can rock the Boo-inspired charms, though, as they are now being sold on the Crocs website for $2.99.
This isn't the first endorsement deal Boo has struck with major companies. In 2012, the 5-year-old pup signed on with Virgin America Airlines as the Official Pet Liaison. Boo also has two books chronicling his adventures, and even starred in his very own Christmas movie in 2012. Some dog owner out there has definitely made a buck off of this pooch.
"Boo's whole 'I'm a dog, life is good' outlook is built around being cute and comfy, so this Crocs deal is a perfect fit for our licensing program", said Tamra Knepfer, co-president of Knockout Licensing.
Let's be real; has Boo ever publicly announced that this is his outlook on life, or is Crocs just trying to compensate for a July 2013 43 percent decline in profit sales?
Whatever the reasoning is behind this mashup, we can't deny that Boo's cuteness overload does bring a smile to our faces—even if it's slapped on a rubber monstrosity of a clog.
Reach Staff Reporter McKenna Aiello here, and follow her on Twitter @McKennaAiello.