Health
Body Love Week: Boosting Campus-Wide Body Acceptance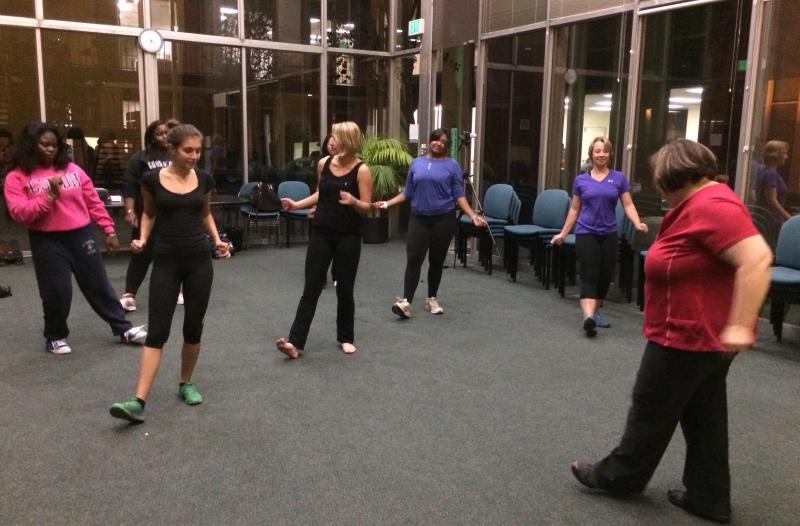 Last week, the Women's Student Assembly (WSA) at the University of Southern California organized the school's first body love week to promote a positive, body-loving environment—something that is often missing from college campuses.
On Thursday night, WSA invited the author of The Fat Chick Works Out, Jeanette DePatie, to work out with students and to talk about how to live a healthy life.
For years DePatie struggled with her dreams of becoming a fitness teacher and trying different ways to have a perfect body. After conducting research, she began to realize that being thin does not equal to being healthy. Instead she embraced her self-appointed name, the Fat Chick.
"Not everyone who exercises will look like a super model," DePatie said. "Health is a lot more about behavior than about mind."
As a certified instructor, DePatie said that no matter how people look—heavy set or rail thin—health is not just about appearance, but depends on eating well, exercising regularly, and not smoking or drinking.
DePatie has traveled around the country and worked with the media to encourage greater aceptance and appreciation of a vast range of body types.
Instead of making herself miserable with countless failed attempts at attaining a perfect body, DePatie began focusing on healthy behavior.
"When I figured this out, my life got so much better," DePatie said. "I am so much happier and healthier too."
The director of WSA, Kaya Masler, a senior political science major at USC, said that WSA has heard a lot of USC students making negative comments about their bodies and promoting obsessive dieting. WSA wants to help students feel confident and content with themselves.
"We want to do it in a positive way by highlighting this movement of people who are starting to think about their body as beautiful out of the narrow confine of able-bodied, white, thin and hairless," Masler said. "That's just a slim representation in the media and we want to expand that image of beauty."
Jasmine Aguilar, director of the Body Love Initiative, empathizes with students who are struggling to accept their own bodies.
"I felt really alone in the fact that I hated my body," Aguilar said. "I felt like everyone around was really confident with themselves."
Aguilar's friends supported her when she was fighting with the eating disorder and the experience inspired her to help other students who suffered from body dissatisfaction.
"This is one of the biggest events," Aguilar said. "This gives them an outlet to come and see their bodies are beautiful and they don't have to change unless they really want to it for personal reasons."
Teagan Trautwein, a senior communication major who attended Thursday's curvy workout session loves the idea of Body Love Week.
"I've always been someone who is curvy and skinny," Trautwein said. "So hearing this is specific a work for all body shapes and sizes sounds super fun to me."
Carol Ciriaco, another student who participated in the curvy workout, said that the society tries to mandate how women's body should look. She hopes that students can widen their acceptance of female bodies through the event.
"It's harder here in L.A. because there is a lot of emphasis on what your body should look like," DePatie said. " But it's not easy anywhere."
Contact Staff Reporter Zhiqi (Scarlett) Chen here.