USC Sports
Behind Enemy Lines: Embattled Bruins March Into Troy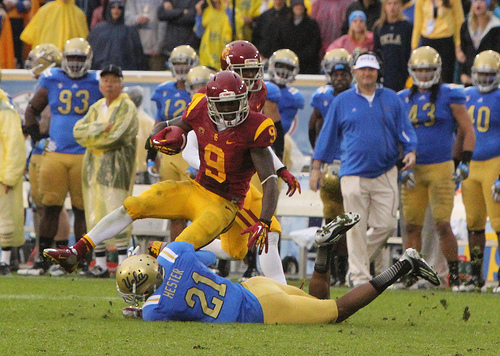 It's been a hell of a ride for these USC Trojans. After Lane Kiffin was fired in September, USC has gone 6-1 under interim head coach Ed Orgeron, including a 20-17 victory over Stanford two weeks ago. What originally looked like a UCLA mismatch in the two schools' annual rivalry now looks to be a toss-up, with both schools entering Saturday with three losses and a hunger to end the season on a positive note. In order to bring a Bruin perspective into the eagerly awaited matchup, we chatted with
Daily Bruin
senior sports staff
Andrew Erickson
. It's not any old week. It's Rivalry Week.
Neon Tommy: Last year, UCLA was the team with all the momentum heading into the game, on a 4-game winning streak heading into Rivalry Week. This year, USC has won five straight and is favored in the Coliseum. What do you think are the biggest differences between 2012 and 2013's matchup, and which team benefits more from those changes?
Andrew Erickson: Well, the most obvious change for both team is a missing offensive captain. UCLA's run game, without Johnathan Franklin, started the season with a by-committee approach and shifted to the Myles Jack approach in the face of injury. USC, on the other hand, lost Matt Barkley and faced an early-season dip in production at the quarterback position. I wouldn't argue that either team benefits from the changes, but USC's quarterback situation is probably better than UCLA's running back situation at the moment, so I'll give the edge to the Trojans.
NT: In 2012's 38-28 win by UCLA, Bruins quarterback Brett Hundley had an efficient passing day, completing 73 percent of his passes for 234 yards while also running for two touchdowns against the Trojans. A year later, how has Hundley improved his game, and is there anything USC should expect to see from this now that he wasn't able to do last year?
Erickson: As I mentioned earlier, the Bruins lost Johnathan Franklin, the school's all-time leading rusher, to the Green Bay Packers in the offseason, taking away a critical piece of last season's offense. That has forced Hundley to shoulder the load of the UCLA offense for much of the season. Sure he's improved in areas like sliding and learning to throw the ball away, but his adjustment to having to be the offense's biggest playmaker is one that has taken some failure (see: Hundley's games against Stanford and Oregon) to learn. USC is still getting the same quarterback it saw last year, just with more responsibility.
NT: UCLA linebacker Anthony Barr has attracted the media spotlight, and deservedly so, with his 8 sacks and 17 tackles for loss this season. He'll need extra work to be contained, especially since everyone remembers his hit on Matt Barkley last year, but who else in the Bruins' front seven does Cody Kessler need to be especially aware of on Saturday?
Erickson: With Anthony Barr garnering some extra attention from Pac-12 offenses, players like defensive end Cassius Marsh have been able to benefit. Despite being a bit undersized at 260 pounds, the senior has four sacks, due in large part to Barr's past success getting into the backfield. Recently, the Bruins' front seven has looked more like a 4-3 as opposed to a 3-4, as Barr will frequently line up on the line and either rush or drop back into coverage. It's when he absorbs sometimes multiple blocks at the line that the rest of UCLA's defensive linemen, not so much linebackers, become dangerous.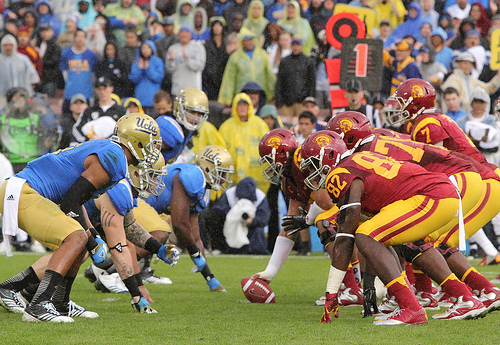 NT: USC's current running back was fourth on the depth chart to start the season, but UCLA's started 2013 as a linebacker. How do you expect Myles Jack to be used on Saturday against USC's stout run defense, and how do you expect UCLA's running back rotation to work out?
Erickson: From what Mora said on Thursday, redshirt junior running back Jordon James should be ready to go for Saturday's game. While his limited size prevents him from being an incredibly effective north-south runner, James looked much improved to start the season before badly spraining his ankle. I don't expect James to get many carries, but he and redshirt freshman Paul Perkins should combine for the majority of the snaps out of the backfield on Saturday. As for Jack, the Bruins can't afford not to have him on defense for the entirety of the game-- it showed last week against Arizona State. I'm expecting anywhere from six to ten carries for the freshman linebacker, and I imagine most of them will come near the goal line.
NT: USC's run game has battled injuries just like UCLA's, yet has still run for 177 yards per game this season. Javorius "Buck" Allen is now the main tailback, with Tre Madden and Ty Isaac also expected to receive carries. The Bruins have allowed 17 touchdowns and 173 yards per game on the ground, including 240 yards per game and 10 touchdowns in their three losses. What's been going wrong in the run defense, and do you think UCLA will be able to patch things together and limit USC this week?
Erickson: It's been a bit of a Jekyll-Hyde situation for the UCLA run defense. Against Arizona, it completely broke down in the second half to allow Ka'Deem Carey one of his best performances of the season, and against Washington, Bishop Sankey was relatively held in check. A week later against Arizona State, the run defense was porous yet again, as both Marion Grice and Taylor Kelly nearly ran for 100 yards. In past weeks, the bad run defense has been a bit unexplainable, but against the Sun Devils, the Bruins looked like they were clearly struggling with the read-option and a faster-than-expected Kelly. Biting middle linebackers allowed bigger gains on the ground in the first half, but the Bruins managed to adjust relatively well, allowing just three points in the second half. I think Saturday's game comes down to how well this UCLA defense can handle play-action right out of the gate.
NT: What's your prediction for the game?
Erickson: Before the season started, I would've told you USC would win by 10. Six weeks ago, I would've told you UCLA would win by 20. Now, even with the Bruins' track record at the Coliseum, I think we're looking at a toss-up. My prediction, since the Sunday after the ASU game, has been the following: UCLA 31, USC 28 in OT.
Neon Tommy Sports Editor Predictions
Jacob Freedman: USC 27, UCLA 24
Max Meyer: USC 31, UCLA 28
Jeremy Bergman: USC 34, UCLA 24