USC Sports
Always Ready: Eddy's Path To The Olympic Dream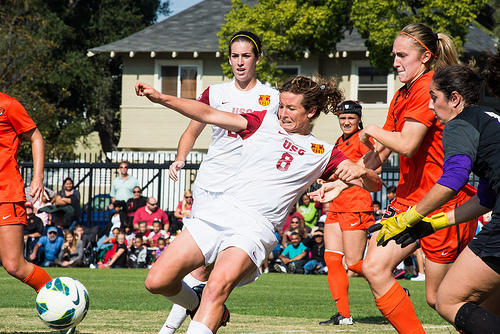 The 5-foot-5 girl with her curly hair pulled back into a short ponytail seems a little bit small compared to other soccer players. Looks can be deceiving though, as Elizabeth Eddy, a senior striker on USC's women's soccer squad, is in fact one of the biggest stars on the pitch for the Trojans.

Eddy usually plays as a winger, hugging one of the edges in USC's three players at the front of the offense. However, if needed, she often takes on a role as a shadow striker or even as a center forward who selflessly creates opportunities for her teammates. On Senior Day last Sunday— her last home game as a member of Women of Troy— USC won 2-1 in double overtime against Oregon State. USC's Jamie Fink scored the winning goal in the 110th minute, but it wouldn't have been possible for Eddy's effort 100 minutes earlier.

"I know I am gonna make this shot. I can, and I will," the 22-year-old mumbled while placing the ball carefully onto the penalty spot in the 10th minute. A deep breath and run-up later, and the ball was struck into the net at a tight angle right under the cross bar.

"I was aiming more towards the left," Eddy said post-game. "But it went down the middle. But, it ended up in the back of the net, and that's what matters!"

Head coach Ali Khosroshahin wasn't as impressed. When the Trojans were granted the aforementioned penalty in the 110th minute, Eddy instantly stepped up to the spot once again. Just as quickly, she was pulled aside by the coach for a quick word.

"He said 'Elizabeth do not take it again, you will end up shooting at the same spot,'" recalled Eddy. "So I said "yes sir.'"

Eddy saved the opportunity for Fink, who placed the shot on target to ensure Eddy a victory in her last game at McAlister Field.

Some players might fuss about not being given the chance to strike a game-winning shot in front of their friends and family, but Eddy is not one. Winning is always on her mind. Besides being eager to take every penalty kick, her winning mentality and ambition are apparent beyond soccer. While some athletes rest during the offseason, Eddy plays for USC's varsity lacrosse squad. "Yup, I am on this field [for practice] every day, twice a day," she laughs casually. "It's awesome."

Having her family around for support during the game for the Senior Day served as an extra motivation. Looking back, Eddy admits, the presence of her family members before the game to celebrate her soccer accomplishments at USC made for an emotional moment.

"I was bawling before the game, which was so pathetic because I hate crying," said Eddy, trying to maintain her composure in her family's embrace after the game as well. "But it was one of the best memories of my entire life. I love them all." The ends are always bittersweet.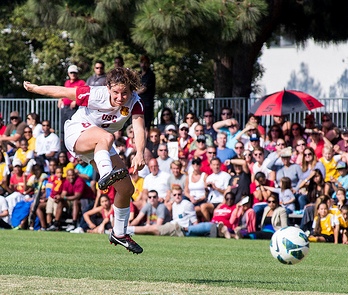 Chasing Her Dream
Arriving as a 4th-generation Trojan with Cardinal and Gold running through her bloodline, Eddy kick-started (literally) her career by scoring a hat trick during her freshman year against Cal, which still remains as the most memorable moment of her college life. Since then, she didn't slow down in her pursuit to become the most dangerous player on the squad. She was selected as part of Pac-10 All-Freshman Team and earned Pac-12 All-Academic Honorable Mention twice.
Eddy has scored the total of 16 goals at USC, and currently ranks 9th on the Trojans' all-time scoring list. With one more game left to play against the crosstown rival UCLA on Thursday, Eddy still has a chance to climb up the ladder.
The bigger focus is on what's ahead. After graduation, Eddy looks to turn professional. Having played in U-17 World Cup for U.S. back in 2008, she now has her eyes set on the Olympics. "My biggest dream is to play in the Olympics," she said. "That was what I wanted to do since I was a kid."
If she does get selected to the U.S. Olympic Team, she will follow the footsteps of USC alumna Amy Rodriguez. Eddy's talent, ambition and positivity might make attaining that dream not out of the question. Just like how she mumbled to in her head prior to the penalty kick, as long as she believes in herself, anything is possible.
"Four years of playing soccer at USC has taught me a lot," Eddy added. "We had a couple of tough seasons, and I have learned to deal with the situation and grew better as a person."
"I know I can, and I will." Whenever Eddy faces a new challenge in life, she repeats those seven words and nothing is out of the question.
Nurturing The Young
As a senior, Eddy does not forget her responsibility to share her experiences with the freshmen on the team. Eddy's positivity especially seems to be the one powerful asset that influences the vibe and improves team chemistry.
"Elizabeth is just a big ball of energy, and she is always smiling and trying to keep it positive for rest of us," freshman striker Kayla Mills said. "[She always] tries to keep us going when nobody really wants to keep going."
Likewise, coach Khosroshahin is impressed by what Eddy has done for the team in the past season. "Having such a young team, we really leaned on our older players. Elizabeth being one of them has helped young players acclimate to their college life and college soccer."
The Women of Troy's battle against the 2nd-ranked Bruins Thursday will be Eddy's last game as USC soccer player, as the team is already eliminated from the postseason. Although four years of college life can be hard to let go, she is ready and looking forward to the game more than ever. "Every time against the Bruins is the best game of the year. I honestly can't wait!," Eddy said in her usual peppiness. "Everybody is united… we're going to take them." The Bruins first; maybe the world next.