Food
3 Worlds Café Provides Fresh, Healthy Alternatives For All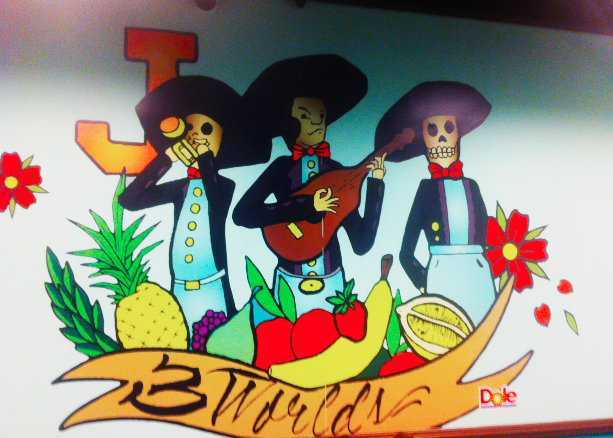 After two years of selling smoothies on the low,
3 Worlds Café
has finally officially opened at 3310 S. Central Avenue.
3 Worlds began two years ago at Jefferson High School. It was inspired by Chef Roy Choi, the award winning chef who created Kogi, a Korean taco truck.
"3 Worlds Café is the name that students from Jefferson High School came up with and basically the '3 Worlds' represents the historic people of the Central Vernon community - the black, brown, and Asian community that has been present here for many years," says Aqeela Sherrills, the cafe's operation manager.
Chef Roy Choi brought Dole Food to the school with the idea of creating a social entrepreneur training program for young people. In addition, he wanted to bring healthy foods to the school campuses.
"Kids are eating hot Cheetos and soda pop in the morning for breakfast, so Choi hooked up with Dole and they were able to create these healthy smoothies," said Sherrills. "[The smoothies had] 100 percent real fruit, no ice, no dairy, no cholesterol, and they were a hit. They started off selling a few and then they grew to about 200 smoothies a day and they basically outgrew the campus. They started looking for a community based location."
3 Worlds Café remains to be a student-run enterprise and offers cheap, fresh and healthy drinks and snacks, which act as alternatives to all the junk food people tend to eat. They even cater.
"Our most popular smoothie we do is the 'Mango Bomb;' folks can't just take one sip of it," says Sherrills. "We have a 'Strawberry Banana' smoothie, a 'Peach Delight,' and we also do fruit cups so we have a boba snack, coconut, and chili fruit cup. These are all made with fresh fruit - with mangoes and strawberries and pineapples, with a little pineapple juice, and chamoy, and it's really really delicious."
3 Worlds Café not only serves great fruit drinks, but they also serve great coffee.
"We have two roasters," Sherrills explained. "Our main roaster is Bella Rosa coffee which is a Mexican American coffee company that was spread in Pasadena so they do our house coffee as well as our espresso. We also have an African American coffee roaster, Howling Monk, and that's probably one of our like really popular coffee that we sell here."
The majority of the ingredients served at 3 Worlds Café are fresh and locally grown. Though 3 Worlds does serve items from a variety of local businesses, 3 Worlds' biggest provider is Dole Food.
"When 3 Worlds first opened up, Dole provided about 800 pounds of fresh fruit: pineapples, peaches, strawberries, mangoes, and bananas," Sherrills remembered. "We also carry the Dole Whip. We're one of the only places outside of Disneyland and L.A. that actually carries Dole Whip, which is like a soft served yogurt, and it's lactose free, fat free, gluten free, and cholesterol free."
When Chef Roy Choi started Kogi, he utilized fresh fruit in his Korean Mexican tacos, which caught the attention of Dole Food. Dole eventually came to Choi, asking him to be their spokesperson for their fruits, and Choi agreed under the condition that Dole would invest in the community.
In addition to serving healthy snacks, 3 Worlds Café also gives back to the community. All of 3 Worlds Café's profits go into the operations of the café or into the Coalition for Responsible Community Development (CRCD), an organization that works to help youths.
According to Sherrills, 3 Worlds was essentially a project of CRCD. CRCD helps transition youths who come out of foster café, they provide permanent housing to those youths, they offer job and development trainings, they have a charter school, and they have been responsible for revitalizing many historic buildings on Central Avenue, such as the Dunbar Hotel.
Another organization 3 Worlds is working with, called Resources for Human Development (RHD), is run by Sherrills himself.
"[RHD is] a national organization that focuses on providing services to individuals who have intellectual disabilities and drug abuse; it is also pioneering socially responsible businesses," Sherills said. "We're focusing on a piece that is providing alternative healing technologies to folks in the community who suffer from traumatic stress hypervigilance and vicarious trauma. Literally, South L.A. [has been] a warzone for some 30 or 40 years, and too often, when tragedies strike these communities, the response from local government is to deploy more law enforcement instead of deploying counselors, therapists, and healers to deal with the effects of trauma in the neighborhood."
3 Worlds Café offers all a variety of training opportunities to students 18 to 24 years of age. This paid internship opportunity not only allows for students to learn in a classroom environment, but students also get to experience running a business.
"We're combining our collective efforts and creating a social entrepreneur training program for folks interested in the food services industry," said Sherrills. "We do a food handlers training here, we do a training on customer service, marketing and advertisement, and also we do a barista training on mixology, [which is the mixing of smoothies and drinks]. Essentially, our two organizations are the beneficiaries of most of the resources that come out of [3 Worlds Cafe]."
RHD and CRCD hold 3 Worlds down financially. Though Choi and Dole are not equity partners, according to Sherrills, everyone considers 3 Worlds Café to be Choi's place.
"[Chef Choi] comes in twice a week, sometimes three times a week, and advises us on everything, from marketing and advertising to coffee preparations to portion control because he's a genius at that," Sherrills said. "We have such a great partnership. Everybody has a commitment to young folks and a commitment to creating socially successful enterprises in the neighborhood so it makes it really easy."
3 Worlds Café is currently working on starting a breakfast program, and hopes to expand, opening shops in places such as Watts, Inglewood, and Compton.
Reach Staff Reporter Janelle Cabuco here.