Music
10 Acts Who Would Be Worse Than Jason Derulo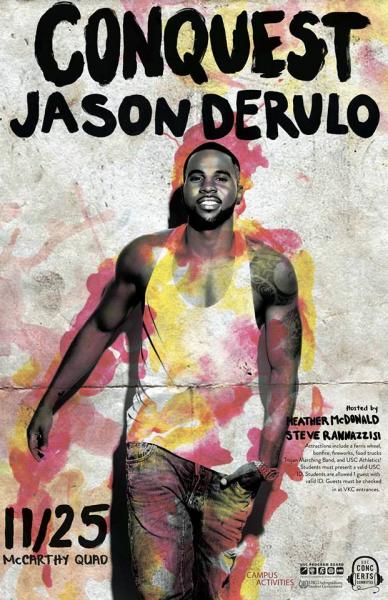 Celebrating the long-awaited Thanksgiving break and rivalry football game against UCLA as well as the fast-approaching end of the semester, the annual Conquest concert is a highly anticipated event for many USC students. However, following Conquest 2012 – featuring the up-and-coming hip-hop artist Childish Gambino – Jason Derulo, this year's USC Concerts Committee-appointed headliner, fell far short of expectations.
Famous for singing his own name at the beginning of every song or when introducing himself at any interview or, really, whenever he has the chance, Jason Derulo (apparently pronounced Jay-sUUUHn Duh-Roo-LoOoOoOoOo) had three "hit" songs in early 2010 but is almost entirely irrelevant in today's pop culture. Even in 2010 at the peak of his popularity, Derulo could not escape the awkward middle school dance scene, appealing more to preteen girls than any other demographic with his overly auto-tuned R&B sound.
Sure, Jason Derulo is a joke, but even so, he is not the absolute worst option for the concert. Instead of sulking in self-pity, USC students should be thankful that these ten acts are not headlining Conquest 2013.
1. Justin Bieber
Justin Bieber is, in essence, the biggest tool on the planet. Was pant sagging every REALLY popular? Put on a belt and quit being such a self-entitled brat, Biebs. His allure died when he quit being a (somewhat) sensitive, baby-faced young teenage boy and started hiring prostitutes in South America.
2. Nickelback
After the release of their commercially successful album Silver Side Up in 2001, Nickelback became more than a band but a (seemingly eternal) symbol of horrible music. Honestly, who has not heard a joke about bad taste in music in which Nickelback was the punch line?
3. Avril Lavigne
Aside from the fact that she spells English words with numbers instead of letters, Avril not only married Nickelback's lead singer, but she also plans to procreate with him. Besides, at age 29, she should really get over her enduring teen angst and stop wearing so much black eye makeup.
4. Rebecca Black
This video needs no further explanation to prove that Rebecca Black would be a worse option than Jason Derulo is. Besides, Conquest is on a Monday…
5. Lindsay Lohan
Didn't know Lindsay Lohan made music? Then I'm almost sorry for exposing you to this "treasure" from 2004. Since her numerous arrests/stints in rehab/plastic surgeries/other questionable life choices in the past decade, Lindsay Lohan has (thankfully) stayed out of the music scene.
6. Soulja Boy (Tell'em)
Remember when knowing how to "crank that" was cool? Well, that was seven years ago, and no amount of nostalgia could possibly keep Soulja Boy off this list.
7. Paris Hilton
Paris Hilton's voice is nightmare-inducing, as is this music video. Does anyone else find the oddly pedophilic storyline of this music video unsettling?
8. Aaron Carter
If people found his music less repulsive, they might care that the young singer recently had to file for bankruptcy and is worth only $8200.
9. Chris Brown
Given his abusive past and recent trip to rehab, he's definitely not the right choice.
10. The Black Eyed Peas
Considering Fergie's tendency to pee her pants on stage, I've got a feeling that a performance from the Black Eyed Peas would be nothing short of a hot mess.
Reach Staff Reporter Ashley Hawkins here.