National
Who Does America Owe Money: Infographic
As October 17 approaches, we continue to hear more rumblings of a willful default on legal payment obligations. The United States owes lots of people, countries and corporations money, but the government cannot pay those bills without Congress' approval of a higher debt ceiling.
October 17 will not actually bring a default, as the United States will use its estimated $30 billion it has on reserve to pay the debts, but without a resolution, the United States will run out of money to pay these debts between October 22 and November 1.
READ ALSO: Why The Default Is So Scary
So who will a default hurt? Just about everyone in the United States, but more specifically it will hurt the people who will not get paid. And no, we don't owe all $16.8 trillion to China. In fact, we only owe China $1.3 trillion, while Americans are owed the majority of debt, including $2.6 trillion in Social Security payments.
The inforgraphic below explains where money would stop flowing in the case of a default.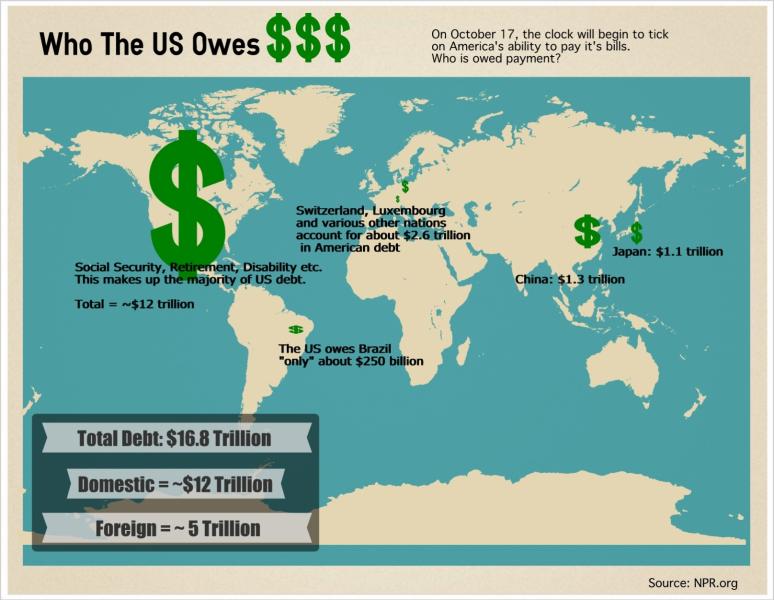 Also, view the original infographic from NPR for more breakdown of where America has placed its debt.
READ ALSO: Neon Tommy's Coverage Of The Government Shutdown
Reach Executive Producer David Tobia here or follow him on Twitter.