MLB
What's Next In Wild World Series?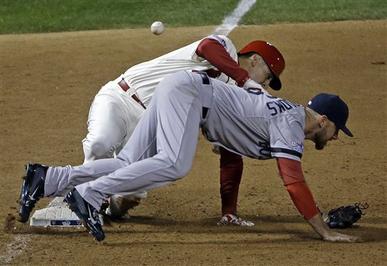 An obstruction call in Game 3 and a game-ending pick-off play in Game 4 highlighted just how crazy the World Series has been so far. With the series tied, what more wacky things can we expect and who has the edge?
Jon Lester looked like the ace Boston has always wanted him to be in Game 1, throwing more than seven shutout innings while striking out eight. Adam Wainwright, on the other hand, struggled, but also received very little help from a porous Cardinals defensive. Expect Wainwright to be back on point in his second appearance in Monday's Game 5. Typically Wainwright will outlast Lester in a battle of stamina leaving the Red Sox to rely more heavily on their bullpen.
Unfortunately for the Red Sox, next in line for Game 6 is likely Michael Wacha. Wacha has been the definition of "lights out" this postseason and has no sign of slowing down. Still, the Red Sox may present the best matchup of any team to beat Wacha. In Game 1, Wacha issued four walks while only surrendering three hits. The Red Sox have relied on base runners and clutch hitting, not consistent hitting. Every free pass Wacha issues essentially puts a man in scoring position the way Boston has been hitting the long ball.
SEE MORE: Battle of the Beards: Which Red Sox Player Grows the Best?
If there's one man to bring those base-on-balls runners home, it has to be David Ortiz. Big Papi has been ridiculous the entire postseason, and is hitting an absurd .727 during the first four games of the World Series. The Red Sox, in general, have a flare for the dramatic, and their large Dominican slugger is no different. The Cardinals have already failed at pitching away from him - start expecting an intentional walk if first base is open.
After a wild couple of games, what will we see for the rest of the series?
What I'd like to see happen:
- Big Papi hits a walk-off inside-the-park home run… at little old Fenway. (Maybe at Fenway is being too ambitious.)
- Big Papi steals home for the game-winning run. (Still a tad ambitious.)
- The Cardinals come out with Kenny Powers worthy mullets to challenge Boston's beards.
What will more likely happen:
- Jacoby Ellsbury beats out a Carlos Beltran throw on a game-winning sacrifice fly in an epic battle of speed and legendary arm strength.
Reach Staff Writer Matthew Tufts here.