Sports
Heisman Predictions: The Way Too Early Ones
Despite being nearly halfway through the regular season, it is still far too early to decide who will win the 2013 Heisman trophy. That said, there's nothing wrong with a little speculation. Here are the top-five candidates at this point:
Tajh Boyd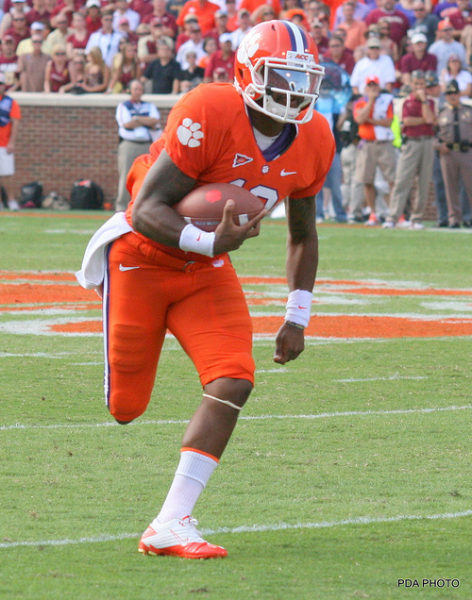 Boyd entered this year as a Heisman frontrunner, but his play through the early part of the season has established him as the top contender. After his performance against Georgia during the first week of the season, Boyd established himself as one of the best playmakers in the NCAA. Boyd's Peyton Manning-like accuracy has left him with a 66 percent completion rate. After the difficult opener against Georgia, Boyd and Clemson have, unlike USC, been able to cruise through the easier part of their schedule and go to 5-0. With another easy game this weekend against Boston College, Boyd should be able to bolster his stats with another solid performance and come out with an unblemished record.
What he needs to do to win:
There are still a number of weeks to go in the season, but Boyd will need prove himself in the Florida State game on October 8th if he wants to remain atop the list of Heisman hopefuls. The conclusion of Clemson's schedule only includes two ranked teams, Florida State and South Carolina, so Boyd will need to continue to establish his dominance while in the national spotlight. The strength of Clemson's schedule could come back to haunt him, but if he plays as well as he did against Georgia in those two games, provided there are no hiccups during the rest of the season, he should be able to do the famous pose.
Marcus Mariota
Mariota holds the most pivitol position for the most exciting team in college football. His Oregon squad this week finished second in the polls to Nick Saban's mighty Crimson Tide, yet each week they have received more and more votes pushing them closer to pulling off the coup d'etat. Mariota this year has thrown 14 touchdowns without throwing an interception, as well as rushing for seven touchdowns. Even though his competition percentage hasn't been the NCAA's finest to this point, that is about to change.
What he needs to do to win: Mariota is a dual threat quarterback who has looked like Robert Griffin III up to this point in the season. He has proven that he can beat teams like Cal and Colorado, but if Mariota wants to wrap up college football's top prize, he will need to prove himself on the national stage. Three of the next four games for the Ducks are versus Pac-12 teams that are ranked. The game against Washington will be the first test, but the tough stretch will culminate with a game against #5 Stanford in Palo Alto. It is not going to be easy for Mariota, but as long as he doesn't play like he did against Cal (44 percent completion rate and only 33 yards rushing), he has a great chance to win. Oregon's strength of schedule can either help or hurt Mariota as a candidate, but playing in the national spotlight was the exact path to the Heisman that Johnny Manziel took.
Johnny Manziel
Speaking of Johnny Manziel, it would be foolish not to examine last year's Heisman winner as a candidate for the 2013-2014 season. Once again, Texas A&M's high-powered offense is led by arguably the biggest playmaker in the NCAA. Johnny Football has put up numbers very much on par with the two quarterbacks listed above. He, like Mariota, has thrown for 14 touchdowns, but he's only rushed for three up to this point. Despite off-the-field issues, Manziel has been able to be the leader he has needed to be. It will be an uphill battle for Manziel based on the loss against Alabama, but he still has time to erase that from voters' minds.
What he needs to do to win: There are no easy games in the SEC, but the rest of the schedule for A&M doesn't look all that difficult. He will need to pick apart the fearsome LSU defense on November 9th. If he can manage to do that, he will push himself to the top of everyone's mind. The other game in which Manziel will need to perform in is the regular season finale against soon-to-be-ranked Auburn. These two games will define his Heisman candidacy, and if they go well his new name could be Johnny Heismans.
Jameis Winston
Winston has risen from a popular figure to a household name of college football over the course of the past few weeks. Coming off of the most decisive win in the NCAA this year over ranked Maryland, the Seminoles are leaping towards the top of the polls. Winston, the leader of the squad, is a primary reason that Florida State is receiving the attention they are. With 17 touchdowns compared to only two interceptions, Winston has controlled the tempo in each of the Noles' games this year. Now FSU has a bye week that precedes the toughest game on their schedule: Clemson.
What he needs to do to win: To start, Jameis Winston needs play well against the Tigers on the 19th. Winston's offense will be pitted against fellow Heisman hopeful Tajh Boyd, and the loser will most likely be knocked out of contention for the award. The only way that both can continue to stay in the race is if the game turns out to be a shootout in which both candidates put up crazy numbers. If Winston can pass the Clemson test, he will still have to face Miami and Florida. Those two games will be pivotal in Winston's candidacy. Winston has a good balance in his team's strength of schedule, but his biggest test will be in two weeks on the road in Death Valley.
Teddy Bridgewater
The Louisville quarterback has lead his team to a 5-0 start in 2013 and has put up great numbers on the way. With a 16:1 touchdown to interception ratio, Bridgewater has proved his accuracy at the beginning part of the season. Bridgewater is a force to be reckoned with, and his #8 Cardinals are at the top of the AAC.
What he needs to do to win: In order to win, Teddy Bridgewater needs to somehow not play for Louisville. As good as he is, some of the teams in the AAC belong in Divison II football. Without the national exposure of playing in a true power conference, Bridgewater won't be able to gain as much publicity, nor will he be able to prove himself against better competition. He will need to continue to put up video game-like numbers if he wants a shot at the Heisman, but don't count him out just yet. If Louisville runs the table and finishes undefeated, Bridgewater will stay in the conversation.
In the end, it is far too early to make any kind of call on the Heisman. For most of the candidates listed above, the toughest games are yet to come. Each, however, has a specific path that could lead to college football's greatest prize. Only time will tell who will come out on top, and if you're an NCAA football fan, having a lot of time left is a fantastic thing.
Reach Kevin McAllister here. Follow him on Twitter here.