USC Sports
USC-Utah Betting Preview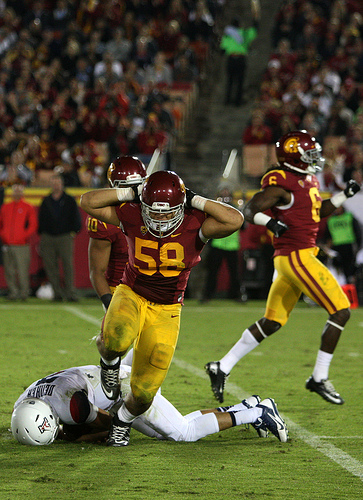 Utah 4-3 (4-3 ATS) at USC 4-3 (2-5 ATS)
Saturday, October 26th at 1:00 p.m. PST on Pac-12 Networks
Latest Odds: USC (-6.5) and Over/Under 52.5
The Trojans stumbled in the second half last weekend, falling 14-10 to Notre Dame. USC suffered many injuries during the game, and they kept receiving bad news throughout the week.
Running back Justin Davis and linebacker Lamar Dawson are now both out for the season. Third-string tight end Jalen Cope-Fitzpatrick is the only scholarship tight end on the roster that may play. There will be several walk-on receivers as well on Saturday for USC, and to make matters even worse, top receiver Marqise Lee will not be playing. Defensive lineman Morgan Breslin and cornerback Anthony Brown also will not be participating against Utah. Overall, USC will only be playing around 50 scholarship players.
The rash of injuries made this line so surprising, how can a beat-up USC team be favored by so much against a Utah team that upset Stanford just a few weeks ago? Maybe it's because Utah quarterback Travis Wilson is hurt as well. Wilson suffered a hand injury last weekend in the Utes loss to Arizona. Even though he's said that he will be playing in this game, it'll be interesting to see how sharp his throws will be.
Wilson has completed over 60 percent of his passes this season and is a dual-threat quarterback as well, rushing for 300 yards. He's also been very inconsistent. In Utah's four wins, he's thrown for nine touchdowns and only one interception. Yet, in their three losses, he's been picked off 11 times versus just five touchdowns. USC's secondary has struggled in the past few games, and they've had a tough time defending the read-option quarterback.
MORE: Behind Enemy Lines: Hurting Trojans Host Utah
Cody Kessler had one of his worst games of the season last weekend, and will face an underrated Utah defense. The Utes are actually first in the Pac-12 with 22 sacks. Like USC though, the weakness of their defense is their secondary, which has allowed 11 touchdowns and has only gotten two interceptions. Kessler also needs to quickly gain a rapport with the walk-on receivers who will see the field this week.
After running the ball down Notre Dame's throats on their first touchdown drive, the Trojans quietly went away from the run. With Tre Madden most likely playing, he and Silas Redd will need to establish the tone for USC's offense by running effectively early and often.
As previously mentioned though, Utah's defensive line has been disruptive this season. USC's offensive line had a lot of trouble against Notre Dame, committing several penalties and not creating a safe pocket for Kessler. With USC's defensive line ranking second in the Pac-12 in sacks, I definitely see a defensive struggle in this game with the two inconsistent quarterbacks.
However, it's clear that USC plays a lot better at home than on the road. Utah may come out a bit flat too, since it's their second-consecutive road game, which is tough for college kids. This is also Trojan Family Weekend, and the football players will want to play hard for their parents. USC has won eight of the 11 games in this series, and they will add to their past dominance by winning a squeaker.
Final Score Prediction: USC 21, Utah 17
My Best Bet: Under 52.5 Points
LAST WEEK'S PICKS 2-0 || SEASON'S PICKS 10-4 || BEST BETS 6-1

Reach Senior Sports Editor Max Meyer by email.