Sports
USC Prevails 19-3 Over Utah Thanks To Key Contributions From Unexpected Players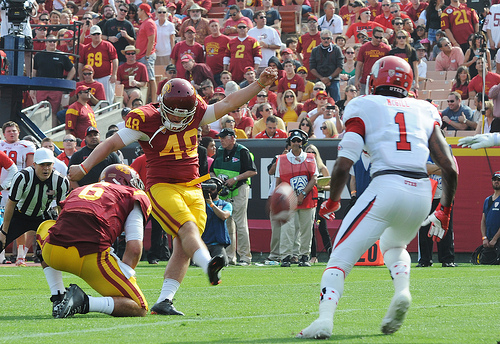 On Trojan Family Weekend, USC's football team looked like a brotherhood following Saturday's 19-3 win over Utah. Nothing exemplified the attribute more in this game than safety Dion Bailey's decision at halftime.
Bailey was originally not slated to play in the game, but voluntarily came in after Su'a Cravens suffered a groin injury near the end of the first half on his interception return. He told reporters after the game that he had to take a pain shot just to get onto the field. Bailey admirably filled in for a Trojan secondary that allowed only 130 passing yards, but was praised for it after the game.
"One team, one heartbeat. I think that's what one brother would do for another brother," Coach Ed Orgeron said when asked about Bailey coming in.
"[Dion] is a team player. He wanted to step up and be the leader of this team," said defensive lineman Leonard Williams. "Just like he said, he felt that he was accountable to the players as well as Coach O."
USC received many key contributions from unexpected players in today's win against the Utes. Struggling kicker Andre Heidari, who Orgeron said was dangerously close to losing his job, made four field goals in five attempts. Leon McQuay III, a freshman who got his first start as nickelback in USC's five-man secondary set, came up with a key interception in the first half. Even walk-on tight end Chris Willson had a catch, and blocked very well.
MORE: Behind Enemy Lines: Hurting Trojans Host Utah
"I'm just so proud of these guys, they've worked so hard. They've really been buying into the system," quarterback Cody Kessler said. "We didn't put up all the points we wanted to put up and capitalize, but in the circumstances we had, for us to pull out a win and to keep working was awesome."
Despite the offense only scoring one touchdown, Kessler had a very steady game. He completed 21 of his 32 passes for 230 yards and a touchdown. Wide receiver Nelson Agholor was on the other end of that 30-yard touchdown throw, and he finished with six catches for 97 yards. Agholor has had quite the rapport with Kessler recently, accumulating 347 yards over the past three games.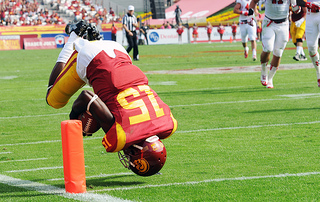 The defense, however, was the big reason why the Trojans prevailed. Besides allowing only three points, the defense forced four turnovers. Freshmen safeties McQuay III and Cravens each had interceptions, and Josh Shaw added another one as well. Utah quarterback Travis Wilson suffered a hand injury in last weekend in a loss to Arizona, and was clearly affected by it, throwing two interceptions while completing only five passes before being replaced.
After USC allowed Utah to kick a field goal on their opening drive, the defense simply shut them down the rest of the way, allowing only 201 total yards of offense. That includes just 12 completions between Wilson and backup quarterback Adam Schulz, along with holding Utah's rushing attack to 1.9 yards per carry.
Regarding injuries during the game, Cravens did not return in the second half after suffering his groin ailment, and right tackle Kevin Graf was carted off the field with a lower leg injury. Graf, however, did say that he will be back for next Friday's game against Oregon State in Corvallis.
"We put 11 on the field and it doesn't really matter who they are," Orgeron stated. "Obviously when we watch the film, there will be some things that we need to fix. But I have complete confidence in everyone on my team."
To check out more photos from the game, click here.
Reach Senior Sports Editor Max Meyer by email.