Los Angeles
USC Grapples With Alcohol Controversy At Town Hall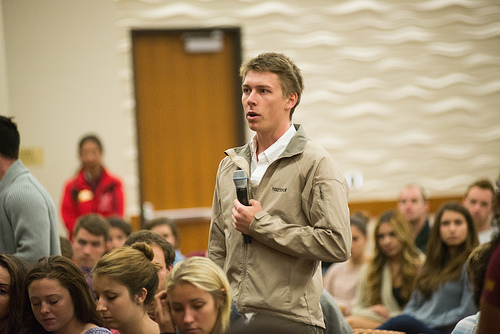 USC students gathered on campus Tuesday night to address student alcohol consumption, with most attention placed on the failings of university policy and what Greek students perceived as too stringent of sanctions put on their community.
"I've been hearing this said around a lot lately, which is, 'To be here at USC is a privilege and you're not entitled to anything,'" said a fraternity president, who requested to remain anonymous.
Vice Provost of Student Affairs Ainsley Carry, who moderated the forum that was open only to USC students, returned the question to the room, asking how many felt their student rights were being restricted.
More than half of the attendees, many of whom wore their Greek letters, raised their hands.
SEE ALSO: USC Cracks Down On Frat Row...
The Town Hall meeting was planned in light of a high number of alcohol-related transports and incidents occurring on or near USC's campus, including the serious head injury of a visiting LMU student that occurred at a fraternity party earlier this month. There were close to 80 alcohol-related incidents handled by USC's Department of Public Safety in September and October. There have been twenty alcohol-related hospitalizations in October alone.
Though unrelated to the meeting, the recent death of a USC sophomore, Thu Yain "Roy" Kyaw, hung heavy over the forum. Kyaw's body was discovered in his apartment bedroom Sunday night after he was missing for several days. Preliminary findings from the L.A. County Coroner's office said Kyaw died from "acute alcohol toxicity," though the investigation is pending.
Greek members questioned the university's "cyclical enforcement cycle" of placing blanket sanctions against the Row when a serious incident occurs instead of dealing with incidents case-by-case. Many attendees pointed out that some of the alcohol-related incidents did not occur at Greek events.
"The Row hasn't had any social functions for a matter of two weeks — this is coming off of a third week — and we're still seeing the same number of transports off the Row and other areas," said Ofek Lavian, president of USC's Interfraternity Council, which governs over the university's 23 fraternities.
SEE ALSO: USC, Don't Ground Greek Row
Greek students pushed for solutions such as a rework of the university's alcohol policy, appropriate punishments for alcohol abuse and an increase in communication between students and the university.
But the common theme for change offered by both students and officials was education.
"The way we frame the conversation has to be open, has to be honest," Lavian said. "Instead of saying, 'This is how you drink responsibly,' they say you can't drink unless you're 21 years old. And that's not encouraging safe alcohol consumption."
Captain Steve Alegre of DPS also advocated for education, saying he was encouraged by the meeting's high attendance and active participation.
"I would love the opportunity to get all of the groups — I don't mean the leadership, I don't mean the presidents, I don't mean the managers — I mean all of them. Let's get the biggest auditorium we can possibly find here, and let's put on a one-hour, two-hour, four-hour or a day of education on alcohol and drug abuse," Alegre said.
One non-Greek graduate student, who asked to remain anonymous, tackled the larger issue of college drinking: "Why is there so much excessive drinking in the first place?"
The student went on to ask why "so many students drink to black out," and that the underlying issue was that binge drinking is in embedded in USC's culture, as well as in many universities across the nation.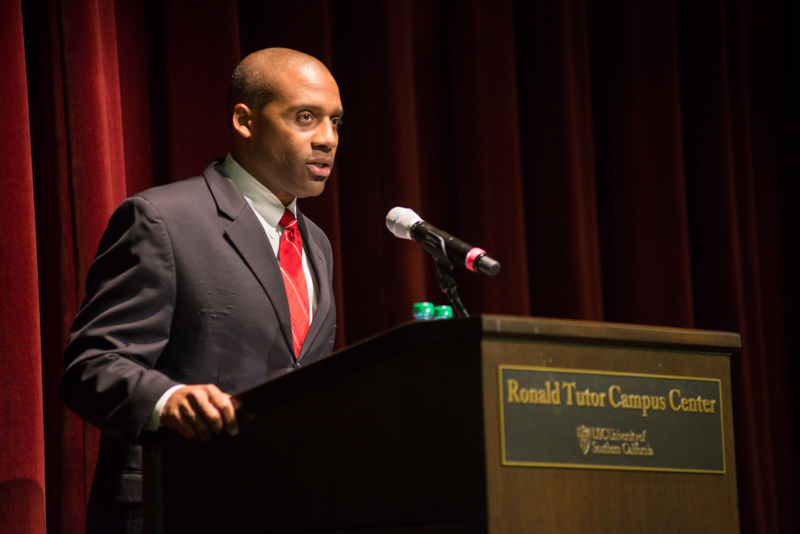 While no student could fully answer the question, Vice Provost Carry said the problem was bigger than USC's Greek community.
"This is not a Greek issue. This is not a housing issue. This is not a freshman issue," Carry said. "I have worked at five different universities and have had the same conversation about responsible alcohol consumption."
Carry told attendees he was in contact with Kyaw's parents and was heavy-hearted to leave the meeting early to call them in Singapore.
"I struggle with the notion that 18- and 19-year-old people are dying from something we can avoid," Carry said. "I struggle with the idea that a family who sent their son here from Singapore won't be seeing their son again."
SEE ALSO: USC Student Cause Of Death Possibly Alcohol Poisoning
Carry and 15 student leaders from varying organizations will gather Saturday to dissect what was discussed at the Town Hall in the hope of constructing a more comprehensive approach when dealing with student alcohol abuse.
"It has just gotten out of control," Carry said in a separate interview with Neon Tommy. "We have to change the current socialization of brand new college freshmen."
Reach Senior News Editor Melissah Yang here. Reach Editor-In-Chief Brianna Sacks here.