Los Angeles
Union Rescue Mission: A Way Home For The Homeless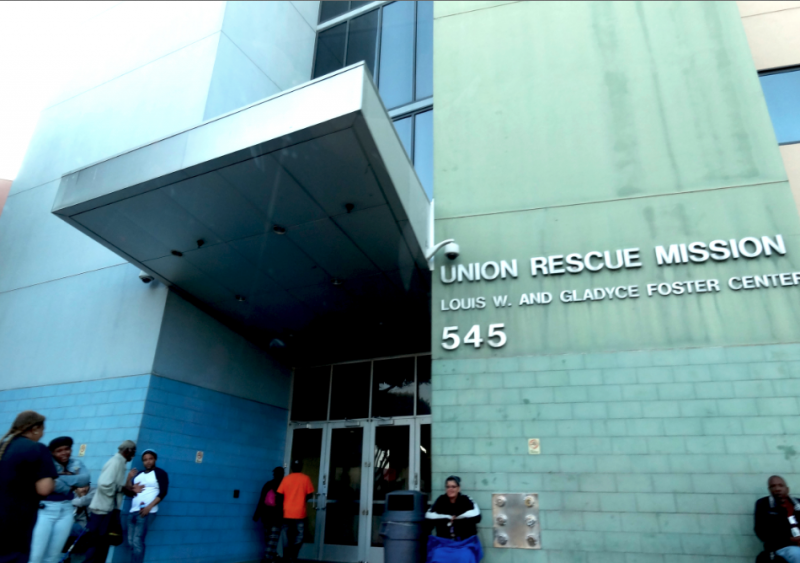 Union Rescue Mission (URM)
started in 1891 with a wagon pulled by horses, preaching the gospel; now it's one of the largest rescue missions of its kind in the United States and the oldest in Los Angeles.
About 57,000 people experience homelessness each night in Los Angeles County. Of those 57,000, an estimated 2,000 people live on Skid Row less than 1 square mile.
"Skid Row is the biggest man made disaster in America," says Rev. Andy Bales, the CEO of Union Rescue Mission.
Union Rescue Mission is located in the heart of Skid Row and is considered a refuge of help and hope to many of those looking to overcome homelessness.
Los Angeles has this incredible problem on Skid Row and the city's primary answer is to attempt to provide housing, but Union Rescue Mission says this is the wrong approach. Rev. Bales says, "[Los Angeles as a community needs to address the issue of homelessness and help those in need by decentralizing] services in every neighborhood away from Skid Row."
Though URM does provide people with housing, they also provide people with many other services that can help them get back on their feet. URM even tries to get as many people out of Skid Row as possible. In fact, earlier this month, URM raised enough money to move 16 mothers and their children out of Skid Row and into Hope Gardens.
Additionally, the mission's current Hospitality & Guest Service supervisor was once homeless himself. 55-year-old African American Julius Dowell came through the program in 1999 and hasn't looked back.
"[Without Union Rescue Mission,] I would probably be dead or [back] in prison," said Dowell.
After getting out of jail, and after getting high one more time, Dowell thought to himself, "I can't do this anymore." He reported to his parole officer five days later and turned himself in.
His parole officer told Dowell to check out Union Rescue Mission.
"I started to cry because no one had shown interest in me before … I [could] write to people and people [could] write to me. I finally got in touch with my mother and she said to me, 'it's good to know you are amongst the living.' This was after not hearing from me for seven years," remarked Dowell.
Those who go to Union Rescue Mission looking for help make their first stop at their Emergency Guest Services. After checking in, Union Rescue Mission provides each individual or family with all or one of the following: shelter, beds, three meals a day, showers, haircuts, fresh clothes, medical care, and counseling, if they should so choose to use it.
Rev. Bales says, "[homelessness can] be broken with a multipronged approach built on relationships, but we are losing ground right now with explosion of mental illness and homelessness. I've never seen anything like it. Skid Row is expanding as I've seen tents going up in Chinatown, near Union Station and in a big park east of Broadway, north of downtown. Our jails are overrun with people experiencing homelessness, suffering from mental illness. "
Guests have access to a hospitality center where they can schedule job interviews, apply for aid and enroll their children in school. Union Rescue Mission also provides them with mail, telephone and banking services. In addition to all of these services, the mission also offers life management classes where trained staff and community volunteers can help those in need recover from substance abuse, and educate those in vocational guidance, parenting, nutrition and financial management.
Dowell described his early days at Union Rescue Mission as a great experience. He stopped using drugs, and was assigned work duties as a housekeeping worker.
When describing the work he had to do at Union Rescue Mission, he said, "I [used] to clean the bathrooms and mop the floors. I remember singing while I was working and some guys [would ask] me why you so happy? From where I came from, this program was a piece of cake; all I had to do was follow all the rules and I [would] be all right."
Dowell joined and completed Union Rescue Mission's Christian Life Discipleship Program, a 12-month program aimed at assisting men in growing in the "Image of God." Participants of this program come together, are taught new life skills, and are taught to put their faith in both God and themselves. For the first time in years, Dowell had a place to stay and clean clothes to wear.
Dowell says, "Union Rescue Mission created a monster when it comes to setting goals." After seeing himself succeed in this program, he continued to set more goals for himself, once he accomplished one goal, he would set another.
Union Rescue Mission helped Dowell when no one else would when it came to his homelessness and his drug addiction.
"Today I have my own apartment, car, credit, and I am living life on [life's] terms. I have a six-year-old daughter who is doing very well. [I am] paying all my bills and I am not living above my means. Life is great! I have worked for Union Rescue Mission for 14 years and I am giving something back that was so freely given to me!" said Dowell.
Though Union Rescue Mission is a Christian faith based organization, it embraces everyone, whether or not they are religious, and serves an average of one million meals a year, provides shelter at night for about 250,000, offers health and legal clinic sessions for an average of 15,000, and celebrates about 85 graduations.
Rev. Bales says, "The folks in power need to wake up and see the horrible reality of increasing homelessness before we reach a tipping point that we cannot turn back from. I believe we are close, and yet the folks in power falsely believe we are making progress through a single focused approach, permanent supportive housing, which helps only a small percentage and is using most of the resources."
Union Rescue Mission supports a 10-step plan to end homelessness: people need to change the way they view people experiencing homelessness, people need to get involved and stop making excuses, people need to ensure that no one ever has to be evicted into the streets, people need to localize solutions to homelessness, people need to mentor those experiencing homelessness, people need to encourage local communities to adopt practices that will positively affect homelessness, people need to expand and operate year-round seasonal winter shelters, people need to advocate for permanent housing for those most in need, people need to increase investment in services that help those in need, and people need to provide everyone with the skills needed to work.
In short, people need to stop turning away from homelessness, and they need to start working to end it. "We can end homelessness by spreading awareness and by working together," says the Mission.
Reach Staff Reporter Janelle Cabuco here.