Sports
Trojans Fight As Family For Orgeron's First Win Over Arizona, 38-31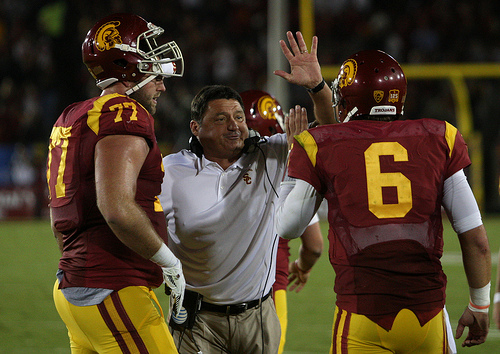 Where just weeks before boos rained down like hellfire, Ed Orgeron ran off the Coliseum field victorious to inspired cheers. And before he disappeared into the stadium's bowels, Orgeron embraced the fans' admiration.
Champion of the night, Coach O raised his powerful arms and flashed two V's for victory. He held the Trojan salute firmly for at least five seconds, as if to say his team - his team - will continue to fight on.
Orgeron's larger-than-life march to the locker room was the cardinal cherry on top of the Trojans' satisfying victory over the Arizona Wildcats Thursday night, 38-31.
After a week of nationwide speculation and curiosity, USC silenced its critics for at least one week and put together a balanced, united performance that excited the anxious crowd and the team.
SEE MORE: USC Football Preview: Trojans Again Look To Arizona As A Turning Point
The Trojan offense got off to a fast start. Cody Kessler threw two 60-plus yard touchdown passes within the first ten minutes of the first quarter to Nelson Agholor and Tre Madden, respectively. The explosive offensive plays built up great energy on the sidelines, and in the stands, which continued throughout the night.
Then it was the running backs' turn. Missing Marqise Lee and much of the wide receiving corps, promoted offensive coordinator Clay Helton rallied his offense around the deep running back position.
Five running backs gained significant yardage, including Silas Redd (19 car, 82 yards) who, in his first game since a spring camp injury, was the go-to back in the waning minutes and cemented the victory. But he admitted the win wasn't about his return to the field.
"To see everybody else get involved tonight, that as the best feeling, " Redd said after the game.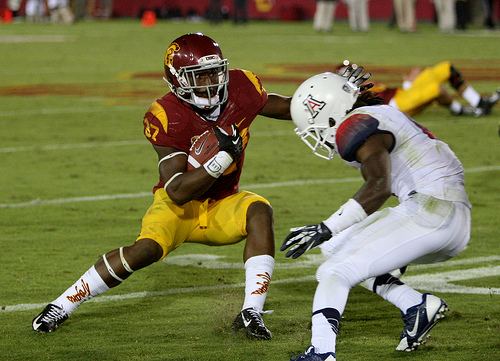 The "stable backs" certainly got involved. Justin Davis and Tre Madden, who had been battling injuries this week, ran for 42 and 28 yards respectively, with Davis snagging a rushing TD in the first half.
But it was the young guns who impressed the most Thursday night. Buck Allen was the feature back on a critical drive in the second quarter and pounded his way to 37 yards on the ground and two TDs, both of which were glorious dives into the end zone. Ty Isaac, who had tweeted earlier in the week that he expected a big night, had himself a sold Trojan debut; Isaac rattled off three bruising runs in the third quarter for 36 yards.
Orgeron was mighty impressed by his versatile backs and his team's physical play.
"We want to go out and get big, strong running backs," he exclaimed. "We started challenging the offensive line to be nasty and physical. That was critical for us in the end."
SEE MORE: Behind Enemy Lines: Watching The Wildcats
Still, even more vital to the team's success this week, more than their increased physicality and energy, is the now-palpable sense of family and love gushing from the players and their coaches.
"We love Coach O like a dad," linebacker Hayes Pullard admitted. "We love him and we look up to him."
Kessler added in an honest testimony, "You want a coach that you would go to war for every time. And [Coach Orgeron], we would go to war for him. When you cannot only see but feel how much he loves us, we would go to war for him."
On the sidelines, it was evident more than ever that the Trojans resembled true soldiers fighting for their honored general. The vocal Orgeron was animated, as always, and was visibly involved in the game and with his players, a perfect foil to the stoic and reserved Lane Kiffin.
The brash Cajun also made a concerted effort to build a real Trojan family around his team. Before the game, he invited the entire team and their family members to the center of the Coliseum on the 50-yard line to pray as one.
"The team that prays together stays together," Pullard mused. "We are one big family and we wanted to bring the parents in and all pray and let us know we are all together."
Safety Dion Bailey added, "We're a family. We lean on each other. Nobody's pointing fingers anymore."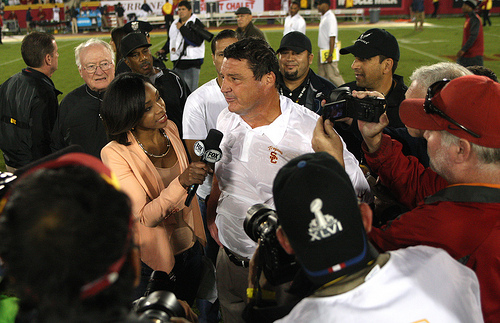 Of course, Coach O isn't buying all the love - at least not without dishing it right back out.
"This isn't about anything I do, it's about them, " he gushed. "Everyone stayed together and fought through adversity."
Though USC had the game in its hands for most of the evening, the adversity did eventually show its face late in the game. As the Trojans' offense faltered in the second half, the defense succumbed to a similar style. Arizona's no-huddle offense, led by QB B.J. Denker (28/44, 363 yds, 4 TD), found success deep in USC's secondary in the second half and rattled off three passing touchdowns. The Wildcats closed the deficit to seven points with just four minutes remaining.
SEE MORE: Meet Ed Orgeron: USC's First Interim Head Coach
But behind strong fourth-quarter running by Redd, the Trojans pulled away with the victory and sent the loyal - and cold - USC crowd home happy.
And they weren't the only ones.
Orgeron said of his first victory as USC's head coach, "It was a blast. I woke up happy for the first time in my life today.
"And I am not a happy guy, but today I was happy."
The Trojans improve to 4-2 and 1-2 in the Pac-12; they will travel to South Bend next weekend to take on Notre Dame at 4:30 pm PT. Arizona (3-2, 0-2) will host Utah at 6 pm PT.
Game Notes
*With Morgan Breslin out, DL J.R. Tavai filled his big shoes no problem. Set up in multiple positions on the line and standing up, Tavai posted 10 tackles, 3.5 of which were for loss, and 0.5 sacks. Coach O said of his performance, "J.R. has been one of our better players. He's very elusive, and he had one tremendous game."
*RB Ka'Deem Carey, Arizona's main offensive weapon, was nearly neutralized by USC's front seven. Carey was held to 138 rushing yards and no touchdowns.
*Nelson Agholor also had to fill in for an injured star (Marqise Lee) and nearly imitated the Heisman-contender's numbers. Agholor finished with seven receptions for 161 yards and one 62-yard TD.
*Lee, De'Von Flournoy and Darreus Rogers were all out of Thursday's game with injuries, leaving the Trojans with just two scholarship wide receivers (Agholor and Victor Blackwell).
*USC punter Kris Albarado downed four of his six punts inside the 20-yard line, giving the Trojans' D comfortable field position on every drive.
*The attendance at the Coliseum was listed at 64,215, which seemed a bit exaggerated. Still, the student section was packed and loud as ever. Despite the mid-week scheduling, the unseasonable weather and mid-term season, the Trojans fans did admirably show up to support the team.
*Keyshawn Johnson led the Trojans out of the tunnel in the pre game wearing a #42 Ronnie Lott jersey. Trojans supporting Trojans: the type of spirit that Orgeron is trying to build.
Reach Senior Sports Editor Jeremy Bergman here. Follow him on Twitter.