Food
Top 15 'Cronuts' in L.A.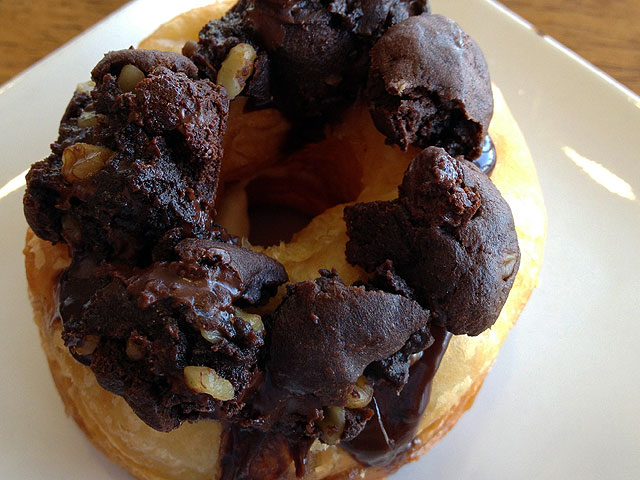 When
Dominique Ansel's
Cronut
debuted in New York in May, it was only a matter of time before Cronut imitations made it to Los Angeles.
SEE ALSO: Comprehending The Cronut Craze
As many foodies already know, a Cronut features a hybrid of the American donut and the French croissant. While Ansel trademarked the name of his precious product, L.A.-based bakeries have created "Cronut imitators"—without calling them Cronuts, of course—that have similar features to the original NYC novelty. While the L.A. versions aren't the same as the original Cronut, some of them come close in terms of taste, texture, flavor and appearance. Some of these Cronut imitators feature different hybrids—like Confexion Cupcakes' brioche-doughnut—and others have names that aren't remotely close to "Cronut" ("Crullant" or "Crö-Dough," anyone?)
Have a case of the Cronut cravings? Check out some of L.A.'s donut shops and eateries to get your fix.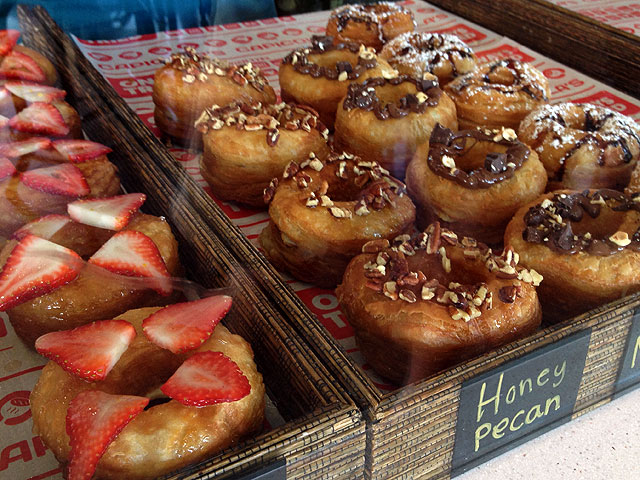 Capicola's Gourmet Sandwiches
According to owner Anthony Accetta, Capicola's—known for its freshly made gourmet sandwiches—was the first to launch the Cronut craze in California with its "Croinuts," priced at $4.99 each. The bakery started selling "Croinuts" on June 1 and has since become a hotspot for those searching far and wide for Cronut-like pastries.
Capicola's "Croinuts" are modeled after the Zeppole, a traditional Italian dessert. When the Cronut debuted in New York, Accetta knew he had to ask his mom for a recipe he could use to create something similar on the West Coast.
"Having an Italian mother, I grew up eating them [Zeppole]," he explains. "I use my mom's recipe to make these 'Croinuts.'"
Capicola's features up to 24 different "Croinut" flavors at one time, with about 17 flavors featured during the weekends. "Croinut" flavors change every day—save for the most popular ones—so customers never know what they're going to see at Capicola's.
Accetta comes up with all the "Croinut" combinations and toppings himself. Customer favorites include the "Toto Sicilian Grand Marnier" and "Cinnamon Glaze" flavors."
"The 'Toto' is filled with Bavarian cream and topped with Sicilian brownie cookies crumbles that are made with coffee and chocolate," Accetta explains. "It has a flaky and soft interior with a crisp, crunchy exterior."
Other featured "Croinut" flavors include "Salted Caramel with Godiva Chocolate," "Honey Pecan," "Nutella," "Banana Cream," "Peaches 'N Cream," "Tribute to Elvis" (made with bananas, peanut butter and filled with Bavarian cream, of course) and "Pecan Honey Orange Glazed," among many others.
Accetta prides himself on providing the public with freshly made products.
"All of our toppings are fresh," he says. "For example, we have chocolate and lemon wafers imported from Italy."
It is also for that reason Accetta gives his "Croinuts" a five-hour shelf life and does not bake more once they are sold out. He also recommends customers to not put their "Croinuts" in the fridge if they buy them to go.
"Some of my customers said they went to New York City and tried the original Cronut, but they liked Capicola's ones better," he states proudly.
Semi Sweet Bakery
The signature "Crullant" pastry at Semi Sweet Bakery deviates from the croissant-donut hybrid craze, according to manager Leonardo Momplet.
"Our version is a cross between the French Cruller and the croissant," he says of the pastry, which debuted on June 29. "We initially started with our 'Original'—a non-filled, vanilla glazed flavor—but now, we just have a plethora of them."
In addition to the "Original," other "Crullant" flavors include "Strawberries and Cream," the ever-popular "Crème Brulee," "Death by Chocolate" and "German Chocolate." The bakery introduced a new flavor on Oct. 1 in honor of the fall season.
"Our [seasonal] 'Pumpkin Cheesecake' features a 'Crullant' with pumpkin cream cheese filling and is topped with cinnamon and glaze," Momplet says. "We've already gotten great feedback on the 'Pumpkin Cheesecake' flavor."
The featured flavors all have varying prices. The "Original" costs $3.95; "Crème Brulee" and "Death by Chocolate" are $4.25, and "Strawberries and Cream," "German Chocolate" and "Pumpkin Cheesecake" are all $4.50.
"We probably still sell the most of our 'Original,' but as far as the cream-filled ones go, it's a toss up between 'Strawberries and Cream' and the 'Crème Brulee," Momplet says, in regards to the flavors' popularity.
Those wanting to taste the "Crullant" definitely need to visit Semi Sweet Bakery in the morning, because by the afternoon hours, the pastries are usually sold out.
"Come before 11 or 11:30 a.m.," Momplet advises. "We make all of our batches in the morning. On rare occasion, when we are slow, you might see some of them in the afternoon. We bake them in the morning because it takes a lot of time and effort to do."
Frances Bakery & Coffee
This bakery's spin on the Cronut is simply called the "Frances Donut," which has been on bakery shelves since July. This delectable pastry is made from croissant dough, fried and is available in three different flavors — the "Original," "Chocolate" and "Mixed Berry."
The "Original" features a vanilla pastry cream filling with sugar glaze, while the "Chocolate" includes the same filling with a chocolate glaze. The "Mixed Berry" features a mixed berry jam filling. Each pastry cost $3.85, with the "Original" flavor being the most popular.
While the "Frances Donut" variations are sold daily, the bakery tends to sell out of them quickly on Fridays and Saturdays. During the weekdays, "Frances Donuts" are baked fresh throughout the entire day.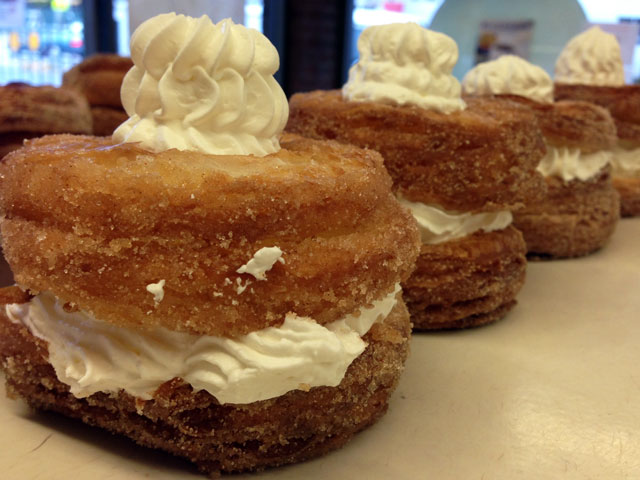 DK's Donuts & Bakery
This 24-hour bakery takes the Cronut to an entirely new level with its "DK's Famous Double Decker O-Nuts." Coming up with the recipe for these "O-Nuts" was a family affair, according to co-owner Mayly Tao.
"I have friends in New York who talked about the Cronut when it came out there, and we have the materials to make our own recipe here in L.A.," says Tao, who runs the bakery with her brother, Sean. "My mom, brother and I came up with the perfect recipe."
DK's first "O-Nuts"—at the time called "DKronuts"—debuted around May, but locals didn't show extreme interest at first … until Thrillist published an article about the bakery.
"After that, the phone wouldn't stop ringing [for orders] and there was a line of people around the corner," Tao remembers. "It was a crazy phenomenon. We had only been selling 2-3 dozen per day back then!"
DK's currently has more than 25 flavors available, according to Tao, who says that there is a "Top Four" when it comes to the more popular flavors.
"The 'DK's Famous Glazed O-Nut' features the same glaze we use on regular donuts," she says. "The 'DK's Special House Cream O-Nut' is rolled in cinnamon sugar and is filled with the house cream, which is a special recipe. The 'Nutella O-Nut' is rolled in cinnamon sugar and is filled with a blend of the house cream and Nutella. That's an awesome flavor because people already love Nutella in of itself … to combine it is to die for. And we have a 'Maple Bacon Bliss O-Nut.' It's the best combo of sweet and savory: it has maple glaze on top and baked bacon strips on top of that."
Other unique "O-Nut" flavors include "Cookies N' Cream," "The Almighty Éclair," "Taro," "Cookie Monster Crunch," "Red Velvet," "Mocha-Chocolate," and many more.
The bakery even has two of its "O-Nuts" named after celebrities.
"The 'Manny Mango Double Decker O-Nut' was named after 'Manny on the Streets' on air with Ryan Seacrest on 102.7 KIIS FM," Tao explains. "He bought a box one day for Ryan Seacrest, and he was so nice that we named an 'O-Nut' after him."
"[Thus] Ryan wanted one named after him too, and he said he wanted it with chocolate, peanut butter and Nutella," Tao vividly recalls. "We currently call it 'Ryan's Secret O-Nut.'"
DK's Donuts also features "Little O's," which are mini-sized versions of the larger "O-Nut."
"They're like little asteroids and we fill them with the special house cream," Tao says. "The 'Little O's' are available in 'Glazed,' 'Chocolate' and 'Cinnamon Sugar' flavors."
Regular "O-Nuts" cost $3.95 while "Little O's" cost $2. The exceptions are the "Breakfast" and "Ice Cream" O-Nuts—which cost $6 each—and, of course, the "Custom Texas Sized Birthday O-Nut," which cost $25 … and for good reason.
"It's [the 'Birthday O-Nut'] the diameter of my forearm, and you can add whatever you want to it!" Tao exclaims. "For the 'Special Edition Ice Cream O-Nut,' you can add fresh fruit or vanilla ice cream to any 'O-Nut.' The 'Breakfast O-Nut' features your choice of bacon, egg and cheese or sausage, egg and cheese on the croissant 'O-Nut' itself."
With a bakery that's open 24/7, "O-Nuts" are baked fresh throughout the day — the first batch is at 5 a.m. and the last batch is at 8:30 p.m., according to Tao, who says the bakery can be found on Instagram and Twitter for all "O-Nut" updates.
"We pride ourselves on having more availability [than other stores]," she says. "You can even order 'O-Nuts' online because we don't run out until the last batch is made in the evening."
All photos in the Flickr slideshow courtesy of Mayly Tao / DK's Donuts.
SEE ALSO: The 8 Best Donuts In L.A. (according to Thrillist)
Confexion Cupcakes
Well known as the two-time winner of The Food Network's "Cupcake Wars," it wasn't a surprise when Confexion Cupcakes branched out of the cupcake realm and invented the "Brioughnut," an upscale hybrid of flaky, rich layers of brioche dough and the all-American donut. The "Brioughnut," created from scratch and laminated using fine European batter, has the texture like a croissant but is filled like a cupcake. Each one costs $5.
The "Brioughnut" debuted two months ago at Confexion and usually sells out within a few hours of the store's opening. But here's the catch: there are different "Brioughnut" flavors featured every weekend and they are only available on Saturdays and Sundays. Customers need to check Confexion Cupcakes' Facebook page on Thursdays, when the bakery announces the upcoming weekend's flavors. A traditional "Glazed" version is available every weekend, along with two other flavors.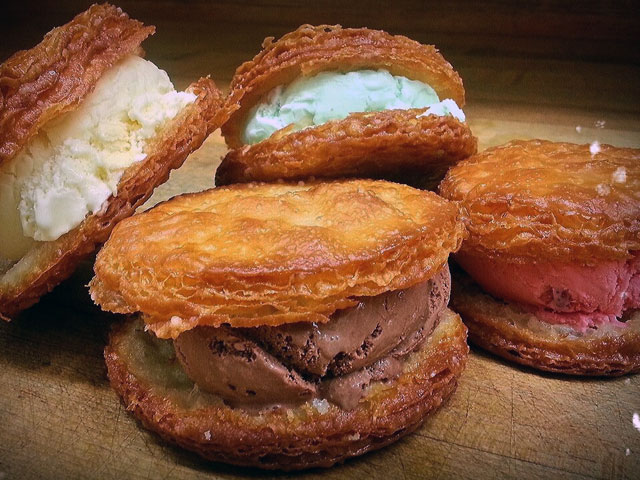 Tony's Donut House
When it comes to Cronut-like creations, Tony's Donut House has a vast variety. And the good news is: this bakery is 24 hours and is usually well stocked to appease anyone with Cronut cravings.
The simplest of all these creations is the "CraveNut" ($1.25), which is a standard pastry that is made from croissant dough and not filled. Flavors include "Glazed," "Cinnamon and Sugar" and "Chocolate."
For those who opt for fillings, "D'Craves" ($1.95-2.95) are available. These colossal creations include flavors like "Boston Cream," "Green Tea Pudding," "Nutella Marshmallow" and "Cherry Vanilla." "D'Craves" filled with Nutella are so popular that they get their own special name.
"We call them 'CraveTellas,'" says owner Tony Taing. "We also have a 'BananaTella' version, which features bananas added to the Nutella. But our Nutella-filled 'CraveTella' is the most popular."
Taing is always looking to implement new ideas in his bakery, whether it's changing up CraveNut flavors or creating something entirely new … which is what he did with his latest product, the "CraveNott."
"When it's in season, we have fresh strawberries and we put them in our 'CraveNuts,'" he says. "Our [newly created] 'CraveNotts' are twisted and knotted like a pretzel."
This past summer, the bakery also featured innovative ice cream sandwich "CraveNuts"—scoops of ice cream in the middle of the original "CraveNut"—because of the hot weather.
When it comes to tasting his products, Taing advises customers to come with an open mind because every baker's take on the Cronut is different.
"People come with the expectation for it [our 'CraveNuts'] to be soft and for it to be a certain way," he explains. "Our is a firmer and we like them flaky and crispy. Everybody makes it different because everybody's croissant recipes are different."
"CraveNut" flavor updates and photos of Tony's Donut House pastries can be found on the bakery's Facebook page.
All photos in the Flickr slideshow courtesy of Tony Taing / Tony's Donut House.
Sweets for the Soul
If you're looking for "Cronots" at Sweets for the Soul, you'll have to visit the bakery on Fridays and Saturdays after 1 p.m. (those are the only days they are available).
"The way we do our 'Cronots' involves a three-day process," explains owner Lilly LaBonge. "That's why we don't have them earlier in the week."
The "Cronots" ($4 each) at this bakery come in three flavors: glazed, cinnamon sugar and one that's stuffed with a pastry cream and fresh, organic strawberries. The bakery also features sugar-coated "Cronot" holes.
"A lot of people love the cinnamon sugar 'Cronot' because it's like a churro," LaBonge says.
"We sell a lot of different sweets here [at our store] — cookies, brownies and cupcakes," she adds. "That one [the 'Cronot'] was sort of a fluke but it really took off."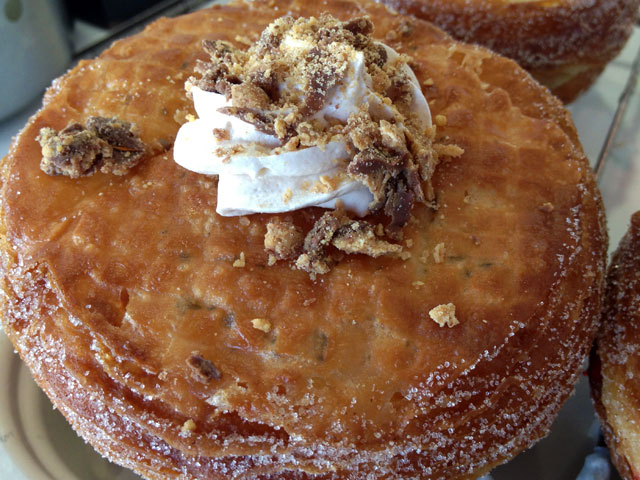 SK's Donuts & Croissant
This 24-hour bakery features "Skronuts," a play off its "SK" name. "Skronuts" debuted only two months ago and are baked fresh and sold throughout the day (batches are usually made at 7 a.m., at noon and at 7 p.m.). A variety of flavors, including "Vanilla with Strawberry," "Chocolate," "Maple Bacon," "Peanut Butter Reese's," "Nutella," "Custard," "Custard Coconut" and "Cookies & Cream," are provided daily. Each "Skronut" cost $3.75, but the Nutella and Maple Bacon "Skronuts" cost $3.95. Customer favorites are the "Nutella," the "Custard Coconut"—which is filled with custard and coconut and topped with both—and the "Peanut Butter Reese's," which consists of a peanut butter filling and topped with Reese's candies.
Röckenwager Bakery & Café
The "Crö-Dough" at Röckenwager Bakery & Café has been selling off store shelves for more than a month now, and the demand for the popular pastry shows no signs of slowing. The bakery's take on the Cronut was dubbed "the closest thing in L.A. to the real Cronut" by The L.A. Times.
Filled with numerous layers of pastry dough interspersed with cream filling, there are three flavors of the "Crö-Dough": "Vanilla," featuring a vanilla pastry cream and vanilla icing; "Raspberry Jam," which includes a raspberry glaze; and "Chocolate-Hazelnut," featuring a chocolate-hazelnut cream and a chocolate glaze. Each of these "Crö-Doughs" are $4 each and are sold at the various Röckenwager locations. Brentwood residents, good news: the newest Röckenwager store and its delicious "Crö-Doughs" are headed your way this November.
Colorado Donuts
Owned by Try Kea for the seven years, Colorado Donuts has featured its "Croissant Donuts" for the past 1-2 months and are baked fresh throughout the day. They cost $3 each and a variety of flavors are available for the Cronut connoisseur.
"Croissant Donut" flavors include "Glazed," "Chocolate," "Caramel," "Cinnamon Sugar," "Vanilla," "Cookies & Cream," "Maple Bacon" and more.
"The most popular [ones] would be the 'Cookies & Cream' or the plain 'Glazed,'" says Kea. "My favorite is the 'Cookies & Cream,' which is filled with whipped cream and Oreo crumbles."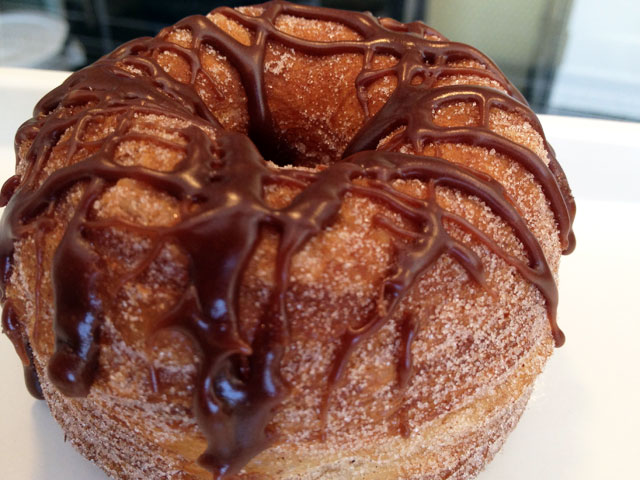 Kettle Glazed Doughnuts
Kettle Glazed Doughnuts have only been open for two months, according to owner Sami Anz, but the store has sold its "Croissant-style" pastries from the very beginning. The original "Croissant-style"—as the store refers to them as—features croissant dough in the shape of a donut, is filled with vanilla custard, rolled in cinnamon sugar and is drizzled in chocolate. Every Tuesday features a special Pistachio flavor, which is filled with pistachio pastry cream, while a Mocha flavor—featuring mocha pastry cream topped with powdered sugar—is every Friday.
"We have those two special flavors [Pistachio and Mocha] every Tuesday and Friday [respectively], and we have a White Chocolate Raspberry flavor every other week," Anz says. "We make it with raspberry pastry cream and it's topped with white chocolate."
Most recently, Kettle Glazed just debuted a limited-time fall edition, featuring dark chocolate and orange flavors. It also has a newer "S'mores" flavor, which is topped which chocolate, graham cracker bits and mini marshmallows and has a marshmallow filling.
"We're going to use orange sugar with zest and chocolate pastry cream," Anz explains. "We'll be having it the month of October and continue until the end of November."
The "Croissant-style" products are $3.75 each and usually sell out around 4 p.m. Kettle Glazed also features "Cruffins"—croissant-muffin hybrids ($1.50 each)—that are rolled in cinnamon sugar and baked fresh.
Even though they have only been open for two months, Kettle Glazed is a hotspot for its "Croissant-style" pastries, and they sell out consistently.
"We make 150 to 200 a day," says Anz, whose favorite flavor is the "White Chocolate Raspberry." "The whole community's been very supportive; everybody seems to be pleased with the taste and aesthetics."
Torrance Bakery
The "Croissant-Donuts" at Torrance Bakery have been on store shelves for about 2-3 months. The trademark "Cinnamon Sugar" flavor cost $2.50, while filled options like the "Fresh Strawberry Custard," "Chocolate Mousse" and "Caramel Mousse" are sold for $6 each.
These "Croissant-Donuts" are sold daily at Torrance Bakery but are usually sold out by 11 a.m. or lunchtime on the weekends. During the weekdays, they tend to last throughout the day.
Paris Baguette
At $3 each, the "Kronuts" at Paris Baguette might be some of the cheapest you'll find. They are baked fresh every morning and sold from 9 a.m. for about three hours. If you want to grab these delicious desserts, you need to go early — they are only baked in the morning and are often gone before 2 p.m.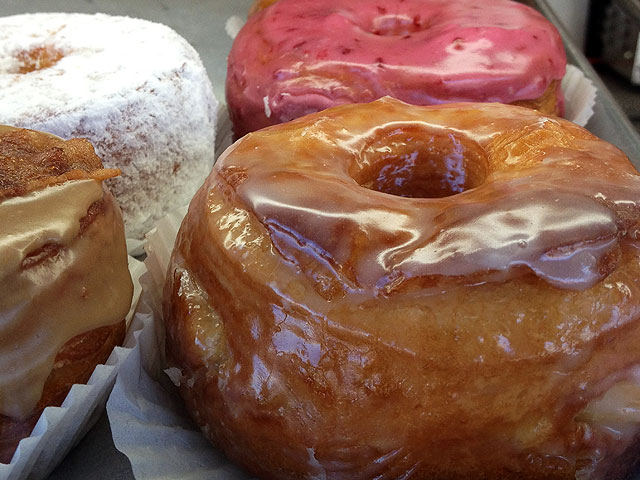 California Donuts
"Croissant Donuts" are made in 12 different flavors at this 24-hour bakery located in Koreatown. Those with fillings are $3, while those without are $2.
The variety of flavors include: "Speculoos Crunch" (featuring a pretzel topping), "Maple Bacon," "Nutella Nanna," "Strawberry Cheesecake," "Blueberry Cheesecake," "Guava Cheesecake," "Custard," "Peanut Butter and Jelly," "Chocolate Almond," "Glazed," "Cinnamon" and "Powdered Sugar." The most popular flavors are "Maple Bacon," "Nutella Nanna" and "Strawberry Cheesecake," according to store employees.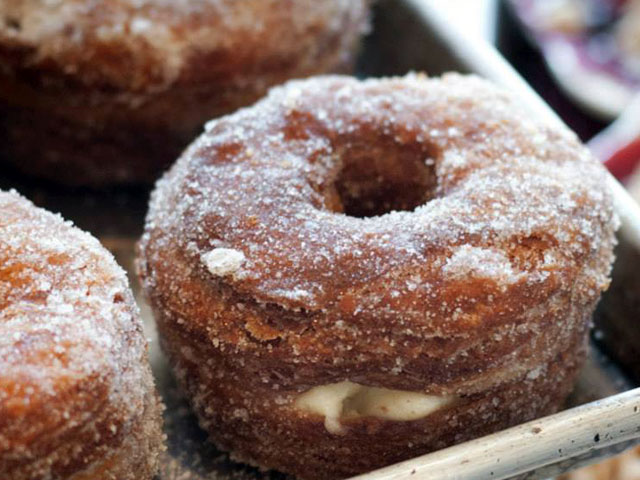 Forage
Unlike many other bakeries that carry Cronut knockoffs, Forage doesn't have a specific term for its particular dessert. Instead, the pastry has been called a variety of names, including: "trending dessert #donut," "croissant doughnut #trending" and "Crowe gnuts." However, the pastry itself is immediately recognizable to customers.
"What we call them is 'croissant doughnuts' but for fun, we put a hashtag on it," explains pastry chef Kristin Ferguson Smith, who has been working at Forage for two-and-a-half years. "I'm pleased with them; I think they're delicious and attractive and I'm happy to make them for the time being."
Smith only experimented with Cronut-type recipes when a former student from her culinary class asked for advice for fillings. She currently makes the "croissant doughnuts #trending" in the morning so they are available when Forage opens at 11:30 a.m. (11 a.m. on Saturdays).
"We don't even have a deep fryer!" she laughs. "We're not even a donut store, but I started making them 2-3 months ago and they were a big hit."
Forage's version of the Cronut comes in one flavor—filled with vanilla bean pastry cream and coated with sugar—and the restaurant constantly sells out. Smith's way of creating the pastry is unique in itself. For instance, she uses sourdough (one of her favorite components) to make them.
"It's got the wonderful laminated flakiness of the croissant and the softness of the dough … and what could be more wonderful than pastry cream?" Smith says. "It's a simple and delightful combination. The exterior is crunchy and then it's all soft and doughy on the inside. I think mine are bigger and taller than the ones from New York … they're big and shaggy."
"We're not making the doughnut to copy or compete with the original, but instead, to be actively exploring this national food trend that has people obsessed with a hybrid donut offering," adds Eugene Ahn of Forage. "Our approach is relaxed and experimental. For example, there was a time this past summer where the donuts were knotted. Why? Simply because we felt like it."
The knots, according to Smith, were fun but trickier to make.
"Sometimes they would cook on the outside before the inside was completely cooked," she says.
The "croissant doughnuts #trending" are $5.50 each at Forage and are usually sold out by the time the restaurant closes at 3 p.m. to transition from lunch to dinner.
The Village Bakery & Café
When it comes to the "Dough-Nots" at The Village Bakery & Café, owner Barbara Monderine is quick to cite her bakery's uniqueness factor.
"We make all of our croissant dough here fresh," Monderine says. "That's one thing we do that a lot of places might not be doing. We also bake our 'Dough-Nots' …"
She pauses before explaining further.
"Have you ever seen how a croissant is made with all that butter? The thought of frying them [our 'Dough-Nots'] is chilling. They're cut like donuts but made with croissant dough."
The bakery, located in Atwater Village, has been selling its "Dough-Nots" for several months now. Instead of featuring a variety of flavors, The Village Bakery & Café has stuck with two uber popular staples—a "Chocolate" flavor and a "Peanut Butter" flavor—that are sold daily. Each costs $4.
"The 'Chocolate' ones are cut in half and filled with a chocolate pastry cream and topped with a chocolate frosting," Monderine says.
The 'Peanut Butter' version, however, is the owner's favorite.
"That one has a peanut butter pastry cream that we fill it with, and it's topped with peanut butter frosting and toasted coconut," she says. "It sounds a little weird, but it's so good. You have that combination a lot in Thai food — coconut and peanuts."
For those looking to try "Dough-Nots," Monderine recommends coming to the bakery early because once the products sell out, they are out.
"We make all our croissants fresh in the morning daily," she states. "We bake them [the 'Dough-Nots'] in the morning as well because that's part of our croissant production. We usually have 'Dough-Nots' until 1 p.m. every day, but you can always call us [to see if any are left] and we can put a couple aside for you."
Spudnuts Donuts
Spudnuts Donuts—with a variety of locations—sells a variety of "Doughssants," as they call their version of the Cronut. The "basic" flavors—"Glazed and Cinnamon Sugar"—are $2.50, while filled ones like "Strawberries & Cream," "Banana Cream Pie," "Raspberry Cream," "Taro Cream," "Whipped Cream," "Cream Cheese," "Almond" and "Maple Bacon" are $3.50 each.
The traditional "Doughssants" are filled with whipped custard, lightly glazed and drizzled with chocolate hazelnut and sprinkled with powdered sugar, creating a flakey and delicate texture. The more unique "Doughssants" have more extravagant features. For example, the "Strawberries & Cream" Doughssant includes fresh-picked strawberries, while the "Banana Cream Pie" flavor is topped with both toasted almonds and Nutella.
The first "Doughssants" were spotted by Eater LA in early July and are currently sold daily at Spudnuts' Los Angeles location on South Figueroa Street.