Opinion
Too Many Shootings To Count
I started my Monday morning like any typical weekday: I turned on my phone, checked my email and scrolled through my Twitter feed.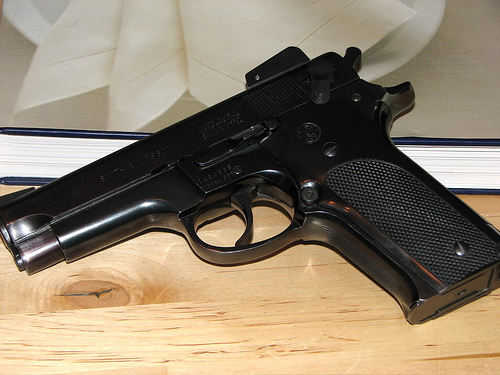 I use my Twitter as a tunnel site for news, so I was taken aback when I saw via Huffington Post yet ANOTHER shooting at a middle school in Nevada. Two boys are dead and two are hospitalized.
SEE ALSO: Shooting Reported At Nevada Middle School
I clicked on HuffPost Crime as I tried to console myself over horrible and meaningless deaths, only to see that an hour earlier, an article was published reporting on a shooting at a Vegas nightclub, with one dead and two injured.
At this point, I felt helpless. Two shootings in one day?
Then I had the terrible misfortune of seeing the HuffPost Crime Tweet just below the Vegas one, written again within the hour: "2-year-old dead after shooting herself with handgun in North Carolina."
Almost as if there were some kind of inexplicable link to all this, the headline before this tragic one was: "When will justice be served for the Aurora theater shooter?"
The headline begged the question in my mind: When will justice be served for America? We have been heartbroken over the Navy Yard shooting, the Sandy Hook Elementary School shooting, the Aurora shooting, the Fort Hood shooting, the Virginia Tech shooting… and several others that were largely out of the public eye.
SEE ALSO: A Dangerous And Dishonest View Of Mass Violence
According to a chronology of mass shootings by the New York Daily News, eight people died in a shooting in October 2011 at a salon in Seal Beach, California. Jiverly Wong shot 17 people, killing all but four of them, before committing suicide. Five people were shot to death in February 2007 by an eighteen-year-old in Salt Lake City.
The Nation Magazine states that in 2012 alone, 16 mass shootings occurred, leaving at least 88 dead.
This year of destruction took place, I might add, just months before a failed gun control bill.
Mass shootings are generally well covered in the news. I don't think we'd need to take a poll to know that all the sane people in America are strongly against arbitrary murder. So when are people going to connect the dots? Shootings mean guns. If we want to stop the shootings, the transitive property states that we must also do away with guns.
Until something is done legally to alleviate the issue, I will continue to read my Twitter feed with one eye shut, hoping to God that I don't come across another headline involving a shooting.
Reach Contributor Sarah Collins here.