Theater and Dance
THEATER TALK: Problems Plague 'Spider-Man'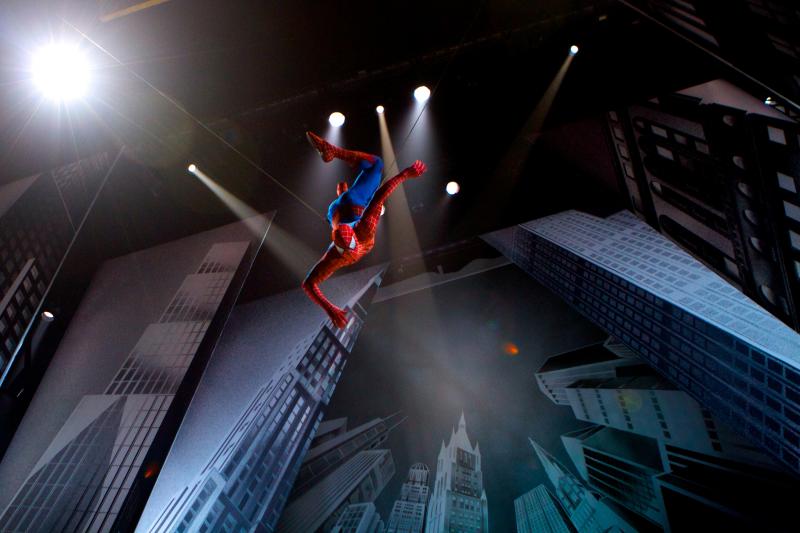 The new Broadway musical "Spider-Man: Turn Off the Dark" has been plagued with problems since day one of the production. Initially directed by Julie Taymor, who is famous for her visually entrancing shows and movies (think "Across the Universe"), the show has since replaced her with
Phillip William McKinley
, burned through roughly $75 million (the most expensive show in Broadway history) and sustained a number of cast and crew injuries. The show has been incredibly controversial since day one, chalk full of incredible stunts and acrobatics and heavily reliant on the thrill of potential mistakes. The mistakes, however, have not been so potential – the character of Arachne has gone through multiple actresses due to various accidents, and the fourth has since sustained a few minor injuries. In addition to which, a grand total of five cast members have been seriously hurt doing various stunts, which has led to an inspection by the New York State Department of Labor in February of 2011, which resulted in fines for two separate safety violations.
To no avail, however—dancer David Curry sustained a major injury this last August when his foot got caught in a trap door and resulted in a fractured leg, foot, and broken ankle during the second act of the performance. That night's show was cancelled and Mr. Curry was promptly taken to the hospital. The producers of the show launched an inquiry of the computerized equipment shortly after, and came to the conclusion that the equipment had been working perfectly that night, and that Mr. Curry's injury was due to human error.
READ MORE: THEATER TALK: How To Make A Hit Broadway Show, Part II: Be A Hit Already
For a dancer, any small injury is catastrophic. In Mr. Curry's case, which has led to several surgeries and amputations, this is downright hellish. Though there is no news as to whether or not he will make a full recovery, Mr. Curry made his first appearance last week at a benefit concert that raised $10,000 for his medical bills. He was in a wheelchair and was soft-spoken, according the New York Times, and left before an interview could be requested.
Though the producers of "Spider-Man" are careful not to blame to Mr. Curry, a "human error" suggests that there is someone to be held responsible for David's injury rather than a technical error. Mr. Curry's road to recovery is going to be long and painful. The entire "Spider-Man" production is a true testament to the dedication of performers to their production – David Curry's accident is far from the first in this show, and several of the injured workers have returned to the show after recovery (Christopher Tierney, who fell more twenty feet into the orchestra pit due to a faulty harness job, was back at work a few months after the incident). But how many more safety complications can this show handle before it's shut down permanently?
The show has gone through a whirlwind of disorganization and miscommunications amongst the directors, producers, and crew members. There have been too many mishaps to count, and what with the high-stakes production quality and crazy stunts that come with the show, there will probably be more. The original actors cast, a group that included Across the Universe's Evan Rachel Wood, all resigned from the show before production because of the initial delays for opening. The show has been running for two years, and there have been so many negative reviews, along with the mess involved with replacing Julie Taymor (how do you just decide to fire Julie Taymor?!). It would seem that more bad than good has come out of the production. But upon further inspection, it would seem that audience members are loving the thrill and the danger of the show. Reviews on Ticketmaster are generally at four or five stars, with people saying that they "know why there were so many problems getting this show off the ground, but it was all worth the effort!"
READ MORE: Theater Review: 'Spider-Man: Turn Off The Dark' On Broadway
The concept for the show itself was initially a great idea; Julie Taymor, Bono, and Glen Berger on a team writing a musical version of Spiderman, what could possibly go wrong, right? Apparently quite a few things; but on the whole, it seems incredible that the show has managed to get off it's feet and reach such a wide audience.
Reach Staff Reporter Mariam Helmy here.
For more theater coverage, click here.