Sports
Red Sox-Cardinals World Series Is 'All White'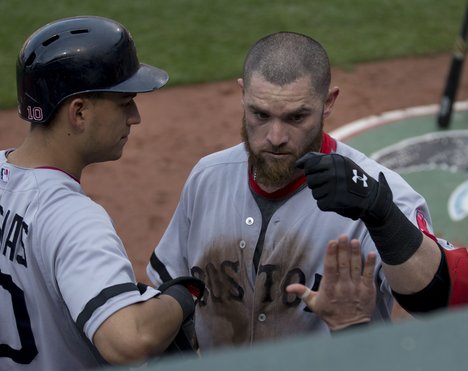 Baseball fans, do not adjust your television sets. Do not tinker with your TV's contrast and brightness levels. There's nothing wrong with your picture; fall baseball is just whiter this year.
"No way! Baseball players are white?" you may sarcastically exclaim. And you have a point - baseball is stereotypically considered a white man's sport. Labeled America's pastime, Major League Baseball clubs have historically scouted ballplayers from a predominantly white America since...well, ever. However, as the United States' demographics have rapidly changed, so have the MLB's.
According to this year's Racial and Gender Report Card, Major League Baseball organizations received an A+ for roster diversity. The report noted that minority ballplayers (black, Latino, Asian, etc.) make up 38.7% of MLB rosters, and that number gradually increases annually. By the transitive property, this means that 61.3% of Major League Baseball rosters are white.
The Boston Red Sox and St. Louis Cardinals face off this Wednesday in the 109th World Series and boast a fascinating counter to the game's changing racial landscape.
Both Boston and St. Louis enter the Fall Classic with 25-man rosters that are 68% white - that's just eight minority players on each team. In their most recent games, Boston's and St. Louis's starting lineups were 70% and 77% white, respectively.
And the oddest racial note of all? Not one of the starting pitchers in this series is a minority. (The match ups between Boston and St. Louis will be Wainwright vs. Lester, Wacha vs. Buchholz, Kelly vs. Lackey and Lynn vs. Peavy.)
SEE MORE: Big Papi's 6 Greatest Red Sox Moments
With both teams playing only 6.2% more white players than the league average, this stat may not seem so dramatic in a vacuum. However, consider what the alternative would have been if the Detroit Tigers and Los Angeles Dodgers had won the pennant instead.
The Dodgers fell below the league average with a 48% white roster. Led by Yasiel Puig and Adrian Gonzalez, Los Doyers clearly played to America's most diverse market well.
On the other hand, Detroit, which is regarded as one of the more traditional baseball cities, came into the ALCS with a roster consisting of just eight white players - eight. That means the Tigers' roster was 32% white, well below the league average.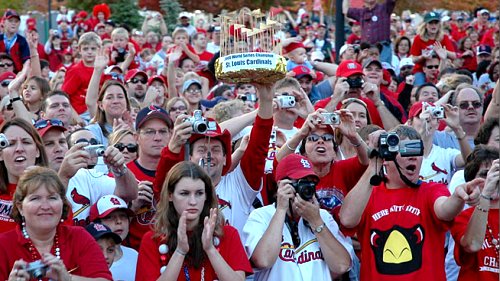 This World Series is also much whiter than last season's, which pitted the Tigers against the San Francisco Giants. Detroit again sported a diverse lineup of just 40% white players and San Francisco followed suit with a 52% white roster.
Clearly, these numbers are much lower than the ones put up by Boston and St. Louis this fall. But this season's World Series feels more like a racial anomaly than a buck in the democratizing trend.
St. Louis and Boston are two of baseball's holiest cities with loyal - and typically, white - fan bases. And even in this era of big money baseball where large contracts influence players' greenback-thin loyalties, in Beantown and the Gateway to the West uniquely, the baseball team continues to reflect the city's traditional sports culture.
So if you think for a second that your flux capacitor has transported you back to the dead-ball era, or, at the very least, to the 1967 World Series between Boston and St. Louis, think again.
Everything's alright, but for just a week and a half, baseball will be very white.
Reach Senior Sports Editor Jeremy Bergman here.
Follow him @JABergman.