Arts+Culture
Recently Opened Twin Sliders Won't Disappoint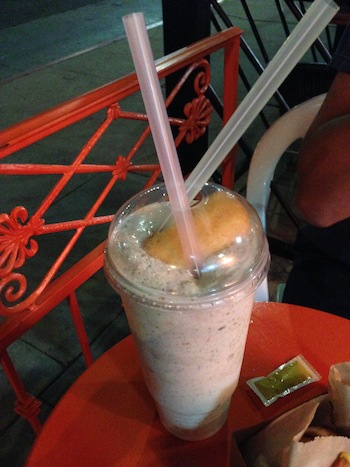 A literal hole in the wall, recently opened
Twin Sliders
is an old-fashioned hamburger joint on
Sunset Boulevard
.
Twin Sliders keeps things easy with a short menu and a single window to order and pick up food. But their simplicity shouldn't be underestimated. Their food tastes fresh, and they've managed to perfect the slider without making it too greasy.
The fries doused in cheese and the colossal $20 milkshake are two other faves, which have been creating a lot of buzz recently.
At Twin Sliders, the mini-burgers come in pairs (affectionately named twins on the menu). There are two choices for sliders: cheeseburger with Thousand Island dressing or spicy fried chicken with Cajun dressing. While the cheeseburger was yummy, the fried chicken was downright delicious. With a crunchy crust and juicy meat, the spicy fried chicken slider is a must.
Twin Sliders offers three types of fries… regular shoestring fries, shoestring fries with cheese and dirty fries with cheese and sauce. Go big or go home with the dirty fries with cheese and sauce. They're pretty similar to the animal fries on In-N-Out Burgers' not so secret menu. And they include tons of melted cheese (such a bonus), which adds flavor without taking over.
Now… what do captain crunch, Oreos, cookie dough, M&M's, fudge brownies, graham crackers, Reese's peanut butter cups, marshmallows, cinnamon toast crunch and a Butterfinger all have in common? They're all ingredients in The Big One, a "giant loaded milkshake" that is super-sized and unpredictably delicious. Each sip, or bite, of The Big One brings a different flavor. Most milkshakes have a consistent taste, but The Big One has a new surprise with each taste. There's even a Twinkie on top. So throw down the $20 and split it with a friend (or three).
For less adventurous diners, Twin Sliders also offers more traditional chocolate, vanilla and strawberry shakes and malts.
If the food doesn't already have your mouth watering, consider this … There's a lot of residential street parking available near Twin Sliders – yes, free parking in Hollywood!
Enjoy a classic American meal on one of Los Angeles' most famous streets.
Reach Staff Reporter Margaret Lenker here.