California
Los Feliz Resident Wants A Bike-Friendly L.A.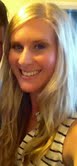 Name: Ashley Coelho

Neighborhood: Los Feliz

Job: Price School DPPD Ex Ed Coordinator.

Did you vote for Eric Garcetti for Mayor?

Yes. Between all of the candidates, Garcetti was more needed in Los Angeles. He seemed like more of a people's mayor. The work he has done in Hollywood has impressed me. And he has a long history of doing good things. I believe in him.

Are there any policies that you would like to see Garcetti change? What would you like to see done?

I really want something done in schools. There needs to be a greater emphasis on public education. I would like to send my child to a public school without having to change zip codes.

How do you feel about transportation?

Transportation is a nightmare! We need better and more efficient transportation.

What are your thoughts about housing?

The L.A. market is insane, inventory is low and prices are high. I would like to see Mayor Garcetti regulate the housing firms coming in. Housing needs to be more accessible to first time homebuyers.

What do you think about the sanitation of the city?

He is doing a good job cleaning up. He has opened and revamped parks and has reformed the safety of those parks.

I'd still like to see him do more towards bettering the environment of the city. Also, Los Angeles is not a bicycle friendly city. He should work on implementing new ways to fix lanes and side walks for bike users.

Email Isaac Moody here.