Politics
Obama: Americans Are 'Completely Fed Up' After Shutdown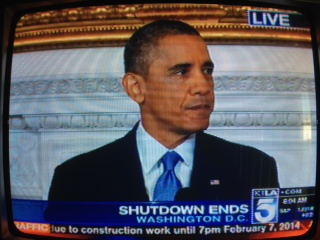 President Barack Obama called for Congress to change their approach to budget talks during a press conference on Thursday. Obama also criticized hardline Republicans for creating a stalemate that "inflicted completely unnecessary damage to our economy."
"The American people are completely fed up with Washington," he said. "At a moment when our economic recovery demands more jobs and more momentum, we've got yet another self-inflicted crisis that's set our economy back…All of us need to stop thinking about [the bloggers, the activists, the think tanks] and instead think about what the American people sent us here to do."
The President spoke after the House and Senate approved a deal to extend the government's power to borrow money and end the shutdown just hours before a deadline that would force the U.S. to default on its bond payments. The House vote was 285-144, and the Senate vote was 81-18.
But the deal only pushed the debt ceiling deadline back to February 7, with the government funds set to expire on January 15. Obama called for Congress to take a balanced approach when the negotiations on a new budget plan begin between the Republican-led House and the Democrat-led Senate. He called for Democrats to "cut out things we don't need" and for Republicans to "close corporate tax loopholes that don't create jobs." In addition, he also called on Congress to make deals on immigration reform and a food bill.
"We'll bounce back from this," Obama declared. "We always do."
SEE ALSO | Americans Respond To The End Of The Government Shutdown
Republicans had hoped to use the shutdown as an opportunity to force Democrats to answer their demands to stop Obama's health care reform, but caved at the eleventh hour after their House members failed to rally under a GOP proposal.
"To say we as Republicans left a lot on the table would be one of the biggest understatements in American political history," tweeted Sen. Lindsey Graham (R-S.C.).
NBC News reports that a primary challenge to Republican Sen. Mitch McConnell (R-Ky), accused him of "selling out conservatives" by making a compromise with Senate Democrats. House Speaker John Boehner simply said, "We fought the good fight. We just didn't win."
Obama ended his speech with a message to the federal employees getting back to work today: "Thank you. Thanks for your service. Welcome back. What you do is important. It matters."
Reach Jeremy Fuster on Twitter.