Food
9 Savory Pumpkin Recipes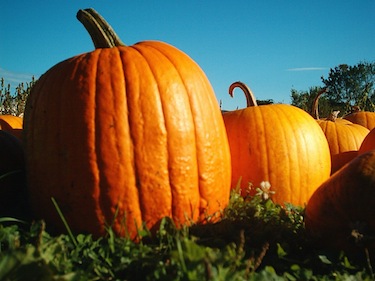 We've all heard of pumpkin bread and pumpkin spice lattes ... but what about savory pumpkin dishes? This orange squash may be more versatile than you think. Check out these nine pumpkin recipes for a unique look at pumpkin's savory side, from enchiladas to pasta to pizza.
1. Slow Cooker Pumpkin Chili
Ingredients:
1 26-oz can of tomato sauce
1 27-oz can of diced tomatoes
2 cans of kidney or black beans, drained and rinsed
2 lb spicy sausage
1 medium red onion
1 each – red, yellow and green bell peppers, chopped and diced
1 can of green chilis (optional)
2 T Chili Powder
8 oz pumpkin puree
Sour Cream, chives and cheese to garnish
Directions:
1) Brown the sausage with the chopped onions until meat is cooked through and onions are soft.
2) Return the meat and onions to the slow cooker.
3) Add the tomato sauce, diced tomatoes and rinsed beans to the meat mixture in the slow cooker.
4) Add the green, red and yellow peppers, chili powder, pumpkin puree and mix it up and put it on HIGH setting for 4-5 hours.
5) Serve into bowls and top with a dollop of sour cream and some chives.
Find the original recipe here at tatertots & jello.
2. Pumpkin And Ricotta Pasta Casserole
Serves 6
Ingredients:
Olive oil
1 lb pasta, such as farfalle, small shells, or elbows
1 15-oz container ricotta
1 15-oz can pumpkin puree
2 eggs
1/2 C yogurt
2 tsp salt
Freshly ground black pepper
1/2 tsp ground nutmeg
1/2 tsp ground ginger
3/4 C pecans, roughly chopped
1/2 C loosely packed fresh sage leaves, finely chopped
2 large garlic cloves, finely chopped
3/4 C grated Parmesan, divided
Directions:
1) Heat the oven to 375 degrees. Lightly oil a 9x13-inch baking dish with olive oil. Set aside. Bring a 4-quart pot of water to boil over high heat, and stir about 1 tablespoon of salt. Add the pasta, and turn the heat down to medium. Cook for a slightly shorter amount of time than specified by the package. (For instance, if the package specifies 10 to 12 minutes, cook for 9 to 10, or until just barely al dente.) Drain the pasta and toss lightly with olive oil.
2) In a large bowl, whisk together the ricotta, pureed pumpkin, eggs, and yogurt. Whisk in the salt, pepper, nutmeg, and ginger.
3) Stir in the pasta and coat completely with the pumpkin mixture. Stir in the pecans, chopped pecans, sage, and garlic. Stir in 1/2 cup Parmesan.
4) Spread the mixture evenly in the prepared baking dish and sprinkle the remaining 1/4 cup Parmesan over top. Bake uncovered for 35 minutes or until golden brown on top. Let stand for 5 minutes before serving.
Find the original recipe here at theKitchn.
3. Pumpkin Lasagna With Fontina
Serves 8-10
Ingredients:
1 lb whole milk ricotta cheese
1 T julienned fresh sage
1/4 C chopped fresh flat-leaf parsley
1/2 tsp minced garlic Kosher salt and freshly ground pepper, to taste
2 yellow summer squash, cut into rounds 1/4 inch thick
2 zucchini, cut into rounds 1/4 inch thick
2 T olive oil
1 large yellow onion, thinly sliced
1 24-oz jar pumpkin
Parmesan pasta sauce
12 sheets dried ruffle-edged lasagna noodles, cooked until al dente
1 lb Italian fontina cheese, shredded
Directions:
1) Preheat an oven to 450 degrees. Line a baking sheet with aluminum foil.
2) In a bowl, stir together the ricotta, sage, 3 tablespoons of the parsley and the garlic, and season with salt and pepper. Set aside.
3) In a large bowl, toss the yellow squash and zucchini with 1 tablespoon of the olive oil, and season with salt and pepper. Arrange in a single layer on the prepared baking sheet. Transfer to the oven and roast until tender and lightly browned, about 15 minutes.
4) Meanwhile, in an oval Dutch oven over medium heat, warm the remaining 1 tablespoon olive oil. Add the onion and cook, stirring occasionally, until softened and lightly browned, about 15 minutes. Transfer to a bowl and add the yellow squash and zucchini. Reduce the oven temperature to 400 degrees.
5) Spread 1/2 cup pasta sauce in an even layer on the bottom of the Dutch oven. Arrange a single layer of lasagna noodles on top, tearing them as needed to fit. Spread 1/2 cup ricotta mixture on the noodles and scatter 1 cup vegetable mixture on top. Spread 1/2 cup pasta sauce over the vegetables and sprinkle 1 cup fontina on top. Layer the noodles, ricotta, vegetables, sauce and fontina 3 more times, omitting the sauce and fontina on the last layer. Top with the remaining noodles, sauce and fontina.
6) Transfer to the oven and bake until the sauce is bubbly and the cheese is melted and browned, 45 to 50 minutes. Sprinkle the remaining 1 tablespoon parsley on top. Let the lasagna rest for 15 minutes before serving.
Find the original recipe here at Williams-Sonoma Kitchen.
4. Pumpkin Enchiladas
Serves 5
Ingredients:
1/2 yellow onion, diced 2 cloves garlic, minced
1 10-oz can of red enchilada sauce
2 C of canned pure pumpkin
10 oz turkey, cooked and chopped
Large bunch of cilantro, chopped
Cumin
Chili powder
Siracha sauce
Salt and pepper
1/2 C cheese, grated
5 oz 0% greek yogurt
1 avocado, sliced
Directions:
1) Preheat your oven to 400 degrees.
2) Spray a pan with cooking spray and sauté the onion and garlic until the onion softens.
3) Add 10-ounce can of enchilada sauce and 2 cups of pure pumpkin to the pan, along with approximately 3 tablespoons of cumin. Spice things up with the Siracha sauce as much as you can handle!
4) Add the chopped turkey and cilantro and throw it in the sauce.
5) Add a touch of chili powder.
6) Heat up five large corn tortillas in the microwave so they get soft.
7) Smear a base of the sauce on a 8×8 or 9×9 pan to prevent the enchiladas from sticking to the bottom.
8) Fill each tortilla with about 1/5 of the filling. Roll the tortilla up and place in the pan. Repeat 5 times.
9) Smother any remaining sauce and sprinkle the cheese on top of the enchiladas.
10) Bake the enchiladas, uncovered, for about 10 minutes, just until the cheese is bubbly.
11) Garnish each enchilada with 1 ounce of 0% Greek yogurt. For some healthy fat, add 1/5 of an avocado to the top of each enchilada as well.
Find the original recipe here at meals & moves.
5. Pumpkin Ricotta Gnocchi
Serves 4-8
Ingredients:
1 C of puréed cooked pumpkin
1 C ricotta (use whole milk for best results)
2 large eggs
2 tsp kosher salt
1/4 C parmesan or pecorino cheese
3-4 C cake flour, Italian "oo" flour, or all-purpose flour
2-3 teaspoons minced fresh sage
1/4 C unsalted butter
Black pepper to taste
Truffle salt to taste (optional)
Directions:
1) Mix the pumpkin puree, ricotta, parmesan, eggs and salt together in a large bowl. Add 2 cups of the flour and mix well with your hands. The dough should be very sticky, impossible to work. Add another half cup of flour and mix that in — you want the dough to still be pretty sticky, but pliable enough to shape into a large log. If it's not, keep adding a little flour at a time until you can get a soft dough that will be rollable. It should never require more than 4 cups of flour. Cover the dough with a damp towel.
2) Bring a large pot of water to a boil, then add enough salt to it so that the water tastes salty. Let this simmer while you make the gnocchi.
3) To make the gnocchi, spread some flour on a large work surface and have more flour ready. Cut the dough log into four equal pieces. Take one piece and cut it in half. Roll the piece of dough into a snake about 1/2 inch thick, then cut it into pieces about the thickness of a fork.
4) Dust the gnocchi with a little flour, then use one finger to push the dumpling up onto the tines of a fork. Let the gnoccho drop back to the work surface. This does two things: It makes the dumpling a little thinner and lighter, and it creates depressions and ridges that sauce can hold onto. If all this is too much bother for you, skip it. The gnocchi will not be quite as good, but they'll still taste fine.
5) Repeat this process with the other piece of dough and then, using a metal spatula, gently pick up a few gnocchi at a time and drop them into the water. Increase the heat to a rolling boil. Boil these gnocchi until they float, then remove them with a slotted spoon or spider skimmer. Lay the cooked gnocchi on a baking sheet and toss with a little olive oil so they don't stick together.
6) Now go back to the next big chunk of dough and repeat the process. it is important to boil gnocchi in small batches so they don't stick to each other.
7) When all the gnocchi are made, heat the butter over medium-high heat until it stops frothing. Add enough gnocchi to the pan to cover it in one layer. Do not let them stack up on each other. Let them fry undisturbed for 90 seconds. Sprinkle half the sage over the pan. Cook for another minute, then turn out onto plates. Repeat with the remaining gnocchi.
8) If you have to do this in several batches, keep the finished gnocchi on baking sheet in the oven set on Warm. Serve as soon as they're all done, dusted with black pepper and the truffle salt, if you have it.
Find the original recipe here at SimplyRecipes.
6. Pumpkin Pizza With Crispy Sage
Ingredients:
For the pizza dough:
2 1/4 tsp rapid rise yeast
1 C warm water
Pinch of sugar
3 1/2 C Gold Medal Better For Bread Flour
1 tsp salt
1 T olive oil
Corn meal for spreading on pizza peel
For the pizza toppings:
Canola oil, for frying sage leaves
10 fresh sage leaves
1 C pumpkin puree
1/4 tsp ground nutmeg
Salt and black pepper, to taste
2 C shredded Gouda cheese
Directions:
1) In a glass measuring cup or small bowl, combine yeast and 1 cup warm water. Add a pinch of sugar and let sit for 5 minutes.
2) In the bowl of a stand mixer, add the flour and salt. Mix the ingredients until combined.
3) Add the yeast mixture to the flour mixture. Next, add 1 tablespoon of olive oil. Mix until combined. Switch to the dough hook and knead for about 5 minutes on medium speed.
4) Spray a large bowl with cooking spray. Form dough into a ball and place in the bowl. Cover pizza dough with a damp towel and set in a warm area to rise. Let the dough rise for 1 hour or until dough has doubled in size.
5) While the pizza dough is rising, fry the sage leaves. Heat 1-inch canola oil in a small pan over medium-high heat until surface is shimmering slightly. Add a few leaves at a time and cook until crisp, but still bright green, about 30 seconds. Transfer to a paper towel to drain. Season with salt.
6) Preheat the oven to 500 degrees or as high as your oven will go. If you have a pizza stone, place the pizza stone in the oven to get hot.
7) Cut the dough in half. Take one piece of dough and punch it down on a lightly floured surface. You can refrigerate or freeze the other half of the dough or make 2 pizzas, if you wish. Using a rolling pin, roll the dough out into a circle. Place the pizza on a pizza peel or pan that has been generously coated with corn meal.
8) In a small bowl, mix together pumpkin puree, nutmeg, salt and pepper. Spread pumpkin mixture evenly over pizza dough. Top with Gouda cheese.
9) Place the pizza in the oven-directly on the pizza stone, if using one, or on the oven rack. Bake for 10-15 minutes or until pizza crust is golden and cheese is melted.
10) Remove the pizza from the oven and place crispy sage leaves on top. Let the pizza cool for a few minutes and then cut into slices and serve warm.
Find the original recipe here at two peas & their pod.
7. Savory Pumpkin Tart

Ingredients:
1 easy press-in olive oil tart crust (your favorite dough or puff pastry could work here)
1 medium-sized pie pumpkin roasted in 1-inch cubes with onions and sage
1 small log of goat cheese
4 eggs
2 T of heavy cream
1-2 tsp of assorted herbs
Salt and pepper
Directions:
1) Per tart instructions, the tart dough should be mixed, pressed into a pan, and chilled for an hour or so before baking for 30 to 40 minutes at 375 degrees.
2) Roast pumpkin, onion, and sage on a large baking sheet for 30-35 minutes at 450 degrees.
3) With your tart shell completely cooled, layer crumbled goat cheese, roasted pumpkin, onions and sage in the tart shell.
4) Whisk 4 eggs, heavy cream, herbs, and salt and pepper in a small mixing bowl and then pour the mixture over the pumpkin and goat cheese in the pan.
5) Bake the tart on a baking sheet for 40-50 minutes at 350 degrees until the eggy mixture is set in the middle, cool for 15-20 minutes before serving.
Find the original recipe here at Munching In The Mitten.
8. Pumpkin Macaroni And Cheese
Serves 10
Ingredients:
16 oz uncooked macaroni
2 C canned pumpkin
2 C buttermilk
8 oz cream cheese
3 C grated sharp cheddar cheese
1 C grated Swiss cheese
1 tsp salt
1/4 tsp Cayenne Pepper
2 C cooked, drained brocoli
2 C cooked, chopped chicken
Directions:
1) Cook macaroni in salted water and drain.
2) In a saucepan over medium heat, blend cream cheese, pumpkin and buttermilk until smooth.
3) Mix together grated cheeses in a bowl and reserve 1 cup.
4) Add remaining cheeses and seasonings to saucepan. Stir until well blended.
5) Remove saucepan from heat and stir in macaroni, brocoli and chicken.
6) Pour into a greased 9×13 pan and top with the reserved cheeses. Bake at 350 degrees for 30 minutes.
Find the original recipe here at half hour meals.
9. Curry Pumpkin Soup
Serves 4
Ingredients:
15 oz canned pumpkin
2 T red curry paste
1 C coconut milk
1 C water
4 T pumpkin seeds, dried
1 tsp olive oil
Salt and pepper
Directions:
1) Put pumpkin, curry paste, coconut milk, and water in a pot.
2) Stir to mix well and heat until simmering.
3) Season to taste with salt and pepper.
4) Meanwhile, heat oil in a non-stick pan on medium high and add pumpkin seeds.
5) Cook until slightly brown, season with a little salt, and top off the soup with the seeds.
Find the original recipe here at Above & Beyond.
Reach Staff Reporter Sarah Allen here.