NFL
NFL Week 8 Predictions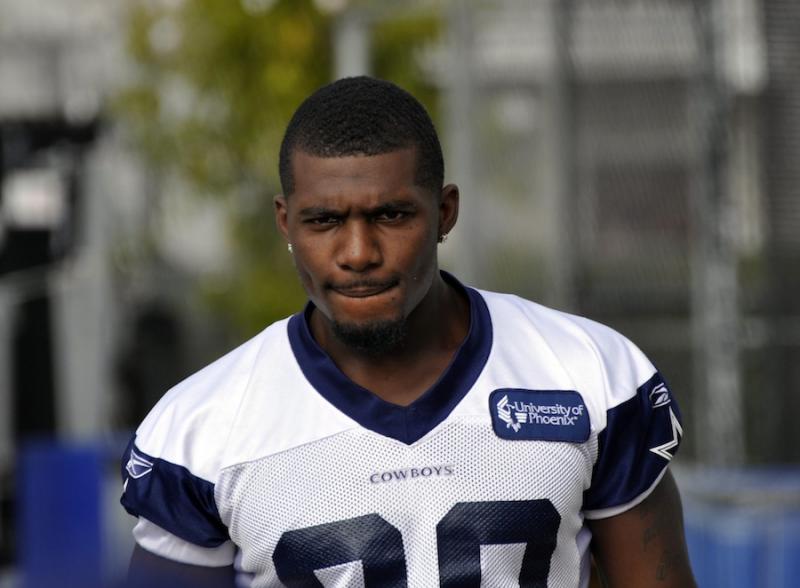 Dallas Cowboys (4-3) @ Detroit Lions (4-3)
Christopher Coppock: Cowboys 30, Lions 27
This game is going to be a matchup of two of the league's most talented wideouts. Megatron and Dez Bryant are both immensely talented, so look for them to be difference makers this weekend. Bryant created some discussion earlier this week when saying he could do everything Calvin Johnson could, and when he's on his game, it's hard to argue with him. The Cowboys' defense has also played well recently, limiting the Eagles to just three points last week, albeit with Vick out injured; so expect them to do a decent job against Detroit. Don't expect anyone to be able to shutdown Johnson but, in what will likely be a shootout, America's team will be too much for the Lions to handle.
Law Murray: Lions 27, Cowboys 21
I thought both of these teams would win just five games this season – one of them will get there by the end of Sunday's game. The last time the two teams played, Cowboys QB Tony Romo threw three brutal INTs to blow a 24-point lead, while WR Calvin Johnson caught two fourth quarter TDs for a 34-30 Lions win in 2011. The Lions have issues at CB (as they have every year), but linebackers and safeties have accounted for nine of their ten INTs, while DT Ndamukong Suh will get to face off with Cowboys rookie C Travis Frederick often. Lions QB Matthew Stafford exhibits some of the best control in the league (15 TDs, four INTs, only nine sacks taken), and it's hard to see the Cowboys stopping both Megatron and RB Reggie Bush.
Russell Simon: Lions 31, Cowboys 27
It's a battle of two 4-3 teams in one of the only good games of the week. Dallas dominated Matt Barkley and the Philadelphia Eagles last week in a 17-3 rout, but its defense will face a much tougher challenge in Matthew Stafford and the Lions' offense. Matthew Stafford and Calvin Johnson were on fire last week in a close lose to the Bengals, Megatron was targeted 15 times last week and had nine receptions for 155 yards and two touchdowns. He'll be unstoppable again and the Lions will get a quality win.
David Tobia: Lions 18, Cowboys 0
Reggie Bush is likely out this week which means the best running back in the NFL, Joique Bell, gets the start. He rushed for 2,084 yards and 29 touchdowns as a senior at Wayne State. Go Warriors.
Matthew Tufts: Cowboys 31, Lions 27
This week's matchup features two gunslinging quarterbacks who aren't afraid to throw it up and trust their stellar top receivers to come down with it in traffic. Also given their less-than-stellar defenses (my apologies Dallas, but holding Philly to 3 doesn't excuse surrendering 51 points to Denver or 30 to San Diego), expect this one to be a shootout. Romo tends to find success in late fall (before undergoing a Jets-worthy postseason demise), so look for him to lead Dallas to a victory that keeps them atop the NFC East.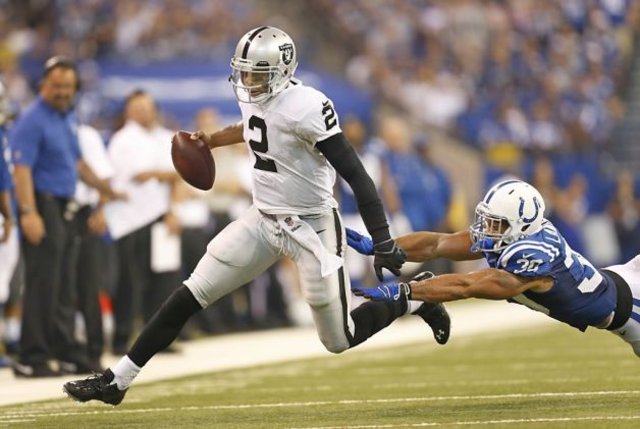 Pittsburgh Steelers (2-4) @ Oakland Raiders (2-4)
Coppock: Steelers 17, Raiders 10
Someone ought to start giving Terelle Pryor credit for making the best out of a pretty bad situation in Oakland. Their record may not be the greatest, but compared to last year they are finally playing some decent ball, and looking at the way the Steelers have been under-performing so far this year, you might be tempted to believe the Raiders have a chance this weekend. And have a chance they do, but that won't be enough. Despite how strange this NFL season has been through seven weeks, don't expect the Steelers to lose on the road, especially when every win counts in a very tight AFC North race this year. Steelers by a touchdown.
Murray: Steelers 23, Raiders 17
The Raiders have been one of the worst teams of the 21st century, while the Steelers have been one of the best. But the Raiders have won four of the last seven meetings between the two teams, including last year's 34-31 thriller. Steelers QB Ben Roethlisberger had 384 passing yards, four TDs, and no INTs at Oakland last year, but he had no run game to speak of (20 rushes, 54 yards despite leading almost the entire game). Enter rookie RB Le'Veon Bell. The light bulb is starting to come on for the Pittsburgh defense and the Raiders have the fewest passing yards in the league – this is not going to be a great game for Oakland QB Terrelle Pryor.
Simon: Steelers 21, Raiders 3
The Steelers finally have figured things out. Pittsburgh has won two games in a row after beating Baltimore in a tight game last week. A win Sunday will get the Steelers back into the AFC North race. I expected Pittsburgh's D to continue to be aggressive and get to Raiders QB Terrelle Pryor throughout Sundays game. They'll force turnovers and win easily.
Tobia: Raiders 31, Steelers 24
Pittsburgh has won their last two games or whatever, but Big Ben looks old and bad and it's more fun to watch Terrelle Pryor play. Plus, he seems like the better baseball player and they are playing on a baseball field.
Tufts: Raiders 20, Steelers 17
If Terrelle Pryor could start throwing the ball to himself, he might be the first Triple Crown winner in NFL history. He already leads his team in passing and RUSHING (really, McFadden?), though both sets of numbers have been very mediocre. Maybe the Raiders just lack the star-studded receiving corps of say, the Patriots (oh, wait...). Regardless, Pryor has to step up and make plays himself this week. That said, both Pittsburgh and Oakland's defenses have been extremely stingy surrendering rushing yards, so look for one big (or lucky) pass play to make the difference.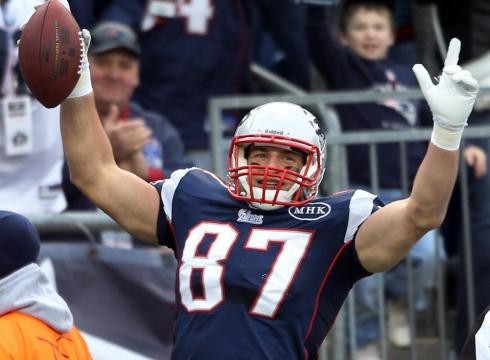 Miami Dolphins (3-3) @ New England Patriots (5-2)
Coppock: Patriots 27, Dolphins 20
Last week, in his first game back from injury, Rob Gronkowski was targeted 17 times for 8 receptions. Anytime a quarterback targets a receiver that much, you know he's trying to get him pretty heavily involved in the game. Unfortunately for the Patriots, it didn't work as Brady tried to do his best Jake Plummer impersonation by overthrowing everyone and everything. However, it would be foolish to expect one of the greatest players in NFL history to make the same errors two games in a row. Brady will come out firing, targeting Gronk again between 10 and 20 times. A porous Miami offensive line, meanwhile, will allow the Patriots defense, even lacking Wilfork and Mayo, to keep Ryan Tannehill from asserting himself. This game could easily be a big Patriots win.
Murray: Dolphins 24, Patriots 20
Both of these teams started 3-0, but have combined to go 2-5 since. Patriots QB Tom Brady and Dolphins QB Ryan Tannehill have started every game, but both have absorbed at least 20 sacks already. NFL teams are averaging 2.7 sacks a game, most since 1986, and both Patriots DE Chandler Jones and Dolphins DE Cameron Wake will be out hunting. Brady hasn't lost a home start to the Dolphins since the 2005 season, but Miami should be able to double TE Rob Gronkowski often while stopping the other Patriots receivers one-on-one. The Dolphins also need to run the ball against New England's thin front seven, and use WR Mike Wallace to test New England's depth in the secondary.
Simon: Patriots 28, Dolphins 13
The Patriots have actually struggled somewhat in the division despite their 5-2 record. They barely beat the Bills on opening day before falling to the Jets in an overtime thriller last week. The Pats had a tough time scoring against the Jets' defense last week, but they will have an easier time against Miami, especially with Gronkowski back and ready to go after getting his first action of the season last week.
Tobia: Dolphins 30, Patriots 22
The Patriots lost to the Jets because the Patriots stink. Patriots, Bruins, Red Sox - Boston just breeds terrible sports franchises. Now the Patriots will push and cheat their way to another loss.
Tufts: Patriots 35, Dolphins 20
New England got screwed in overtime last week by a ridiculous new penalty just implemented this year. That said, the loss of several key players and a poor Tom Brady performance led up to that point. You have to know Belichick will play the "everyone hates us" card after that call though, and the Patriots will be fired up going into their matchup with Miami. They'll make sure overtime isn't an option this week.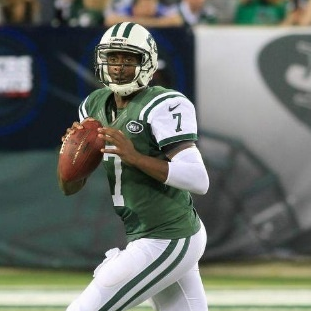 New York Jets (4-3) @ Cincinnati Bengals (5-2)
Coppock: Bengals 36, Jets 13
The last time an NFL team got as lucky with a referee call as the Jets did last week was way back in the 2001 season when the Patriots got bailed out by the infamous tuck rule. While that may be a slight exaggeration, do not expect the Jets to compete this weekend just because they narrowly beat a very sloppy New England team. Cincinnati has one of the most balanced sides in the league, not to mention a ballhawking defense that has the potential to force Geno Smith into multiple pick six situations. Not that he needs that much help in the first place. And don't forget about the Jets' penchant for fumbling the ball out of the back of the end zone.
Murray: Bengals 21, Jets 13
Jets head coach Rex Ryan is 3-0 against the Cincinnati Bengals, as Cincinnati has scored a combined 24 points in those three games. Of course, none of those games involved Bengals WR A.J. Green or QB Andy Dalton. The Jets have been at their best offensively against relatively non-threatening fronts – they won't have that privilege on the road against the Cincinnati front seven. The Jets don't force many turnovers, and though they defend the run well, top receivers have burned them at times. The Bengals frustrated three Super Bowl winning passers in Cincinnati already this season (Roethlisberger, Rodgers, Brady) – it will be hard for Jets rookie QB Geno Smith to make it through this one unscathed.
Simon: Jets 24, Bengals 21
After an epic win last week against New England, the Jets continue to face the toughest part of their schedule when they travel to take on the Bengals. Last week demonstrated just how good the Jets defense was, when they completely shut down Tom Brady. They have been very effective at getting to the quarterback all year and I expect that trend to continue on Sunday. Geno Smith helped bring the Jets back, despite throwing another killer interception. If he can avoid the turnovers, I expect the Jets defense to take care of the rest in a narrow win.
Tobia: Bengals 17, Jets 6
Speaking of the terrible Jets, they're terrible. Geno has been good of late and the defense is actually good, but the Cincinnati defense is one of the best in the league.
Tufts: Bengals 28, Jets 13
Rex Ryan probably feels his team is Super Bowl-bound after Nick Folk got a mulligan on his first kick and beat the Patriots in overtime. Knowing Rex Ryan, he'll still probably think he's Super Bowl bound after New York is thrashed by Cincinnati. The Bengals' balanced attack will switch it up enough to confuse the Jets' D and create mismatches, opening the door for a big play from Andy Dalton.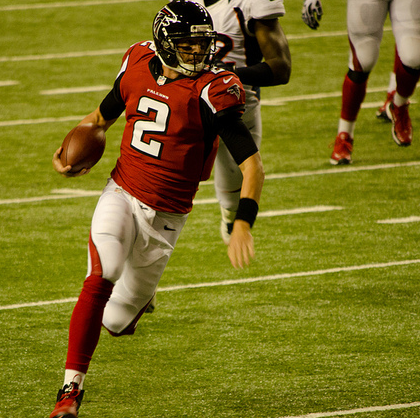 Atlanta Falcons (2-4) @ Arizona Cardinals (3-4)
Coppock: Cardinals 20, Falcons 19
This season has been so strange, we might even end up seeing the Jets in the playoffs. Although that might be a little too much to ask for. What isn't too much to ask for is Arizona to upset Atlanta this weekend. Both teams have a lot wrong with themselves, but in a year where anything can happen I'm picking the Cardinals. Matt Ryan has looked a shadow of his former self this season, and Atlanta's defense has not been up to snuff. That's not to say Carson Palmer and the Cardinals have been that great this season themselves, but playing out home they have a decent shot to send the Falcons to a 2-5 record.
Murray: Falcons 26, Cardinals 23
Last year, Falcons QB Matt Ryan threw five INTs at home against the Cardinals, with no TD passes – and the Falcons still won. In fact, it was the Cardinals benching their quarterback in that game! New Arizona head coach Bruce Arians nearly benched new QB Carson Palmer during a Thursday Night Football loss that brought Palmer's season numbers down to eight TDs, 13 INTs, and 20 sacks taken. Ryan threw for over 300 yards against Arizona last year, and threw three TD passes last week despite the absence of his starting receivers. The Cardinals refuse to defend TEs (eight of their 13 TD receptions allowed have been by four TEs in their four losses), so Ryan should focus on protecting the football and, once in the red zone, targeting the only tight end with over 100 TD catches, Tony Gonzalez.
Simon: Falcons 24, Cardinals 17
These are dark times for former USC quarterbacks. Mark Sanchez is out for the year, Matt Barkley threw three interceptions in his first ever NFL action and Carson Palmer has struggled all year for the 3-4 Cardinals. Palmer has thrown seven interceptions in the Cardinals' last three games. Arizona has lost two of them and things will not get any better this week when they take on a Falcons team looking to salvage their season. Expect for Palmer picks, and a falcons win.
Tobia: Cardinals 20, Falcons 10
I've picked every team with the better defense. Do I have faith in Carson Palmer and the Arizona offense? Of course not. But that defense is real, real good.
Tufts: Falcons 38, Cardinals 23
The Falcons have been one of the biggest disappointments so far this season. After being continually taken down by AFC East teams, given a bye week and then an easy matchup with the Tampa Bay, Atlanta rolls into Glendale for a matchup with the Cardinals who *gulp* have a better record than themselves. While that seemed unlikely at the start of the season, what seems even more unlikely is that Matty Ice would let this game go. Expect the Falcons to set the tone early with a score and not let off the gas.
Standings after Week 7
David Tobia 23-12
Christoper Coppock 19-16
Law Murray 19-16
Russell Simon 17-18
Matthew Tufts 16-19