NFL
NFL Week 6 Predictions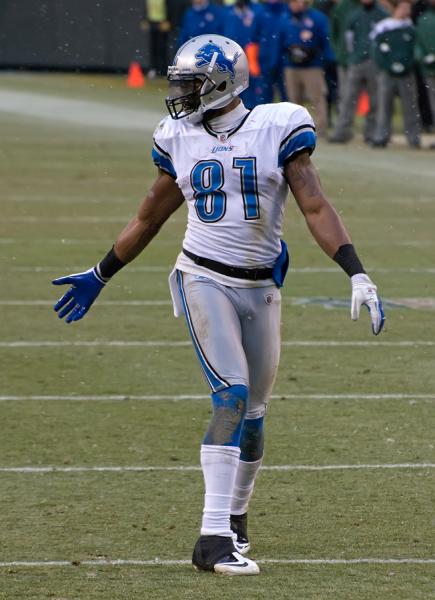 Detroit Lions (3-2) @ Cleveland Browns (3-2)
Christopher Coppock: Lions 30, Browns 23
Without Brian Hoyer, the Browns will struggle to find enough points to keep up with Detroit. Even though the Lions may be without Calvin Johnson, their other receivers and Reggie Bush will step up to fill the gap. The NFL has been very strange this year, however, so who knows. Maybe the Browns will blow out Detroit by 30 points. Given some of the wild things that have happened this season I wouldn't be too shocked.
Law Murray: Browns 27, Lions 21
The Browns have recorded sacks from 13 different players already this season; they'll need all the help they can get against an explosive Lions offense getting WR Calvin Johnson back in the lineup. This Browns defense will be much different than the one Lions QB Matthew Stafford threw five TDs and 422 yards against as a rookie in 2009. The Browns really need help from the offense and RB Willis McGahee, and they should be rested after getting ten days off. Asking QB Brandon Weeden to drop back and face the Lions pass rush more than necessary wouldn't be wise, but targeting WR Josh Gordon deep against the Lions CBs is.
Russell Simon: Lions 17, Browns 10
Just three weeks since the Browns traded RB Trent Richardson, Cleveland is somehow tied for first place in the AFC North. Unfortunately, the QB who got them to the top of the AFC North standings, Brian Hoyer, is out for the year after tearing his ACL. After having a glimmer of optimism, Browns fans now will have to put up with watching Brandon Weeden lead the once rejuvenated Browns offense. This has got to be further proof that God hates Cleveland.
David Tobia: Lions 24, Browns 20
The Browns have impressively put together a winning record this season at 3-2 and sit tied for the division lead in the AFC North. But Brian Hoyer's injury last week reminded us how bad Brandon Weeden has played in his young career. Rather than quickly getting the ball to playmakers Jordan Cameron and Josh Gordon, Weeden dances around the pocket, obviously uncomfortable with the pace and timing required in the NFL game. Detroit's defense will have no mercy.
Matthew Tufts: Lions 27, Browns 17
Detroit struggled against Green Bay last week, but shouldn't have as much trouble against Cleveland. The Browns have been surprisingly good, but I still have more faith in Lions' offense. Lions win in a battle of mediocre teams trying to prove they're better than that.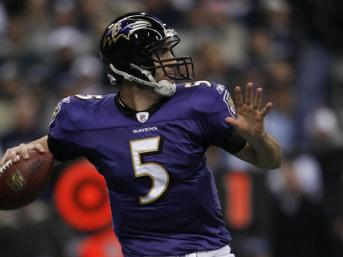 Green Bay Packers (2-2) @ Baltimore Ravens (3-2)
Coppock: Packers 36, Ravens 30
Baltimore has been playing well, but asking a defense to stop Aaron Rodgers is a pretty tall task. As a result, the Pack are going to put up a lot of points. Luckily for the Ravens, Green Bay will be without Clay Matthews. This will allow Baltimore to keep the game close, but the Packers simply have too many targets. Even without a running game Green Bay will still manage to overcome Baltimore.
Murray: Ravens 26, Packers 24
Ravens QB Joe Flacco threw three of his most disturbing INTs when he visited Lambeau Field in 2009. Quadruple-coverage, across-the-body in the red zone, underthrown balls in the fourth quarter. But the Ravens are home, and the Packers have lost their last four on the road. Look for the Baltimore front seven to give the Packers all they can handle in a hostile environment (RE: Ravens OLB Terrell Suggs vs. Packers rookie LT David Bakhtiari). The Ravens won't have to block Packers OLB Clay Matthews, and Flacco's receivers are the healthiest they have been all season.
Simon: Packers 28, Ravens 25
Both of these teams struggled in the earliest stage of the season before finding their footing last week. The Packers beat the Lions and the Ravens beat a tough Dolphins team last week. Although the Ravens defense finally looked good last week, where they collected six sacks, I don't trust them against the dynamic Packers offense. Expect Aaron Rodgers to do just enough to guide the Pack to a win.
Tobia: Ravens 27, Packers 26
I flipped a coin. Heads was Green Bay and tails Baltimore. Tails never fails, apparently. We're going with Baltimore.
Tufts: Packers 27, Ravens 14
Baltimore has had its fair share of ups and downs this season. In a tough matchup against Green Bay this week, I expect Joe Flacco to struggle. Green Bay will win and easier than most people will think.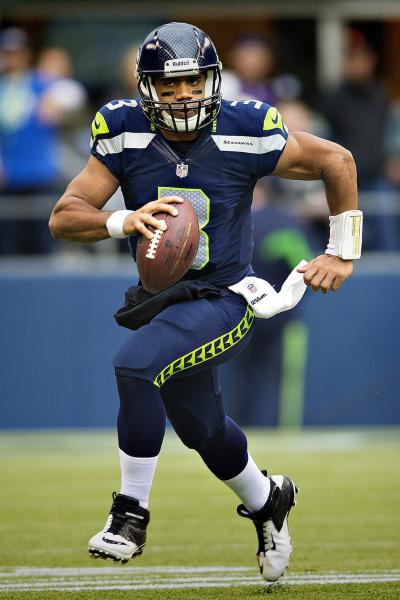 Tennessee Titans (3-2) @ Seattle Seahawks (4-1)
Coppock: Seahawks 24, Titans 10
This game happens to be in Seattle. No one in the NFL has managed to even come close to beating the Seahawks at home this year, and the Titans aren't about to be the first. This is about as safe a bet as you'll find in an NFL game this year.
Murray: Seahawks 23, Titans 19
The last six games between these two franchises have all been decided by less than a touchdown, including a 17-13 Titans win in 2009. Titans RB Chris Johnson capped his best season by gaining 134 rushing yards and two TDs in that game. This season, Johnson is off to another slow start, averaging 3.1 yards per carry and no rushing TDs in 94 carries. The Seahawks got to play Titans QB Ryan Fitzpatrick in Canada last year, and they intercepted him twice. The Titans will bring pressure on Seahawks QB Russell Wilson; he has to handle it without turning the ball over.
Simon: Seahawks 31, Titans 14
The Titans actually played the Chiefs surprisingly tough last week without starting QB Jake Locker. This week, they play a Seahawks team out for blood after a tough lost last week to the Colts. Expect the Seahawks D to dominate in an easy win.
Tobia: Seahawks 25, Titans 17
Does Seattle cover the 14 point spread? Don't think so. But it's hard to imagine Ryan Fitzpatrick marching into Seattle and pulling the upset. Honestly, it's difficult to imagine Jake Locker doing that either. The Titans are underrated but really need a new QB.
Tufts: Seahawks 30, Titans 6
This isn't going to be close. Seattle will be pumped up after last week's loss to the Colts and come out firing. Tennessee can't match that offense and the Seahawks defense will shut down the lack of a Tennessee offense.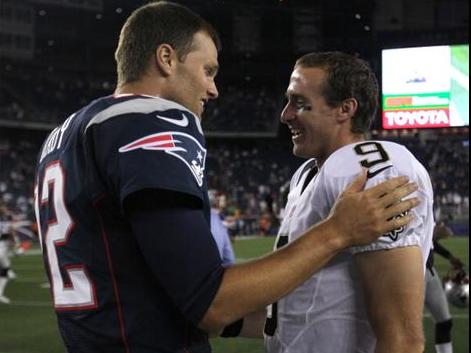 New Orleans Saints (5-0) @ New England Patriots (4-1)
Coppock: Saints 34, Patriots 17
The Patriots have struggled so far this year, and though their 4-1 record might not show it, there are serious cracks in their armor. Tom Brady's receivers have yet to develop into the solid, consistent threats he's gotten used to having over recent years. The likely return of Gronk will make a difference, but he will undoubtedly be rusty and in need of a couple games to get back up to full Terminator speed.
Murray: Patriots 28, Saints 24
The Saints defense is for real, and Rob Ryan knows Patriots QB Tom Brady well from Ryan's time in New England's linebackers coach from 2000 to 2003. The only way the Patriots beat the Saints is if they stay turnover-free and run the ball at least 30 times. The Saints are allowing an NFL-worst 5.4 yards per carry, but only the Buccaneers gave them at least 20 rushes (Tampa ran it 33 times and lost only after screwing up late-game situations). New England might put three linebackers on Saints TE Jimmy Graham – not that it will matter. The return of TE Rob Gronkowski will be huge for the Patriots' bottom-feeding red zone offense.
Simon: Patriots 41, Saints 38
The Patriots lost for the first time last season in an absolute deluge in Cincinnati. They return home to face the Saints on Sunday and the forecast calls for clear skies, and plenty of points. Two of the game's premier passers are facing each other and Tom Brady is actually 0-3 all time against Drew Brees. That streak will end this week, when Brady and the Pats offense does just enough to get the win in what could be one of the best games of the season so far.
Tobia: Saints 40, Patriots 13
Hey, what do you know? The Patriots finally played a good team and lost. You know who's even better than the Bengals? The Saints. Blowout city in this one.
Tufts: Patriots 31, Saints 28
Last week marked the first time in what feels like decades since Brady didn't throw a touchdown. The Patriots don't have a good history against New Orleans, but there's a strong possibility Gronk will be back. Look for the Pats' TE to energize his team and give New England their first win against Brees in recent history.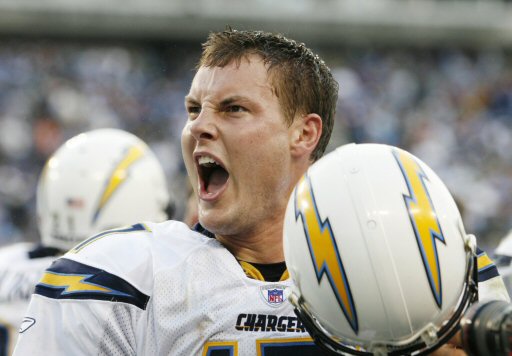 Indianapolis Colts (4-1) @ San Diego Chargers (2-3)
Coppock: Colts 21, Chargers 13
The Colts are one of the most balanced teams in the league this year, especially following the addition of Trent Richardson, which will make them difficult for the Chargers to stop. Andrew Luck is playing his best football so far, and Indy's defense has really stepped up this year. Beating the Seahawks is no mean feat, so expect them to get another win on the road here. San Diego has been an up and down team this year, so they could pull this one out, but I wouldn't count on it.
Murray: Colts 30, Chargers 20
For the longest time, the Chargers existed solely to torture the Colts. Indianapolis has won only one of the last six meetings, as former Colts QB Peyton Manning would throw a combined 15 INTs in those games, including two pick-sixes in a 36-14 loss to the Chargers in 2010. Enter Andrew Luck, and enter this year's San Diego secondary. Luck has drastically cut his interception rate from a year ago in the Colts' new run-heavy offense, while the Chargers have zero quality defensive backs outside of FS Eric Weddle. In a league full of sorry pass defenses, the Chargers have the sorriest, and that will put the one-dimensional San Diego offense in a bad spot.
Simon: Colts 31, Chargers 27
The Colts are riding high after a great win last week against Seattle. Sophomore QB Andrew Luck has been brilliant, with seven touchdowns and only two interceptions thus far. This week the Colts travel to San Diego where the Colts D faces a tough challenge in maintaining Phillip Rivers. Rivers has been great as well this year, throwing for 13 touchdowns and only five picks. However, the Colts D has been adept at forcing turnovers and I think Rivers will take a step back in that department this week. I think Indy will win in a close contest.
Tobia: Colts 23, Chargers 22
With wins against Seattle and San Francisco, shouldn't more people be talking about the Colts as one of the top three teams in the league? A top five defense and Andrew Luck's offensive consistency have made the Colts the main challenger to the Broncos in the AFC.
Tufts: Colts 28, Chargers 13
Indianapolis impressed against Seattle last week. San Diego did the opposite in a loss to the Raiders. Expect the Colts to easily beat the Chargers without need much "Luck."
Standings after Week 5
David Tobia 17-8
Law Murray 15-10
Christoper Coppock 14-11
Russell Simon 11-14
Matthew Tufts 10-15