Politics
New LGBT Legislation Advances In The Senate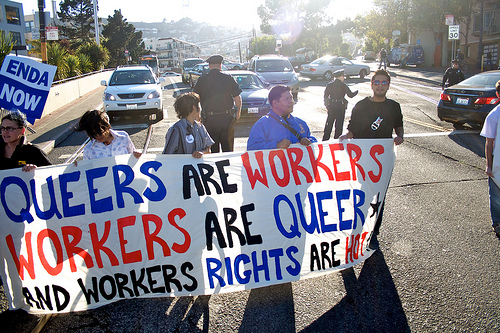 On Wednesday, Sen. Joe Manchin III became the final Senate Democrat to announce his support for the passage of the Employment Non-Discrimination Act (ENDA).

If passed, the law would ban discrimination based on sexual orientation or gender identity in the workplace, helping to equalize the job market for members of the LGBT community. Hiring, firing, and promoting decisions would all have to be made without any consideration of the candidate's sexuality.

Majority Leader Reid reported feeling "pretty good" about the eventual passage of the bill. "I've talked with Democrats and Republicans, and I think we've got 60 now," he told the Washington Post.

Senate Majority Leader Reid promised to have the Senate vote on the act by Thanksgiving, or as early as next week.

"Late last night, Leader Reid informed Leader McConnell that the Senate will consider ENDA next week," Human Rights Campaign vice president of communications, Fred Sainz, told BuzzFeed. "It's still unclear as to when Leader Reid will file for cloture."

With Florida Sen. Bill Nelson, Arkansas Sen. Mark Pryor, and West Virginia Sen. Joe Manchin all coming out in support of the bill this week, it is becoming increasingly likely that this major piece of LGBT legislation will be approved.

Yet, some Republican senators, like Sen. John McCain have opposed the bill due to fears of reverse discrimination, quotas, but the legislation expressly prohibits this sort of preferential treatment.

Even with support in the Senate, it remains dubious whether it will succeed in the Republican-dominated House.

Contact Executive Producer Sara Newman here. Tweet her here.