Los Angeles
The Midnight Mission Aids The Homeless For Almost 100 Years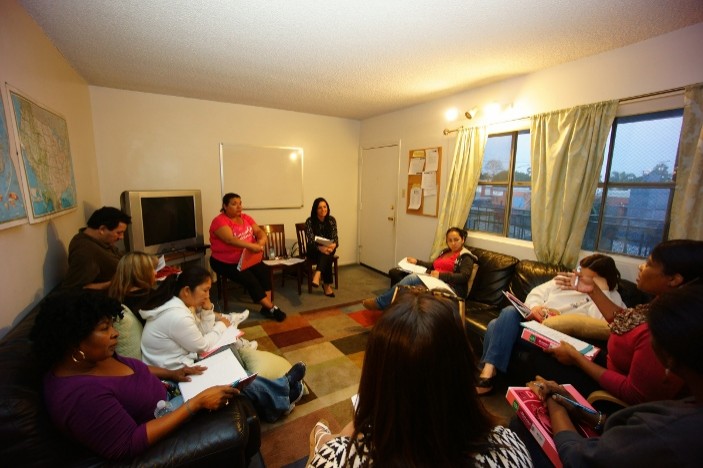 Next year, the Midnight Mission, a multi-disciplined organization that provides human services for the homeless population in L.A.'s Skid Row, will reach its 100-year anniversary.
"We're not saying celebrating because we're not celebrating homelessness. But we're commemorating that we've been able to help people for 100 years, which is incredible," said Georgia Berkovich, the community relations manager at the Midnight Mission.
Located on San Pedro Street, the Midnight Mission works to offer a path to self-sufficiency for men, women and children who have lost everything and live on the streets of Los Angeles.
"We measure the success of the program as when somebody goes through our program and they leave here, they are self-sufficient," said Berkovich. "Do they have a job, can they pay their own bills? The whole model of our program is to teach self-sufficiency."
There are 58,423 homeless people living on the streets of Los Angeles, according to the 2013 Greater Los Angeles Homeless Count study by the Los Angeles Homeless Services Authority.
Only a quarter of them are sheltered each night.
Around one-third of the Los Angeles homeless population suffers from drug or alcohol addiction. Of the same population, another third has an untreated mental illness. Some people who seek aid from the Midnight Mission may be affected by more than one situation.
And adult single men represent the fastest growing segment of homelessness in Los Angeles, jumping nine percentage points to 68 percent of the total homeless population.
The Midnight Mission seeks to lower these numbers by providing emergency services, job training, education, drug and alcohol recovery programs and work programs to individuals in need.
In addition to the aid-based programs offered, the Midnight Mission serves three meals a day, every day of the week. The Midnight Mission's food budget last year was around $100,000. Most of the food served is donated by local grocers and businesses.
"Last year, 2012, we served over one million meals over the entire year, and we haven't had a number like that since the great depression," Berkovich said. "This year we're going to serve the same amount again. It shows how the economy is affecting our community."
The Midnight Mission differs from other similar organizations in that they do not rely on government funding and are completely dependent of private donations and foundations. They are also nondenominational and support all participants in finding their own path and seeking their own religion. Finally, the Midnight Mission drug and alcohol recovery program is based off the 12-step recovery program utilized by Alcoholics Anonymous.
"Because we have private donors, we get to keep our programs intact," said Berkovich. "We get to treat the individual opposed to the money, and we get to see what each individual needs, so we can help them."
The Midnight Mission provides a sense of family to anyone who walks through the doors. Any person who asks for help at the Midnight Mission will receive aid with no questions asked and at no charge.
"Our homeless community is a really unique community," said Berkovich. "It's full of people who are loving, and talented, and smart, but they're lost, forgotten and lonely. They are you or me divided by circumstance."
Reach Staff Reporter Michael Nystrom here.