National
Macy's And Barney's Under Investigation By Attorney General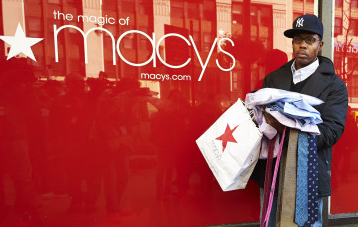 The
New York Attorney General's office announced Tuesday
that it was opening up an investigation on racial profiling to review the incidents that four shoppers have claimed occurred at multiple Macy's and Barney's retail stores. After
four African-American shoppers
purchased merchandise they were immediately confronted by security and NYPD officers who accused them of shoplifting and using stolen credit or debit cards for purchases.
The shoppers which are insisting they are victims of "shopping while Black" began to speak out publicly after deciding that the protocol of the NYPD could no longer continue. The shoppers were purchasing items at Barney's and Macy's in New York when each of these incidents occurred and the purchases were no more than $2,000.00.
Actor Robert Brown said he was racially profiled when leaving Macy's after purchasing a $1,300 watch for his mother. He stated early this week that he will move forward with suing Macy's due to his experience with their hired security.
Rapper Jay-Z has found himself in the middle of the controversy as he gets ready to launch a new fashion line at Barney's. Fans and members of the public are asking him to remove his partnership from the organization. Jay-Z has made limited commits stating Saturday via his website "I haven't made any comments because I am waiting on facts and the outcome of a meeting between community leaders and Barneys."
However, the issue has went beyond the practices of the company's security and onto the NYPD who have been under scrutiny for their Stop and Frisk policy. The New York Attorney General's sent letters to both Barney's and Macy's to submit their policies for stopping, detaining and questioning customers based on race. The stores have until Wednesday to comply.
View Actor Robert Brown's message below.
Reach Managing Editor Jacqueline Jackson here. Follow her here.