Los Angeles
Infrastructure Needs To Be Mayor Garcetti's Top Priority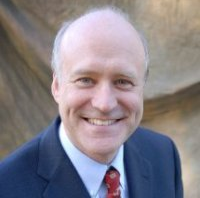 Name: Jeff Hall
Neighborhood: Brentwood
Job: Media Entrepreneur
Age: 61
What are the top issues facing Los Angeles, and why?
"I think most anything having to do with infrastructure is really important. Fixing the potholes, fixing the streetlights, fixing the streets - Los Angeles has way too much traffic. Anything we can do to minimize that would be good. L.A., at long last, is taking some steps forward in the direction of public transportation. They're building some subways out to the Westside and other places; this is all overdue, but it's finally happening so it feels like at long last there's some hope here. So I would say anything we can do to soften the traffic impact would be good."
What could Mayor Garcetti do to address your top priorities?
"He said one of the things he wanted to do was introduce a lot more accountability throughout the system. He wants measurements for everyone's progress. So they're talking about how long it takes for the fire department to respond to 911 calls and that sort of thing. Department by department they're supposed to set up a bunch of yardsticks so that people can measure and apparently the measurements are pretty incomplete, but they seem to be moving in the right direction. I think accountability is always a good thing and I think that's where he's coming from."
Did you vote in the May election? Who did you support?
"Yes, I did. I voted for Garcetti."
So which of those infrastructure issues do you encounter most on your daily commute?
"Potholes are everywhere. It's a complaint that everybody across L.A. has. If you've been here for a while, you can see the deterioration. I'm not saying it was ever 'great,' but I know it's a lot worse than when I first got here over 20 years ago."
And it doesn't seem like they've done anything to try to remedy that or made it a priority for themselves?
"No, it seems like if anything, they've been letting it slip away. If you pay attention to what's going on down at City Hall, it's all been about unions and salaries and benefits and pensions – more and more of the city budget is going to the payroll and less and less is going to actual services. I think Garcetti is trying to change this, and it's something he has to do because those who are on payroll and who are getting pensions and benefits of course resisted because it means cutbacks for them. I think the people of L.A. are fed up with the way it has been for quite some time now and everybody has there fingers crossed that Garcetti can begin to reverse course here. It's just draining all the money out of the system and something has to change."
Reach Contributor Matthew Tufts here