Los Angeles and Region
L.A. School Police Vs. Students: The Fight Against Over-Policing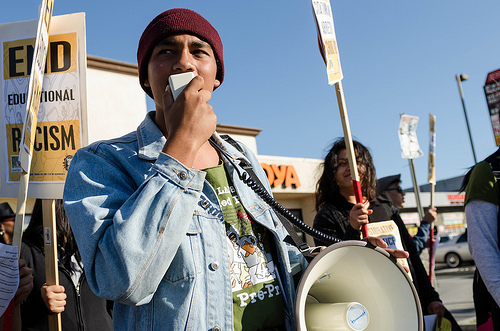 Students, parents and activists gathered in South Los Angeles Wednesday afternoon to protest the over-policing of L.A. public schools.
Los Angeles Unified School District, the second largest school district in the nation, runs the Los Angeles School Police Department (LASPD), the fifth largest police force in Los Angeles County and the largest school police force in the country.
Over the years, officers with LASPD have issued thousands of $250+ fines accompanied with mandatory court dates to students for violations ranging from fighting and carrying weed to writing on desks and having a lighter. And up until last year, city law required LASPD to issue such fines for skipping school—they've issued more than 8,000 of these tickets in the past four years alone.
These fines, according to the Los Angeles-based think tank Labor/Community Strategy Center, predominately target students of color. And 47 percent of tickets target students 14 and under.
"The majority of students at LAUSD live below the poverty line," said Barbara Lott-Holand, an activist with the Strategy Center. "Can you imagine what a $500 ticket does to a family's budget? Why it is that students are afraid and ashamed?"
Peter Swift, 20, brought a marching band kick drum to Wednesday's rally. He said that back when he was a student at Manual Arts High School, a police officer stopped him for being late to school. The confrontation ended with a $500 fine for having a sharpie in his backpack.
"I guess they thought I was a tagger or something," said Swift.
A report released by the Community Rights Campaign, an affiliate of the Strategy Center, suggests that while ticketing by school police has decreased by as much as 50 percent in some categories, the color line persists and in some cases has grown stronger.
Latino students are twice as likely to face disciplinary consequences from LASPD compared to white students; black students are six times more likely than white students to face fines and arrests, a probability which increased despite the general decline in ticketing.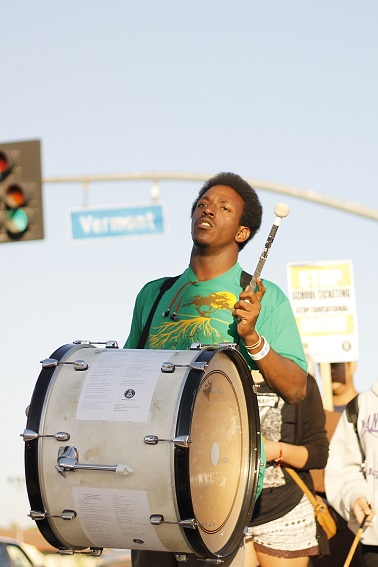 "What is the problem is that the first response to disciplinary matters now is to call the police," said Lott-Holland.
Activists agree that arrests are also all too common in L.A. schools.
"Handcuffs feel like something constant biting your wrist," said James Law, a 16-year-old Crenshaw High School student who spoke about his own arrest experiences at Wednesday's rally. "It's very painful, it hurts and it cuts off circulation sometimes."
Law said that more than 150 students at his high school have been arrested or ticketed by LASPD.
"Being in jail is terrible," said Law. "It hurts you culturally. You feel like your soul like is used to it, but it's your first time. I was like 'dang, I know what it feels like to be a slave again.' It's messed me up to this day. I don't ever want to go back. I don't ever want to see a police officer. I don't ever want to go near a police station."
Michael Davis, a junior at Manual Arts, was arrested and sent to a juvenile detention center in middle school after being falsely accused by the police of robbery.
"They came into my house and they drew a gun on my mom," said Davis. "Then they detained me."
Eventually, however, the police released him. "Later on I got a letter saying that there was no evidence or anything that proved that I did it," said Davis. "Basically that I didn't do it."
In jail however, Davis felt helpless. "I [was thinking that I] wouldn't be able to go to college, that I was going to be in juvie for the rest of my life and stuff."
"The police should not be called for disciplinary or behavioral matters of students," added Lott-Holland. "That's why we have administrators, teachers and parents."
These continual frustrations prompted Wednesday's rally, just north of the Manual Arts campus, and the appearance of the criminalization octopus—a giant puppet operated by activists from the Community Rights Center.
"My intention is to hold all power," said the octopus. "Suppress all questions about the need for my existence."
The crowd jeered at the purple monstrosity that had taken center stage. But the octopus, donned with a police badge, only fed off of their resentment.
"The hope of black and brown communities: squished, ticket by ticket," sneered the octopus.
"It gives people a visual," said Lott-Holland on the use of street theatre to communicate their message, "and they can feel it."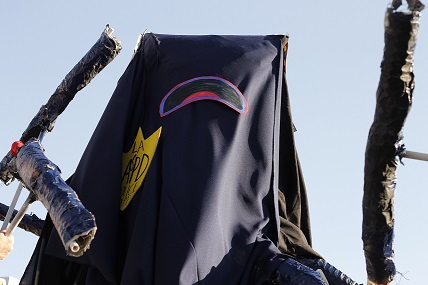 The crowd marched around the corner of King and Vermont, shouting slogans and drawing solidarity honks from passing cars. Cole James, a 32-year-old affiliate with the Community Rights Campaign, was one of many who brought a drum to Wednesday's rally.
"Music is important," said James. "People connect to music. People connect to drum beats. People have been using to communicate for years. And it's good to make noise."
Under the spell of the drum, protesters marched on. The sun began to set; some began to leave; parents showed up to pick their kids up from the rally.
In the final moments of the rally, the remaining attendants gathered in a circle.
Davis, facing the sun, picked up a megaphone and began to lead the crowd through a call-and-response recitation of four lines penned in an essay by the Black Panther activist Assanta Shakur:
It is our duty to fight for our freedom. It is our duty to win. We must love each other and support each other. We have nothing to lose but our chains.
The recitation of Shakur's words underscored a deeper theme of the rally: over-policing in Los Angeles public schools is simply one facet in a larger narrative of racial and economic struggle.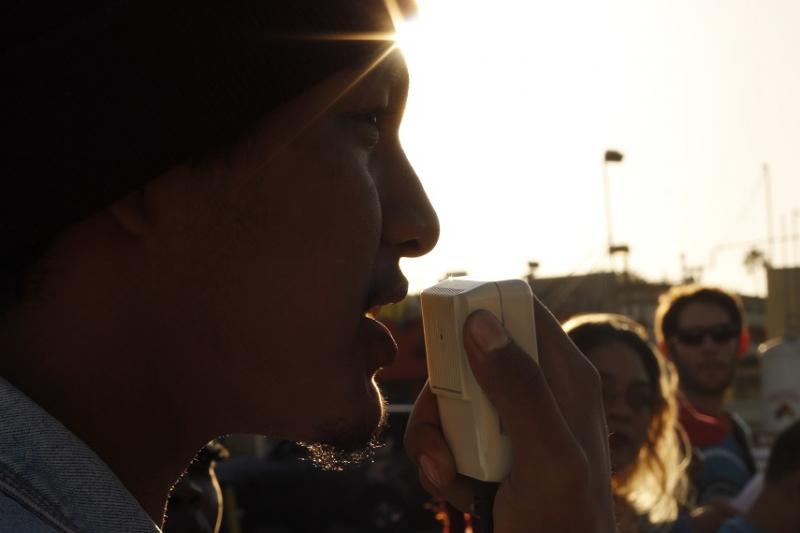 "Los Angeles is a multi-cultural city," said Lott-Holland, who has lived in Los Angeles for more than 40 years. "But it is also is a very racist, very policed state. That applies to our schools; that applies to everybody. Our communities are totally over policed and we are being criminalized for the least of what we do. They look in the book to find something in order to capture us."
This is a narrative that extends beyond Los Angeles. It's a narrative that has defined the American experience for the marginalized since the country's inception.
"If you are a young person and you have been handcuffed and paraded through your school to the principal's office, that's the same as being shackled," said Lott-Holland. "If you, as a young person, is told because you laugh too loud, because you're shouting too loud, because you show anger because you question something that now you are being defiant, is that not a form of slavery? Must we continue to bow our heads and put our heads behind our back as we pass people in authority? And if a student begins in elementary school—in elementary school—with these conditions, can you imagine what his psyche is like if he happens to make it to high school?"
Reach Aaron Liu here. Reach photographer Benjamin Dunn here.