Entertainment News
Kristen Bell And Dax Shepard Tie The Knot
Actors Kristen Bell and Dax Shepard have reportedly made it official! After a four year engagement, this Hollywood pair went the simple route and wed at the Beverly Hills County Clerk office on Thursday. The ceremony was a simple court house wedding, and both stars kept it super quiet. As of today, neither one of them has mentioned it to the public.
The couple announced their engagement back in 2010, but refused to wed until same-sex marriage became legal in California. Here is a video that explains their views:
After the U.S. Supreme Court ruled that the federal ban on same-sex marriage was unconstitutional, getting rid of the Defense of Marriage Act (DOMA), Bell "re-proposed" to Shepard on Twitter and they "re-announced" their wedding plans.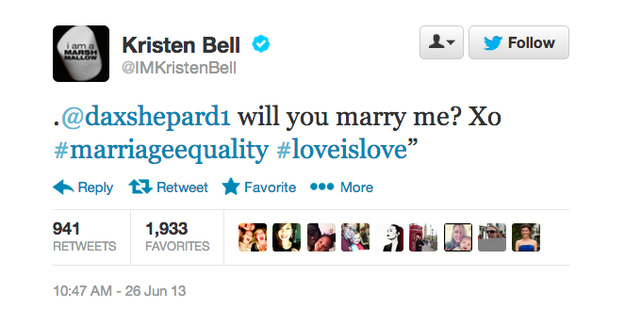 By the looks of it, Bell is getting the low key ceremony she has always wanted. She told USA Today last year, "I don't want another day where I get dressed up and wear makeup and celebrate myself...We really don't want any attention for it."
Mr. and Mrs. Shepard are parents to daughter Lincoln, who was born last March. You can currently watch Shepard in NBC's "Parenthood" and Bell will soon star in Disney's "Frozen" as well as the long-awaited "Veronica Mars" movie.
Reach Staff Reporter Caroline Langella here. Follow her on Twitter here.