Sports
Kostas Genidounias: Fighting Under Water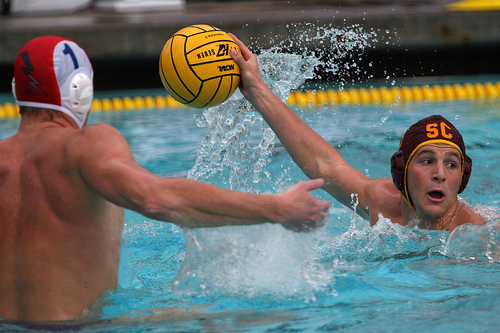 Kostas Genidounias, a junior driver from Greece on the USC Men's Water Polo team, appears intimidating with his scruffy facial hair and broad shoulders that make him seem built like a truck. But behind a stoic, warrior-looking appearance lies a playful, yet humble and determined young individual who is hungry to bring home a 6th consecutive National Championship trophy to the land of Troy.

"He's a great guy," tends to be his teammates' instant impression of Genidounias, and he shows that he is a child at heart. Even during the busiest times, Genidounias will find a way to bring joy to everybody around him. Besides casually chatting with his teammates at the poolside at halftime during USC's first game last Saturday, a 17-4 win over Loyola Marymount, he managed to playfully jot down a "LOL <3" on the notebook of Darcy Couch, USC's sports information director for water polo.

Prior to the start of games, instead of getting pumped up in the midst of loud music like his teammates, Kostas recedes from the crowd and took a brief moment of privacy. Alone, he relaxes and mentally prepares himself for the upcoming underwater battle by processing the situations that may happen during the game.

"I just take it easy and let all the energy come out during the game," said the 20-year-old.

And the moment he jumps into the pool, his ever-existing smile disappears. Genidounias, simply put, turns into a beast. On defense, he aggressively presses against the opposing driver, hardly leaving any spaces for a pass or shot. If required, he retreats back to the two-meter line to double team against the pit-man for a steal. On offense, he frequently pivots the ball from left to right searching for potential chances. At the right moment, Genidounias rises high above and skips the ball across the surface of the water and into back of the net; often leaving his opponent dumbfounded, still confused as to what just happened.

"Kostas is one of the best players on the team," USC head assistant coach Marko Pintaric applauded. "He has a high water polo IQ and can play well on both ends (offense and defense)."

SEE MORE: USC Men's Water Polo Dominates In Season Openers

During USC's 2-0 doubleheader against LMU and Cal Lutheran at home on Saturday, Genidounias delivered a solid performance on both the offensive and defensive side. Despite having a limited playing time due to USC resting their starters early into both matches, he still managed to net three goals. Twenty games into the season, Genidounias is second on the team with 53 goals, scoring multiple goals in 17 of those 20 games.

With 151 career goals in hand, he surpassed Rob Craver to become 9th on USC's all-time career scoring leaders, now tied with Jose Santiago. With two more seasons left before graduation, Genidounias still has chance to become the USC's all-time leading scorer. However, to Kostas, that is not even close to the top of his priority list. The team's victory always comes first.

"I don't want those goals affecting my personal performance," he asserted.

"Sometimes when you are focusing on a personal goal, you don't think of your team. So I would like to put that aside and play for the team instead of for myself."

When he is not in the game, Genidounias scrutinizes the plays in the water from the poolside, occasionally leaning over to talk to the younger players. As one of the most experienced players on the team, he feels the need to be a communicator who can make the team stronger through sharing his past experiences.

"Kostas is great teammate who goes far to help younger players to learn what the system is and what it means to be a Trojan," said Pintaric. "Having played in Europe, where water polo is played professionally, and on the Greek national team, him bringing the international experiences to the locker room is great."

As for claiming their 6th consecutive NCAA National Championship title, the team still needs some adjustment and strengthening in order to set a new milestone in USC's 125 years of athletic history. Having experienced the past two championship campaigns himself, Genidounias seem to have gasped the key to winning.

"It's simple…listen to our coaches," he stressed with utter certainty. "They know what it takes to win."

The 2013-14 campaign is USC's Men's Water Polo's 19th year under the management of head coach Jovan Vavic. USC is currently 19-1, with their sole loss in overtime to UCLA on Sept. 22.

Add in an influential player like Genidounias, the binding agent for strong team chemistry, and it's hard to imagine anything lessthan another championship trophy at the NCAA Championships this December.